Enola Holmes 2 - What We Know So Far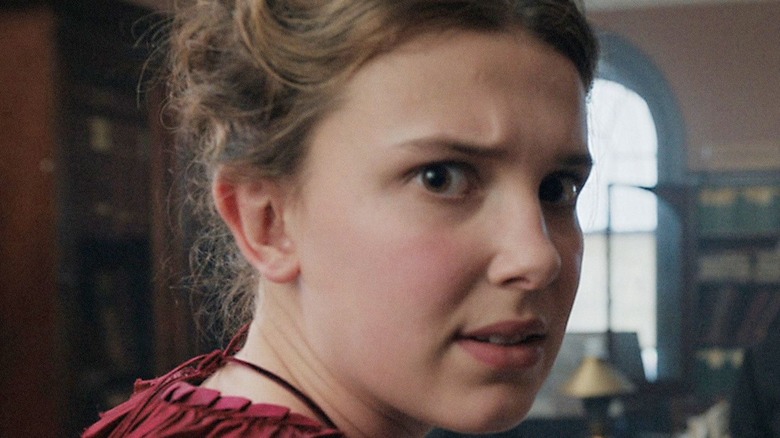 Netflix
Sherlock Holmes is one of the most famous fictional characters ever created with dozens of the world's finest actors portraying him in film and television over the years. We've seen him be serious, funny, and everything in between, solving Europe's most convoluted cases while offering the occasional quip every step of the way. As such, it only makes sense to change things up and give a different Holmes some time in the sun, and Netflix was more than happy to oblige. 
"Enola Holmes," which is based on a book series following Sherlock's younger sister, was a massive hit for the streaming platform and gave star Millie Bobby Brown time to make an impression on audiences outside of "Stranger Things." Sherlock is still around, played by Henry Cavill, but he largely sticks to the background, allowing his sister to solve the mystery at the heart of the film: the disappearance of their mother. 
Similar to Sherlock's seemingly endless source of mysteries, Enola is never lacking in cases to solve; therefore, it shouldn't come as a surprise to hear that Netflix has moved forward with "Enola Holmes 2." If you couldn't get enough of the twists, turns, and revelations of the first film, here's everything you need to know about the sequel. 
What's the release date for Enola Holmes 2?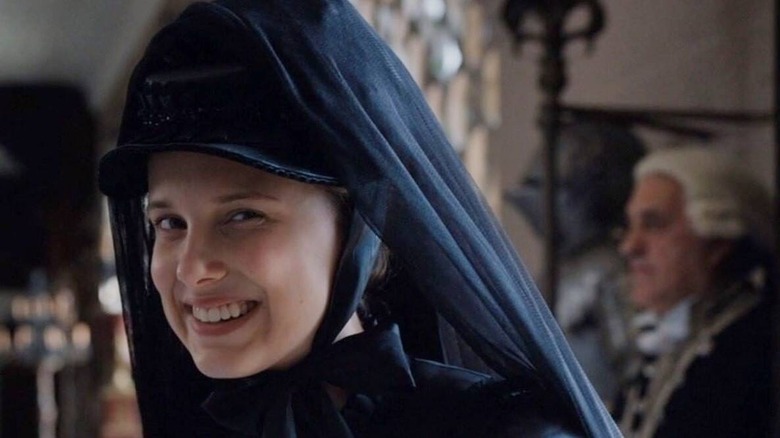 Netflix
Since the first "Enola Holmes" came out, there has been quite a bit of talk about when a sequel could appear. Back in September 2020, Millie Bobby Brown and the film's director, Harry Bradbeer, sat down with Deadline to discuss their willingness to come back for a sequel, but it was far from an official confirmation. That all changed on May 13, 2021, when The Hollywood Reporter reported that a follow-up was actively in the works, but sadly, that article didn't come with any information on when we would see it come to the streaming platform. 
Considering there's no information about when production could begin, it's safe to say filming hasn't started yet, so it will likely be a while. Our best guess for now is that the film will drop at some point in 2022. A summer release date would make a lot of sense, considering the star power and popularity of the first movie, but anything could happen.
Who's in the cast for Enola Holmes 2?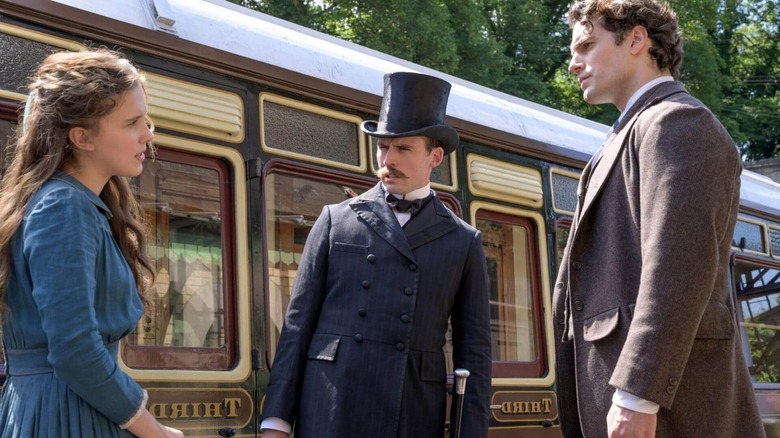 Netflix
The above article from THR reports that Millie Bobby Brown and Henry Cavill have signed on to reprise their characters of Enola and Sherlock Holmes, respectively, for the sequel. As of right now, there's no word if anyone else would return, but we would certainly expect some other familiar faces to make appearances. That would include Sam Claflin as Mycroft Holmes, Louis Partridge as Tewkesbury, and Helena Bonham Carter as Eudoria Holmes. 
No new cast members to the franchise have been announced yet, but there are plenty of people behind the scenes who will be returning. That includes director Harry Bradbeer and screenwriter Jack Thorne. Those two will also return to executive produce, in addition to Michael Dreyer and Joshua Grode, according to the same report from THR. Millie Bobby Brown, Paige Brown, Ali Mendes, Alex Garcia, and Mary Parent will also be back as producers for "Enola Holmes 2."
What's the plot for Enola Holmes 2?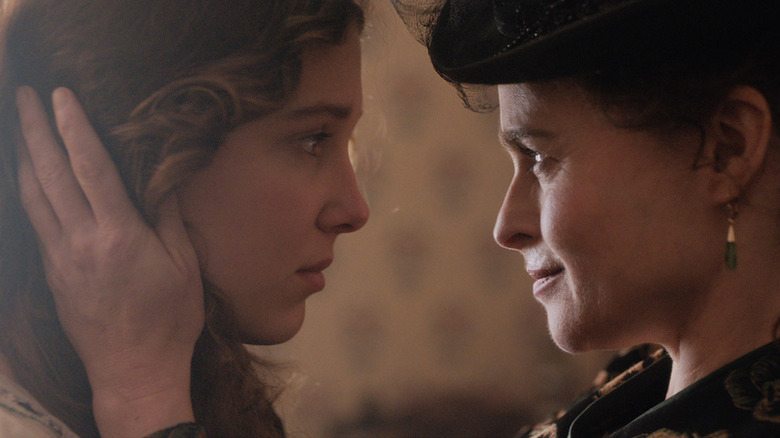 Netflix
For the time being, there's no word on what will happen in "Enola Holmes 2," but there's definitely plenty of inspiration to give us an idea. The first film draws a great deal of influence from the first book in a series written by Nancy Springer titled "The Case of the Missing Marquess," which also follows a story of Enola trying to locate her missing mother. There are five other books in the series that were published, so there's a ton of source material screenwriter Jack Thorne has at his disposal. 
The second book in the series, "The Case of the Left-Handed Lady," follows Enola as she's still scraping by on the streets. When she comes across a collection of charcoal drawings, she sets out to find the girl who created them. However, when she discovers the identity, one Lady Cecily, she learns that she's gone missing, and Enola embarks on the case to track her down while keeping her own identity a secret from those who want her to be more lady-like. 
Of course, the film series could go in an entirely different direction and adapt a different book or create a new story. One thing's certain: Fans of the first film won't want to miss "Enola Holmes 2" when it eventually releases on Netflix in the near future.