The Real Reason Tom Hardy Compares Venom: Let There Be Carnage To A Classic TV Sitcom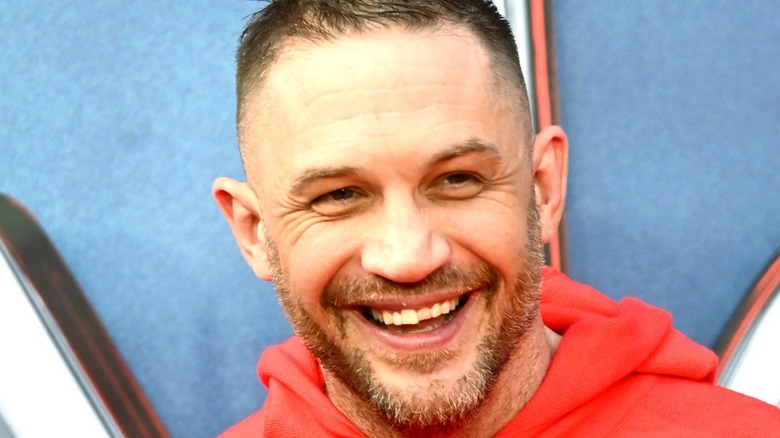 Dave J Hogan/Getty Images
After a three-year wait, the classic Marvel Comics anti-hero Venom is finally coming back to theaters with the sequel "Venom: Let There Be Carnage." Unlike the first film, though, life is not as much in simpatico for investigative reporter Eddie Brock (Tom Hardy) and his monstrous, alien symbiote alter-ego.
In "Venom," released in 2018, the titular character — born of an alien substance — fuses with Eddie when the reporter gets too close to the story of corrupt scientist Carlton Drake (Riz Ahmed). "Venom: Let There Be Carnage" finds Eddie a year later, struggling with personal problems and trying to get his career back on track when he gets an opportunity to do an exclusive interview with notorious serial killer Cletus Kasady (Woody Harrelson, who made his brief debut in the end credits scene of "Venom"). During an intense encounter between Eddie and Cletus, the latter, who is awaiting execution on death row, inadvertently comes into contact with Eddie's symbiote-tainted blood, leading to his transformation into the villain Carnage.
Things get really 'odd' between Eddie and Venom in Let There Be Carnage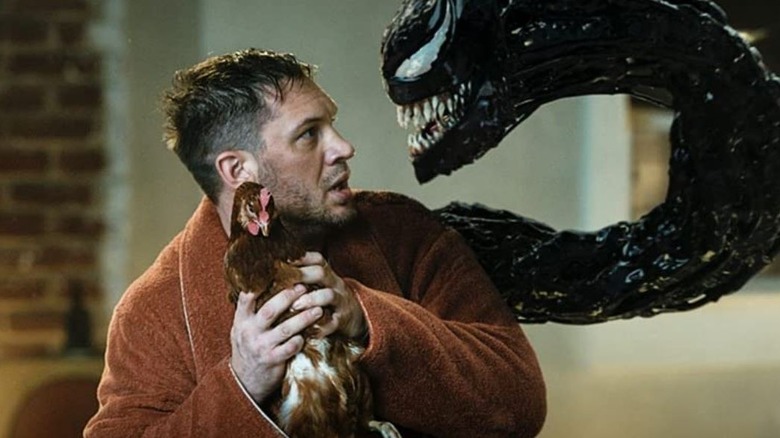 Sony Pictures Entertainment
"Venom: Let There Be Carnage" presents Eddie with a heaping pile of problems. Not only is his journalism career flagging, but his relationship with girlfriend Anne Weying (Michelle Williams) is over, and now he has the emergence of Carnage to contend with.
However, all of Eddie's problems are rooted in the strained relationship he's having with Venom, which Tom Hardy and his co-writer, Kelly Marcel, examine in the sequel. In an odd sort of way, the film was inspired by a classic Marilyn Monroe romantic comedy and a time-honored TV sitcom, Hardy told The Hollywood Reporter.
Discussing the film in a THR Heat Vision Breakdown segment, Hardy noted how "Let There Be Carnage" peers into the notion of, "'What's it like living with a symbiote in you?' It can't all be good, so we based [the sequel] on 'The Seven Year Itch' and 'The Odd Couple.' They're two people who don't want to live together anymore because they're not meeting each other's needs."
Tom Hardy is deeply invested in the Venom films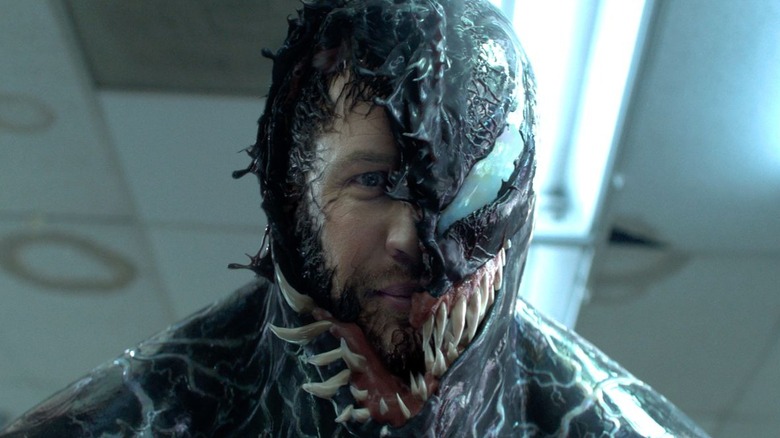 Sony Pictures Entertainment
In the THR interview, Tom Hardy discussed the responsibility of being one of the film's writers, in addition to starring in the lead role. Hardy co-wrote the story for "Venom: Let There Be Carnage" with Kelly Marcel, while Marcel penned the screenplay.
"I'm deeply invested in this particular franchise. If it's successful there's another one to do. I care about it," Hardy said. "Kelly, my writing partner, wrote it. We have a history since 'Bronson.' We've worked on stuff we've done before."
Hardy explained to THR that after the first "Venom" came out, he and Marcel examined feedback — good and bad — from critics and fans, which guided their creation of the story for "Venom: Let There Be Carnage." From there, the sequel's fate hinged upon what the film's studio, Sony, thought of the idea. One advantage they had was that Marcel had written the screenplay for the original "Venom."
"We went to the studio and asked, 'Please, can we have a shot at cobbling a story together for you? Since Kelly [already wrote] the first, can we at least pitch the story?' [And they said,] 'Of course,'" Hardy explained. "And then the pitch stuck, and we went to draft and it went from there."
Directed by Andy Serkis and also starring Naomie Harris and Stephen Graham, "Venom: Let There Be Carnage" opens in theaters Friday, October 1.