Why Tom Brady's New Adele-Themed Football Commercial Has The Internet Buzzing
Even if you're not a huge fan of American football, chances are you know who Tom Brady is. The professional athlete made a name for himself as the star quarterback of the New England Patriots. Together, he and the Patriots head coach Bill Belichick created one of the most successful sports dynasties ever. Following his success in the NFL, Brady has gone on to guest star in animated shows as himself, collaborate with numerous brands, and even hosted an episode of "Saturday Night Live."
Considering Brady's success up to this point, it's no surprise that his latest commercial has the internet buzzing. Not only does it feature the star athlete, but it also features a song by one of the biggest pop stars of the last decade: Adele. While football fans may have instantly understood just why the newest Brady/Adele commercial is so great, others who aren't up-to-date in the world of sports may not quite get the joke. Let's take a look at why the commercial is gaining so much attention online.
The commercial is a reference to an ended dynasty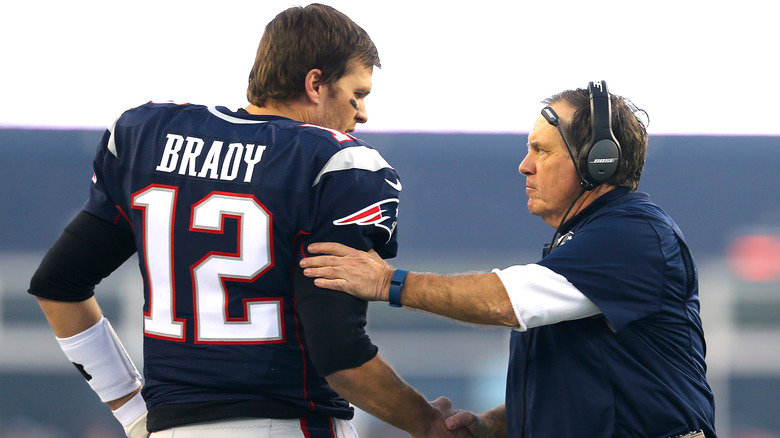 Maddie Meyer/Getty Images
The latest commercial featuring Brady is a montage of the former Patriots player sporting his old uniform, looking dramatically off to the side as shots of the team's championship banners are displayed. Suddenly, Brady appears in his new jersey — as number 12 on the Tampa Bay Buccaneers. We then see several shots of Brady on his new team, cut with clips of Patriots fans and close-ups of Belichick with a grim expression. To top it all off, Adele's melancholy hit "Hello" plays over the entire commercial, making the whole thing so much more dramatic.
The advertisement serves as a hilarious primer for the upcoming match, which will see the Patriots face off with the Buccaneers for the first time since Brady moved teams. While some fans are still distraught about the move and are understandably sour at the TV spot, others are loving the commercial, like a Twitter user named @CornellGunter who wrote, "I just saw [a] Tom Brady vs Patriots commercial that had Adele "Hello" on it. I'm still wiping my tears." User @jadl17 mirrored those sentiments, writing, "It's so cheesy but then when his jersey changes it's like a dagger to the gut, I love this promo so much."
You can watch the two teams go head-to-head on Sunday, October 3.