Why Lil Nas X's New Taco Bell Commercial Has The Internet Buzzing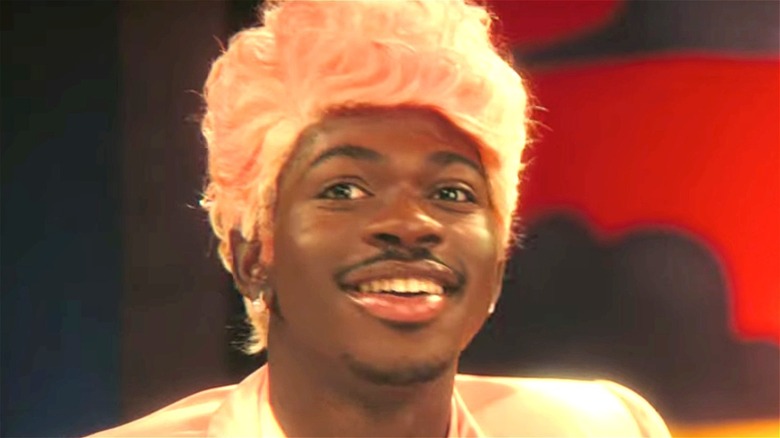 Taco Bell/YouTube
Rapper, country music sensation, and queer icon Lil Nas X does not miss. Not only did his smash hit "Old Town Road" spend 19 weeks at number 1 on the Hot 100 in 2019 (making it the longest-running number 1 in history), but he's used the success of the crossover sensation to become one of the most talked about artists in the world today.
Lil Nas X has been a sexy Saint Nick in "Holiday," and he absolutely decimated the internet with the music video for "Montero (Call Me By Your Name)" where he literally descends into hell on a pole. On the whole, he's managed to live rent-free in our collective heads while not releasing an album since the 7 EP in 2019 — and that wasn't even a full record!
"Montero," the first official, full LP for Lil Nas X, is set for a release on September 17. And if you were sitting around wondering how the artist is planning to promote the release, you're in for quite a surprise — because at least part of his promotion involves a commercial for something else entirely.
Recently Lil Nas X appeared somewhere no one expected him to: a Taco Bell commercial. And while there are a lot of reasons why that's equal parts weird and exciting, there is one particular reason his fans are losing their minds over the performer stumping for toasted breakfast burritos.
New single "That's What I Want" and coming full circle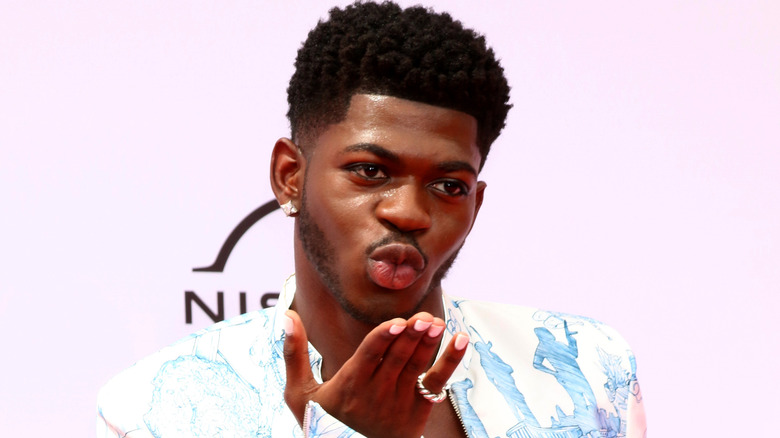 Kathy Hutchins/Shutterstock
The ad for toasted breakfast burritos takes place inside the dream of a young woman who, apparently, wants to be on a talk show with Lil Nas X while he's in a cotton candy pink three-piece suit (with hair to match). We can see multiple versions of him playing a song on stage, which is likely an ode to the music video for "Hey Ya!" by Outkast. While the excitement over this ad could have been due to the subversion of the screaming girls in the audience trope (we see a bunch of screaming young men instead), there is something else going on here.
"Lil Nas X used 'That's What I Want' in a Taco Bell commercial before he even released it to the public," tweeted @_jcerillo_. It's true, while fans have heard snippets of the song here and there, this is the most produced (and likely most complete) version of the song heard yet.
There's one other nice touch here. "He came full circle," tweeted @cutiepibabypi. "Worked at TB as his first job and now is being paid by TB to be in a commercial. #soproud." Not only did Lil Nas X work at Taco Bell before becoming a star, he's technically working for them right now under the title of "chief impact officer" — which is maybe the weirdest (and coolest) way to come full circle we've ever heard of.
The full version of "That's What I Want" along with the rest of "Montero" will be available beginning September 17.