How Fans Really Felt About Emily Wickersham's NCIS Exit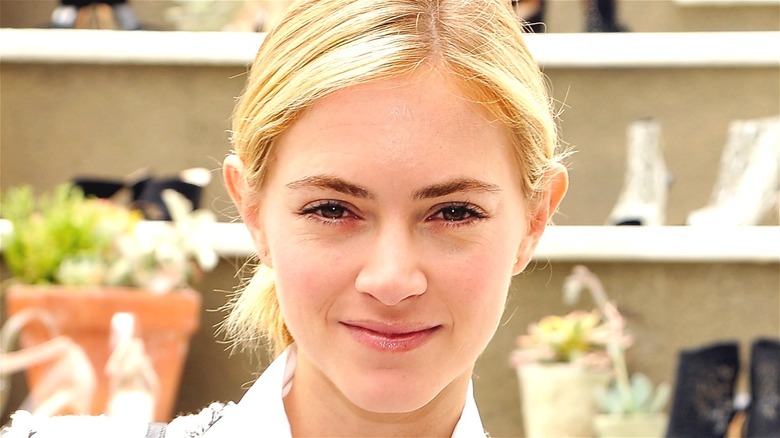 John Sciulli/Getty Images for REVOLVE
"NCIS" returned for Season 19 without one of its most popular characters. Emily Wickersham, who played Special Agent Eleanor "Ellie" Bishop in the series ever since joining its cast in Season 11, has still not returned from the undercover mission she agreed to take part in last season. Wickersham announced her "NCIS" departure in an Instagram post shortly after the show's Season 18 finale, which saw Bishop outing herself as an NSA whistleblower as part of the cover story she needed to embrace in order to leave the Naval Crime Investigative Service and embark on her covert operation.
While "NCIS" has seen plenty of cast members come and go over the course of its nearly two-decade run (even series lead Mark Harmon is reducing his role and considering stepping away), this departure hit loyal fans particularly hard. While the show has already brought on a new character, Jessica Knight (played by "Arrow" and "Hawaii: Five-0" actress Katrina Law), to try and fill the void left by Wickersham's departure, some fans are still adjusting to a world without Bishop, and they're not afraid of sharing their thoughts about the way "NCIS' handled the character's exit.
Bishop's sudden departure rubbed some NCIS fans the wrong way
The overall fan reaction to Ellie Bishop's sudden leave of absence from "NCIS" can best be summed up by one specific Reddit thread, which pairs the title "Goodbye Emily Wickersham" with a very sad emoji. In that same thread, Redditor u/barftholomew wrote that they were "even more disappointed" after reading Wickersham's upbeat Instagram goodbye message. The actress' post indicated her split from the show was amicable, which forced the Redditor to wonder why her final episode felt so "rushed," adding, "it could be argued that Emily's exit was planned, but it FEELS like it wasn't. Like, if it was planned, the execution of her departure was very poor."
u/Sahara06 concurred with their fellow Redditor's opinion, writing, "I agree that it was a very poor departure planned or not and I'm upset about it too because Bishop was my favourite character." The sudden nature of the character's exit even led some to speculate that perhaps the actress was let go, though, it should be noted those comments are purely speculative and not based on any official, public information. "For her sake I really hope it was her choice," u/Sahara06 added. "Personally, I thought she fit in really well and had great character development and she's just amazing overall."
Regardless of the reason for her exit, it's clear that "NCIS" fans legitimately miss Bishop. "Now I'm sooo curious to know the real reason Emily left the show," posted u/Lily_Of_The_Valley10, who summed up the feelings of most "NCIS" fans by adding, "In any case, her leaving made me very sad."
Of course, fans can still hope that Wickersham's time away from "NCIS" will only be temporary. After all, some "NCIS" characters have returned after being presumed dead (Ziva, we're looking at you), so even if Bishop's undercover assignment takes a few years, there's always the possibility she'll be back one day to investigate more crimes with the rest of the show's core crew.