Why Did Emily Wickersham Leave NCIS?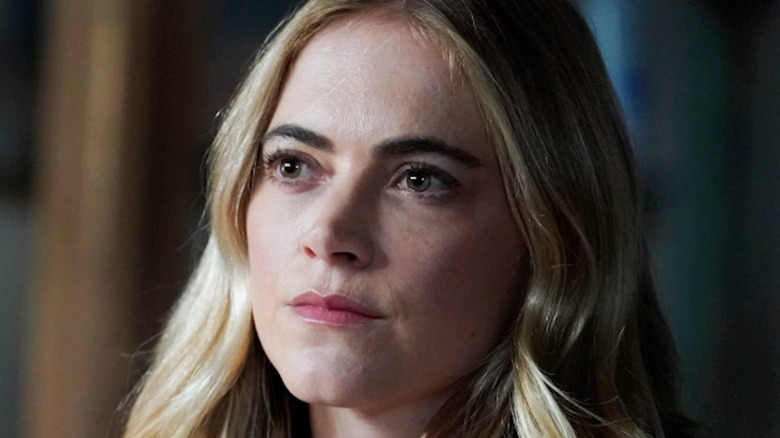 CBS
With a strong cast and compelling storylines, it's no wonder why "NCIS" has remained one of the longest-running scripted series in television history. The show just wrapped up Season 18, and it shows no signs of slowing down any time soon. There will be plenty more crimes that require solving for at least a bit longer as CBS has picked up the police procedural for Season 19, but there are going to be some major shake-ups.
The main cast members tend to stick around for a while, with actors like Mark Harmon and Sean Murray being there from the beginning. However, others know when it's time for their characters to do something else, and that appears to be what's transpiring with Emily Wickersham, who's played Eleanor Bishop since Season 11. The Season 18 finale saw Eleanor undertake a secret mission, but it was unclear to some fans whether she would return or if this was the end. The actress took to Instagram to clarify her departure from the series, writing, "Hangin this hat and jacket up. What a great ride it's been."
She genuinely seems to have enjoyed her time on "NCIS," and there doesn't appear to be any bad blood between her and any other cast members. That type of falling out is precisely what marred Pauley Perrette's exit from the series. Given the fact Eleanor tells Nick Torres (Wilmer Valderrama) she won't be back for a long time, it's unlikely for any cameos to commence soon, so here's everything you need to know about Emily Wickersham leaving "NCIS."
Emily Wickersham hasn't provided any official reason for her NCIS departure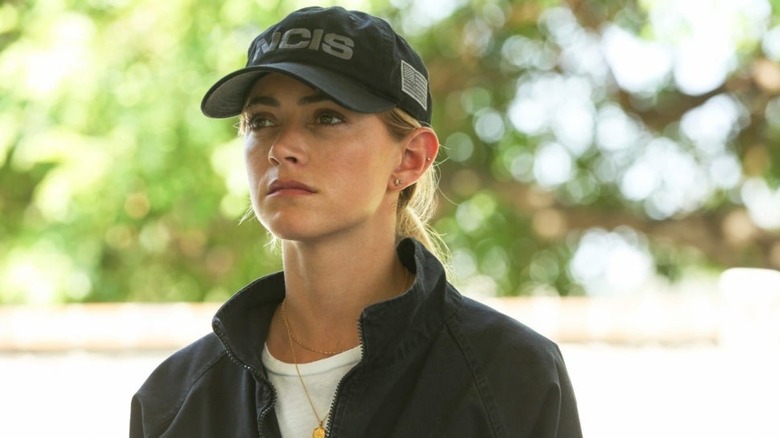 CBS
Throughout Wickersham's lengthy Instagram post, she doesn't mention anything about why she chose to leave after Season 18 of "NCIS." The most likely explanation is that she merely wanted to pursue other opportunities after playing the same character across eight seasons and 172 episodes. She can be a part of many projects now that she isn't regularly filming "NCIS," but what's most important is that it appears as though she left on good terms with everyone she worked with over the last decade.
As she mentions on Instagram, "I've been lucky enough to be a part of a show where I got to show up and act and laugh and learn with wonderful people. A moment in time I surely won't forget. Thank you CBS and NCIS for including me in a part of television history." As you go down her post, a slew of comments has already come in, including one from the official CBS Instagram account, which writes, "Thanks for making history with us." Wickersham's co-stars, including Maria Bello and Brian Dietzen, also use their accounts to express their pleasure of getting to work with her for so many years. 
Wickersham's now free to pursue whatever projects interest her the most from here on out. While it's still unclear where she'll end up, bright things are inevitably in-store for the talented actress.
Emily Wickersham leaving NCIS disheartened fans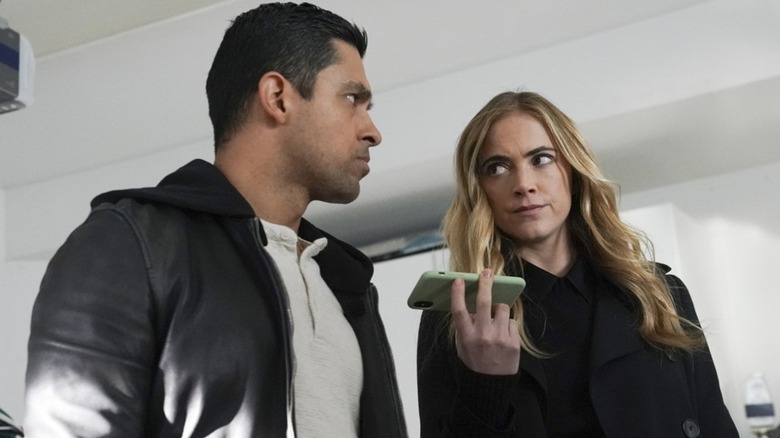 CBS
Wickersham's co-stars aren't the only ones sad we won't see any more of Ellie Bishop eating snacks while putting clues together. "NCIS" fans took to Twitter in droves to express their sadness at the Season 18 finale spelling the end of Ellick (that's the shipper term for the romance between Ellie and Nick). 
Ellie Bishop served as an inspiration to plenty of viewers, including @patu_inthemoon, who writes, "Maybe some people will never understand why I'm so devastated but I'm 31 years old, I grew up with #NCIS but I just connected with ONE FEMALE CHARACTER! Emily Wickersham played Ellie Bishop, a powerful, talented, persevering and empowered woman!" Then you have @ThisIsTheFitz, who discusses how Ellie had a significant influence in the real world: "Thank you @EmilyWickersham for creating such an amazing character — one that inspired me to pursue a career in intelligence myself. Fans will miss you, but I think I speak for all of us when I say there's only one Ellie Bishop."
It goes to show the power of art. Characters like Ellie are more than just figments of someone's imagination. They're our mentors and friends who inspire us to become our best selves, so Wickersham leaving is more than a career change for some. Other comments found throughout Twitter include the likes of, "Good luck on your future roles" and "We will miss you!" Seeing all of the ways Ellie touched people's lives, it's exciting to think about what Wickersham will do with her next gig.