On My Block Fans Just Got Some Pretty Exciting News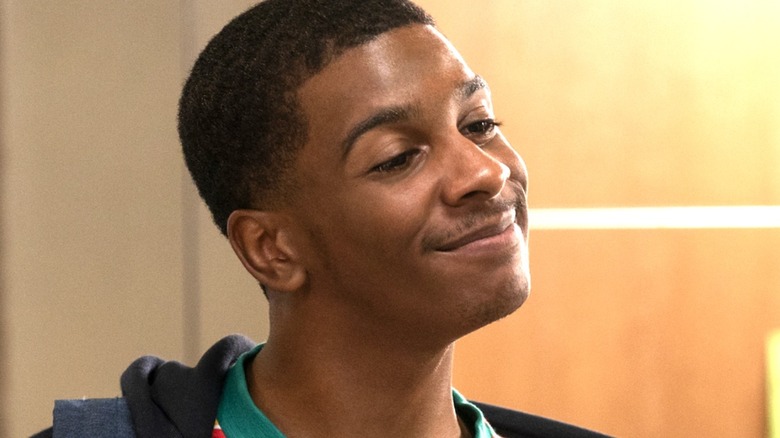 Netflix
Brace yourselves, "On My Block" fans — there's about to be a new crew of friends in Freeridge. 
Netflix has officially decided to greenlight a spin-off show of the critically acclaimed coming-of-age series, which is set to end after its upcoming fourth season. The series has been a major hit with viewers ever since it first premiered in 2018 and Netflix executives clearly hope to continue its success with the new show, titled "Freeridge" (via The Hollywood Reporter).
"While this chapter is closing for our OG squad this October as they reach the end of high school, we are excited to bring a brand new cast of characters and stories to life in this 'On My Block' spinoff," explained Netflix comedy head Tracey Pakosta in a statement. "There are so many more stories to tell in Freeridge and we're grateful to continue this journey."
Not much is known about the spin-off series yet, but if it's anything like its predecessor, then fans will have reason to be excited for it. "On My Block" currently has a 95% critics score and 91% audience score on Rotten Tomatoes, so the spin-off series' return to the same L.A. town viewers have already become so deeply invested in should pay off in spades for Netflix. 
That said, what do we actually know right now about the "On My Block" spin-off series?
The On My Block spin-off will follow a new group of characters
According to THR, the main stars of "On My Block" — Monse (Sierra Capri), Ruby (Jason Genao), Jamal (Brett Gray), and Cesar (Diego Tinoco) — will not be returning for the spin-off series. Instead, the actors will all be taking their final bows when "On My Block" Season 4 premieres in October, with showrunners Lauren Lungerich, Eddie Gonzalez, and Jeremy Haft reportedly planning to bring in a brand new batch of actors to lead "Freeridge."
The series, as stated, will be set in the same fictitious L.A. town where Monse, Ruby, Jamal, and Cesar have all carved their paths. However, the show's central group of new friends will all apparently embark on a different, "unforgettable adventure" after possibly unleashing some sort of "deadly curse."
"Some of the greatest comments we've heard about 'On My Block' were from fans telling us that they felt seen and represented," explained Lungerich, Gonzalez, and Haft in a joint statement. "As we embark on 'Freeridge,' a more female-driven show, we will continue to invest in authentic characters that represent our passionate audience... Oh, and there may be gnomies."
"On My Block" will premiere its final season on October 4. Meanwhile, it's unclear when "Freeridge" will start filming or be released on Netflix.