Here's Where You Can Watch Every Episode Of Goliath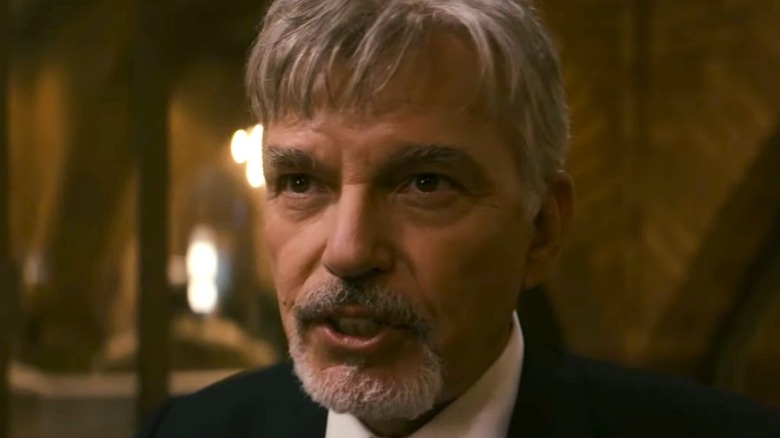 Amazon Prime Video
Billy Bob Thornton is one of those actors folks seem to love and loathe in equal measure, though that fact likely has more to do with his penchant for portraying intensely unlikeable characters than his skill as an actor. Whichever side of that Thornton fray you fall on, he's become one of the more revered filmmakers of the modern era, with his work both in front of and behind the camera earning him as much commercial success as it has critical adoration. And lest you forget, Thornton has already landed two Academy Award nominations for his acting and even won a coveted Oscar for penning his 1996 indie masterpiece "Sling Blade."
Like many an actor before him, Thornton, of course, got his start on the small screen with lauded roles in '90s series like "The Outsiders" and "Hearts Afire." The actor returned to television in 2014 with a scene-devouring turn as the nefarious Lorne Malvo in Season 1 of "Fargo." A couple of years later, Thornton claimed one of his best small-screen roles yet, portraying a disgraced attorney with a complicated moral code in the series "Goliath." To date, "Goliath" has aired 24 barn-burning hours of television over its first three seasons, with its fourth and final run of episodes soon to make their premiere. And for those looking to watch all the "Goliath" action from Episode 1 to Episode 32, you can indeed do so in the land of streaming.
Amazon Prime Video is the only place to watch Goliath
Amazon Prime Video
In fact, you can only watch "Goliath" in the land of streaming. And if you're now dying to do so, you're going to want to make sure your Prime Video account is in good standing as the series is an Amazon Original. If you've been on the fence about "Goliath" for one reason or another, you should know it's arguably one of Amazon's best originals to date. Its three seasons have earned a respectable 82% Fresh critical rating over on Rotten Tomatoes.
As for Thornton, he's rarely been better, with the role of Billy McBride offering him a chance to front equal doses of ambulance-chasing sleaze, righteous intellectual grandstanding, and deeply internalized emotionalism. It also allows Thornton to fully indulge in his flair for filthy language, which should more than please his fanbase. The series finds Thornton surrounded by a fantastic supporting cast, including William Hurt, Olivia Thirlby, Maria Bello, Mark Duplass, Nina Arianda, and Molly Parker. That impressive list of "Goliath" supporting players will soon add the names of J.K. Simmons, Jena Malone, and Bruce Dern when Season 4 finally debuts.
Again, if you're looking to catch up on "Goliath" ahead of that Season 4 premiere, you might want to get started as the new season is set to debut on October 4. And just as a reminder, that debut is indeed included with your Amazon Prime Video membership.