Shows Like The Wire That Crime Drama Fans Need To Watch
"The Wire" will forever stand among the greatest TV series of all time. One of HBO's top dramas, it ran for five seasons from 2002 – 2008, exploring the various institutions and systems at the heart of the beleaguered Baltimore it depicted so vividly: the cops, the drug dealers, the dock workers, the politicians, the schools, and the press. 
While co-creators David Simon and Ed Burns never had much faith that the world would snap into gear and get better, this gave the show a crushing, all-too-believable dramatic weight — but they did find ways for individual characters to sometimes make their way to happiness and peace. Such moments were necessary, because "The Wire" also gave viewers some of TV's most unforgettable characters, from brilliant and business-oriented drug dealer Stringer Bell to gay rip-and-run outlaw Omar Little to tragic D'Angelo Barksdale, and more. Colorful quotes, unforgettable scenes, heartbreak, food for thought — "The Wire" came at the king, and it did not miss.
As viewers discovered when the show went off the air, it's hard to find something to fill that kind of void. Few dramas have ever reached such rarified air, and even fewer have the audacity to reach for the scope and sheer artistry "The Wire" so frequently achieved. Nowadays, the series has become so universally praised that few showrunners would dare attempt to occupy the same territory. 
Fortunately, there have been some series over the past couple decades that took the right notes from "The Wire." Telling stories from the streets with vivid characters, strong scripts and a willingness to embrace dark humor and twisted ironies, some have managed to step out of the shadow cast by "The Wire" and emerge as gems of their own. Read on for a list of dramas reminiscent of "The Wire," but with a distinct power of their own that makes them highly recommended.
American Crime (2015 - 2017)
Created by John Ridley, ABC's "American Crime" followed a different huge, complicated case each season. The core cast would hang around from year to year (the series lasted 3 seasons), but the characters they were playing would change. Each year was a fresh start, which made for a fascinating experience as one year's murderer could be the next season's hero. All the stories were nuanced, realistic, and multi-layered, exploring themes like illegal immigrants, race relations and drug addiction — all of which makes the series a great pairing with "The Wire."
The series was also an Emmy assembly line, garnering high praise and nominations for cast members Regina King (who won Outstanding Actress for Seasons 2 and 3), Lili Taylor and a pre-scandalized Felicity Huffman, as well as multiple nominations for Outstanding Limited Series.
Perhaps the greatest strength of "American Crime" was the scope its anthology format gave to it. The series dared to embrace big, complicated topics — and while it sometimes did that via showy, dramatic speeches (which could be hit-or-miss), it constantly personified the issues through tense, conflict-ridden plots and characters worth caring about. As Vox's Emily VanDerWerff said in a 2017 review, "It's grandly ambitious and socially conscious in a way that broadcast network TV dramas rarely are anymore. ... It takes big, abstract concepts you might read about in dry language in a major newspaper, and shows their real, human faces." If you long for a show as fiercely engaged as "The Wire," then "American Crime" is worth tracking down.
Boardwalk Empire (2010 - 2014)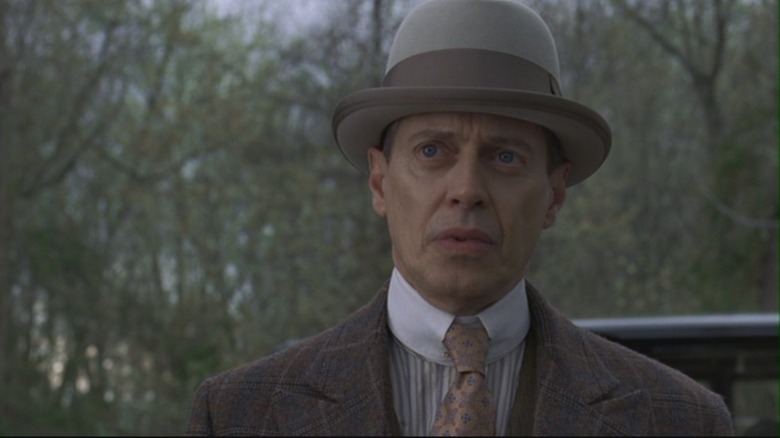 HBO
Another series that specialized in the complicated entanglement of city life and crime, "Boardwalk Empire" served up compelling characters and drama — and featured multiple "Wire" veterans including the amazing, gone-too-soon Michael K. Williams, Franklin Ojeda Smith, Domenick Lombardozzi, Jim True-Frost and Boris McGiver. Both series also shared writer/producer Denis Lehane, directors Ed Bianchi and Brad Anderson, and other behind-the-scenes talents. 
Sure, "Boardwalk" was a period piece, set in Atlantic City nearly 70 years before pagers and corner pushers were populating the streets of Baltimore. Nonetheless, both series were concerned with the concept of prohibition, and the fallout the resulting war has on everyone from the wealthy and powerful to the lowest people on the food chain. Steve Buscemi anchored the series, turning in a killer performance )often, literally) as Atlantic City treasurer Nucky Thompson, who spent five seasons making a fortune and nearly as many enemies as Omar Little. The show balanced Buscemi's performance with an ambitiously sprawling, superbly-cast ensemble, giving it a similar texture to "The Wire," which always delighted in juggling dozens of storylines with equal aplomb.
During its 2010 — 2014 run, "Boardwalk" earned solid acclaim, yet never quite ascended to the must-watch HBO ratings heights of brethren like "The Sopranos." "Watching HBO's new 'Boardwalk Empire' is like sitting in your favorite tavern and hearing someone say, 'Drinks are on the house,'" wrote The NY Daily News in its 2010 review. "Friends, it doesn't get much better." 
It's hard to beat a potent combination of weighty issues, fascinating characters, and an absorbing setting ... and that's also a sentence you could say about "The Wire."
Boomtown (2002 - 2003)
"Boomtown" didn't last very long — only two seasons and 24 episodes — but its novel approach makes it a great companion for "The Wire." Each episode told a standalone crime story from revolving points of view, using "Rashomon"-like lenses to give viewers the plot as seen from multiple angles: cops, culprits, witnesses, reporters, paramedics, and more. The end result was like being offered bite-sized portions of "The Wire."
Starring Donnie Wahlberg, Neal McDonough and Mykelti Williamson, the show felt especially fresh at the time, and nearly two decades later it still has plenty of snap. "Out-of-sequence storylines, vertiginous plot twists, imaginative camera effects, clever dialogue," the Atlantic's Christopher Orr wrote in a 2004 piece eulogizing the short-lived series. "Its audacity was refreshing, the kind of envelope-pushing we've come to expect from cable but is still rare on network TV."
Such intelligence and ambition alone makes it a must-see for "Wire" fans, who are intrinsically intrigued by shows that push past typical TV formulas. But the two are also clearly in the same genre family — even if "Boomtown" is a little bit cheerier.
Bosch (2014 - 2021)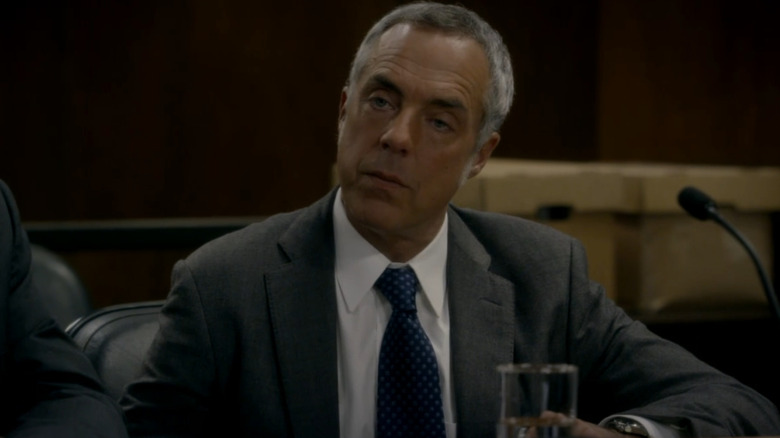 Amazon Prime Studios
If you're fascinated by the more hardboiled, psychologically-driven side of "The Wire" that often focuses on the police and how they manipulate, contain and sometimes even work with criminals, then you should check out Amazon Prime's "Bosch." Based on Michael Connelly's bestselling crime novels, the Titus Welliver series follows the sharp-minded, often grim Detective Harry Bosch as he navigates complex, carefully constructed cases. While the series is — as you'd expect from the title — mostly about Bosch himself, it nonetheless creates a detailed, gritty portrait of a city (in this case, Los Angeles) and offers up a vivid ensemble cast — both hallmarks of "The Wire."
Like some other shows on this list, "Bosch" is heavy with "Wire" alumni, featuring Lance Reddick as Chief of Police Irving and Jamie Hector playing Bosch's partner, Jerry Edgar.
"Bosch" rolls politics — local, national, and interdepartmental — into the mix, making sure everything stays suitably complex, and it's not afraid to dive into high-profile issues. It blends a sort of satisfying, detail-oriented police procedural approach with modern serialized storytelling and psychological conflict, which makes it perfect for those who take their crime dramas seriously. Welliver unfailingly anchors it all with steely charisma, proving that he deserves this kind of showcase.
The Corner (2000)
Before "The Wire," David Simon and Ed Burns came together to make "The Corner," an HBO miniseries adaptation of their in-depth, up-close-and-study of real-life Baltimore residents whose lives had been damaged by the drug trade. Nuanced and painful, and it's easy to see how "The Corner" predates "The Wire." It's a narrower look at the city and its plight — just a street-level, Bubbles'-eye view, essentially — and its smaller scope means it can explore its topics intimately and in-depth. Addicts and their struggling communities are often just the extras in a crime drama, put into the story to establish a grim world. "The Corner" makes them the central characters.
They're all well-crafted — or, given that this is all based on actual journalism, well-rendered — enough to shine in that spotlight. The story mostly revolves around one damaged family: sweet, formerly successful Gary McCullough (T.K. Carter), persistent and shrewd Fran (Khandi Alexander), and their son, DeAndre (Sean Nelson), a teenage drug dealer whose future is on the line. Everything is so realistic that it's hard to hold on to hope — you know that even if a happy ending comes, it won't be Hollywood-perfect — but it's impossible not to care.
The Deuce (2017 - 2019)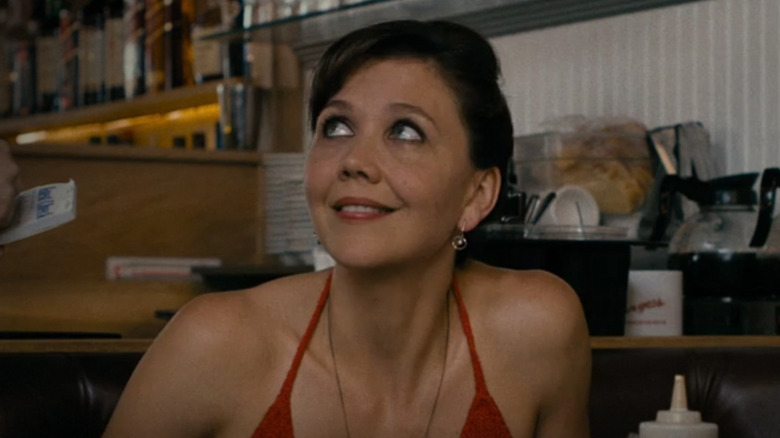 HBO
Remember the old Times Square? It used to be a sleazy, anything-goes pit, rife with sex and crime — and "The Deuce" plunges you right into the filthy, fascinating heart of it all.
David Simon took viewers back to the '70s and '80s with this short-lived HBO series, exploring some of the biggest overhauls in 42nd St. history ... and "Wire" fans won't be surprised to learn that they were all more complicated than they'd seem at first glance. As usual, all the pieces matter: You can't understand the rise of the porn industry without also getting into the Mob, as well as the often superficial urban clean-up efforts that incentivized the rise of so-called "massage parlors."
With such juicy, scandalous subject matter, this was never going to be a dry history lesson. But it's not just the taboo-breaking topics that kept "The Deuce" lively and emotionally engaging. The wide cast — including James Franco (as twins!), Maggie Gyllenhaal, and Lawrence Gilliard Jr. (aka D'Angelo from "The Wire") — is enough reason to go back and track down this excellent show, which painted vivid portraits of passionate, driven people all trying to make their way through a rapidly-changing world. Also, with only three short seasons, it's easy to binge.
Homicide: Life on the Street (1993 -1994)
One of the only series on this list that predates "The Wire," "Homicide: Life on the Street" influenced its Baltimore-set descendent as itself a Baltimore-set gritty police drama. In its earliest seasons in particular, this '90s cop show didn't feel like a cop show, but a slice-of-life documentary that just happened to include some gripping murder cases. The series bent a lot of the established rules of network TV, giving viewers cases that weren't neatly resolved in a single episode (or sometimes ever), unglamorous detectives who sometimes bristled up against each other, and multiple storylines running simultaneously.
It also broke down barriers by having complex, well-developed Black characters — something that mattered as much to the actors as it did to the viewers. Andre Braugher, who played Detective Frank Pembleton, once told The Chicago Tribune about a scene: "We were all standing in the room during [this] scene, and suddenly it was amazing: I realized it was the first time I'd ever been in a room with three other African-American actors and the scene was about us." That was a rare occurrence on TV — and it's part of how "Homicide" helped pave the way for "The Wire."
In a world full of sensationalized storytelling, "Homicide" dared to aim for something realistic, nuanced, and defiantly discomforting. In doing so, it left a lasting landmark on the entertainment landscape.
Justified (2010 - 2015)
It's easy to talk about "The Wire" like it's just sophisticated social criticism, but nobody should ever forget that it was also an incredibly watchable show full of intense drama and iconic characters. Take those aspects and move them several states to the west, and you had "Justified."
Like "The Wire," this 78-episode western series had a strong sense of place. That place just happened to be in the rural, crime-ridden hollers of eastern Kentucky. 
Deputy Marshal Raylan Givens (Timothy Olyphant) had a bad habit of doling out trigger-happy cowboy justice, and much to his chagrin, it got him sent back to his old stomping grounds. The move forced him to contend with his own criminal family history and darker tendencies — as well as his twisted reflection, Boyd Crowder (Walton Goggins), a friend from his coal-mining days and now a career outlaw. "Justified" also brought with it a lot of colorful, nail-biting, riveting cases. It may have aimed more at pure entertainment than "The Wire," but "Justified" had the insight, craft, and depth that "Wire" fans continue to seek.
Peaky Blinders (2013 - present)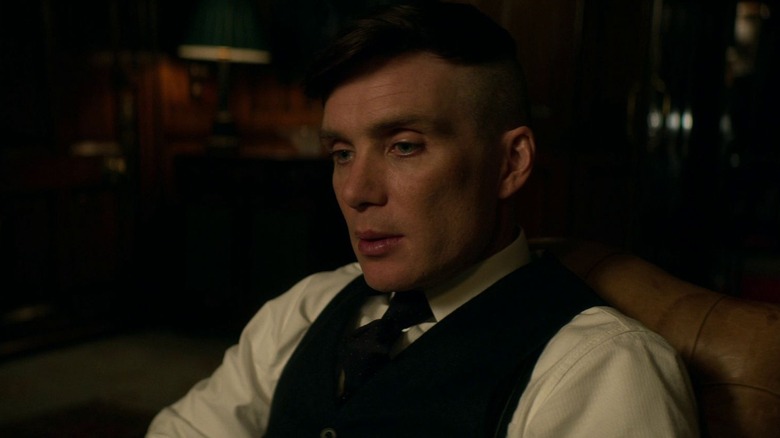 BBC One
"Peaky Blinders" is another great crime drama — this time a period piece, set mostly in 1920s England — that's an expansive, empathetic, hard-hitting look at crime and politics. Like "The Wire," it's particularly interested in the parts of life that often get glossed over or ignored: in this case, a rough-and-tumble working class England. Metro's Keith Watson points out, "[The] gentility [of 'Downton Abbey'] we're all too familiar with but this was an England – in the same era – that was thrillingly alive."
The show focuses on the Shelby crime family (which leads the Peaky Blinders gang), and their ambition lets "Peaky Blinders" touch on just about everything: elections, communism, fascism, international and local affairs, and more. The expansive cast fills in every corner of this historical tapestry — and with actors like Cillian Murphy, Sam Neill, Adrien Brody, Anya Taylor-Joy, and even "Wire" and "Game of Thrones" actor Aidan Gillen, you know you're in for a treat. "Peaky Blinders" crackles with vitality, making it impossible to look away.
The Shield (2002 - 2008)
"The Shield," inspired by real-life LAPD scandals, introduced viewers to a riveting — and corrupt and sometimes murderous — cop named Vic Mackey (Michael Chiklis). The pilot episode, still regarded as one of the best ever made, bent and twisted the phrase "protect and serve" to its extremes, to the point where it concluded with Mackey murdering another cop. It would be a cloud that hung over the series during its entire 7-season run, but plenty of other moments were every bit as shocking.
For seven seasons, viewers sat glued to the screen as Vic fell further into a trap of his own making ... and dragged plenty of other people down with him. If McNulty had watched "The Shield," perhaps he would have reconsidered faking that serial killer.
To be fair, there's at least one person who would disagree that "Wire" fans might also like "The Shield," and that's "Wire" co-creator Ed Burns. Brett Martin's 2014 book "Difficult Men" quoted Burns as roundly dismissing the show based on that aforementioned pilot: "In the first half hour, the guy yelled at his superior officer in the squad room, which you never do. Even I wouldn't do that. ... So I said, 'We don't have to worry. This show is going nowhere.'"
Well, the show did go somewhere: It went through one of the most brutal, revelatory dramatic arcs on TV, concluding with one of the best final episodes of a drama ever broadcast. Luckily, both shows have now been off the air long enough that the sense of competition has completely dissipated. 
Both drew on classic story structures, making them intrinsically satisfying, and both shows were emotionally involving and often hard to take. "The Shield" just included a little more overt action, moving towards inevitable destruction at a relentless and sometimes breakneck pace.
The Sopranos (1999 - 2007)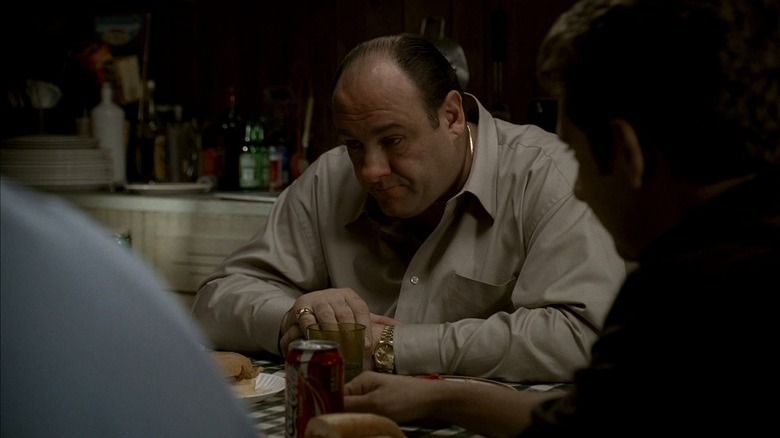 HBO
Recommending "The Sopranos" almost feels like cheating — after all, it often vies for the all-time best TV drama slot right alongside "The Wire," so it seems safe to say you've heard of it. But if you've never checked it out, the obvious needs to be stated: it's a must-watch for "Wire" fans.
Both shows were dark — even grim — and both had a certain weariness and cynicism. As Vulture critic Matt Zoller Seitz put it in 2012, "Both depict America, indeed the industrialized West, as aging empires in a state of decline, perhaps slow suicide." If you're in the mood for that kind of thoughtful despair, mixed with career-defining performances, unexpected humor, and bursts of action, there are no better series in which to seek such things.
"The Sopranos" followed Tony Soprano (James Gandolfini), juggling his family responsibilities with, well, his Family responsibilities. The hectic nature of it all often pushed him to his limits, causing him to have panic attacks and seek counseling ... but he was never much interested in giving up his suffocating criminal life. Tony just wanted better control of it. 
"The Sopranos," like "The Wire," questions whether things ever really change — but it puts its focus on individuals stuck in repeating patterns, not in broken-down institutions. It's more about psychology than sociology, but it all exists on the same spectrum.
Southland (2009 - 2013)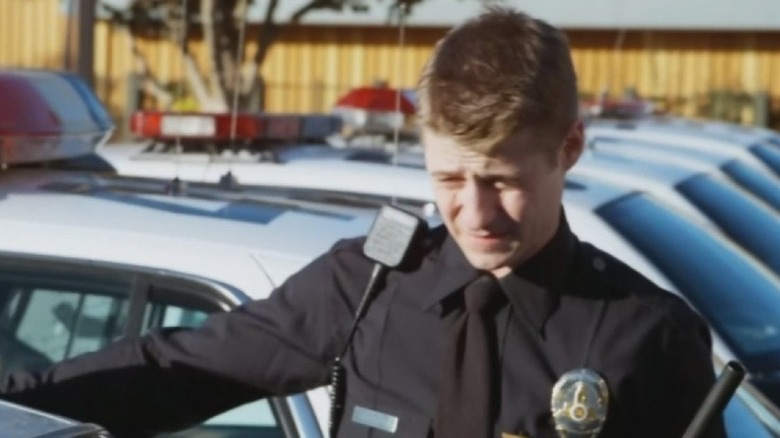 NBC/TNT
Taking a gritty, humane look at Los Angeles while focusing on a handful of well-realized characters juggling their own troubles and faults, "Southland" was another series in the "Wire" tradition that just never attracted the kind of ratings it deserved. 
The show's premiere even earned it a "Wire" comparison from The New York Times, with a 2009 review noting, "Tough-minded, suspenseful and shot in an unnerving bleached light .... [The series opts] in favor of the harsh realism and moral ambiguities of cable shows. ... 'Southland' doesn't steal from 'The Wire,' but it is inspired by that HBO show's intense, intimate look at the inner workings of street crime and beat police work." 
Both series also shared the same near-documentary feel, like you were seeing some kind of unvarnished truth — one simultaneously emotionally risky and intriguingly mundane.
Starring Regina King, Ben McKenzie and Shawn Hatosy, "Southland" brought a unique combination of style and substance to the airwaves, peppered with stripped-down tension and a whole lot of character conflicts. Unfortunately, the series only ran for 43 episodes, because it felt near the end like it was just gaining its footing.
Top Boy (2011 - 2014)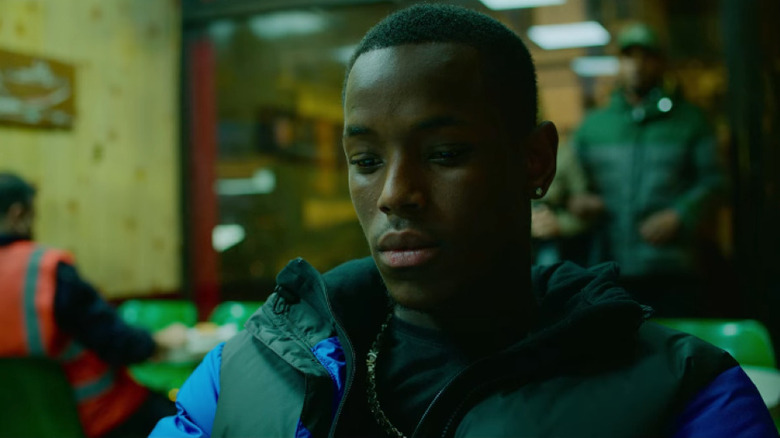 Netflix
It's easier to find crime shows that feel like McNulty's side of "The Wire" than it is to find ones that feel like the reality of Stringer Bell or Avon Barksdale, but the dark British drama "Top Boy" fits the bill. It originally aired in the UK over four consecutive nights, then a second series aired in 2013, both receiving critical acclaim for the way the show portrayed life in a crime-filled summerhouse estate.
"[It's] clear that 'Top Boy' has ['The Wire'] in its blood," The Telegraph wrote in its 2011 review. "The handheld camerawork, the patient, naturalistic dialogue, the even-handed depiction of different lives surrounding the drug trade — all [have] clear antecedents in the American drama." 
"Top Boy" took a narrower focus, so it was a bit more nimble. Rather than giving audiences a distilled version of London — or the summerhouse estate where the show took place — it maintained a tight, often agonizing close-up on the lives of boys like Dushane, Ra'Nell, and Sully, who often didn't have any good choices available to them. The series did a tremendous job of amping up unbearable attention, especially since the viewer was always kept aware of the characters' youth and vulnerability. All these years later, "Top Boy" remains difficult, intense, unflinching, mandatory viewing.