Michael K. Williams' Best Onscreen Roles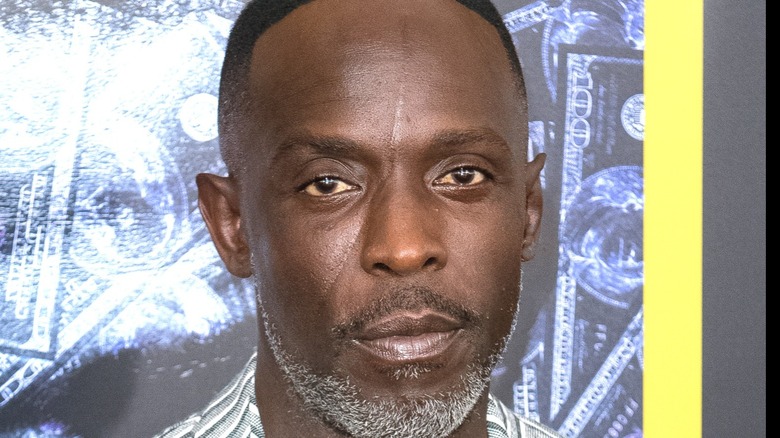 Jason Koerner/Getty Images
The TV and film world was shocked this week when Michael K. WIlliams, the prolific actor, was found dead in his apartment in New York City. He was 54. Williams started his entertainment career as a dancer in music videos and on tour with artists such as Madonna and George Michael. But since the 2000s, he's been a staple in Hollywood, best known for his ability to take on complicated roles in films and on prestige TV series. 
Throughout his career, Williams garnered a total of five Emmy nominations, his most recent being for his last television appearance — on the hit HBO series "Lovecraft Country." While he got his start playing Omar on "The Wire," the list of roles he portrayed is as expansive as it is impressive. Williams also has two unreleased films that are currently in pre-production or post-production: "Surrounded" and "892," so fans can look forward to a pair of bittersweet posthumous performances.
It's hard to nail down Williams' best and most impactful onscreen roles. Almost every character he played was memorable. Williams was an actor known for his ability to elevate any role, and even became a sort of queer icon for the way he challenged traditional notions of masculinity with his work as Omar Little. You could argue for the addition of almost any role in Williams' filmography to this list, but by our subjective estimation, these are the top five.
Omar Little on The Wire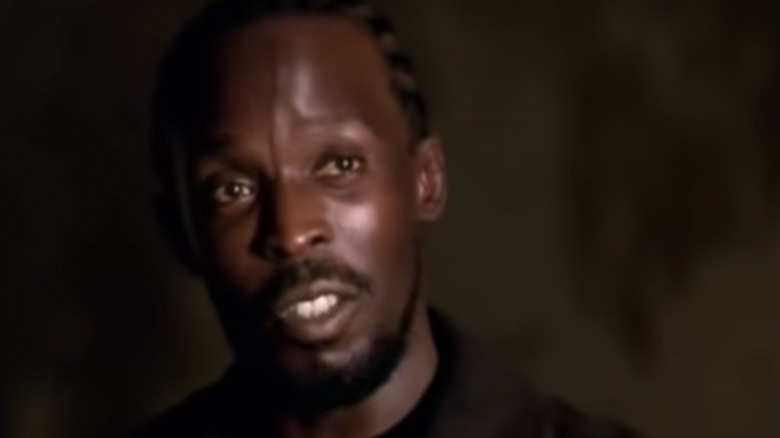 HBO
It would be a mistake to make a list of Williams' best roles and not include his portrayal of Omar Little on "The Wire." Omar is best remembered as a stick-up man who tormented the West Baltimore projects all while peacefully whistling "The Farmer in the Dell." Though he'd rob anyone in the game, Omar had a code. He was a character who helped audiences redefine the traditional villain trope, and realize that the bad guy can often be as lovable and authentic as he is frightening and violent. 
Omar also wore his sexuality on his sleeve. He was unapologetically himself, which included his openly gay lifestyle. He also had other quirks that made him so captivating — such as his refusal to use cuss words, and his deep love for his various partners. In the end, it's hard to think of the smash hit that is HBO's "The Wire" without thinking of the comedic relief and complexity that Omar brought to the show.
Chalky White on Boardwalk Empire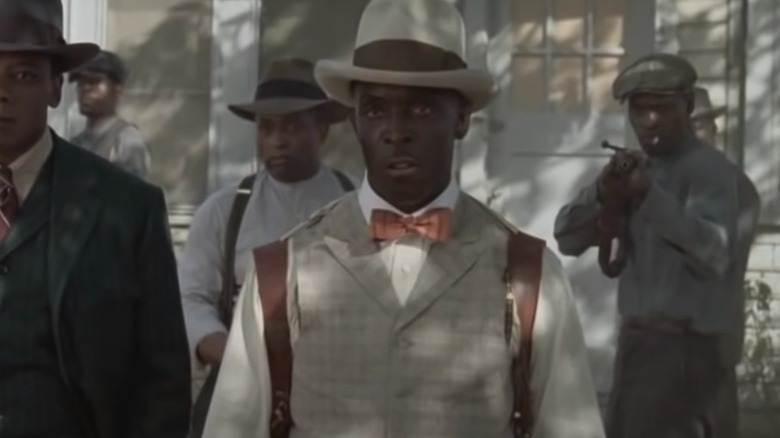 HBO
Outside of "The Wire," Williams will definitely be remembered for his work as the powerful Atlantic City gangster Albert "Chalky" White on HBO's "Boardwalk Empire." For five seasons, Williams embodied the character who served as the spokesperson for the Black community in Atlantic City during the contentious Prohibition Era. Not only did Williams get tasked with portraying Chalky, a real-life racketeer with major historical significance, he also added his own spin to forge a likable character. The version of Chalky who appears on "Boardwalk Empire" is one-part history, two-parts Williams, and that's a very good thing.
Chalky was fiercely loyal to corrupt politician Enoch "Nucky" Thompson (Steve Buscemi). He used his power and connections — and more than a few shady political dealings — to muster resources to help make life better for the fellow Black folks in his community. 
Montrose Freeman on Lovecraft Country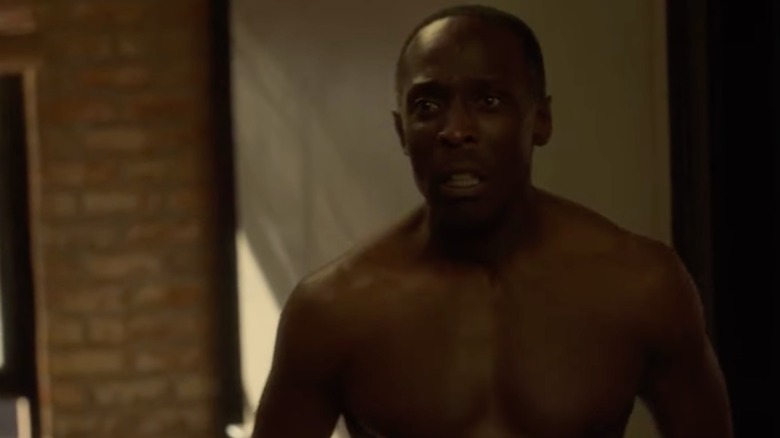 HBO
As noted above, Williams' most recent role was Montrose Freeman, a hard-headed, closeted father, on HBO's "Lovecraft Country." Williams received his fifth Primetime Emmy nod for the portrayal of the confrontational father of Atticus (Jonathan Majors) on the supernatural drama. Like many of Williams' characters, Montrose Freeman can be abrasive and overly opinionated, though he's still easy to empathize with thanks to the complexity of the performance.
Williams brings Freeman's tough-love approach to life and parenting to the forefront. The world of "Lovecraft Country" transmogrifies the psychological and physical horrors of white supremacy into actual Lovecraftian horrors, and it's these monsters — both metaphorical and real — that Freeman hopes to prepare his son to face. He has a complicated past that clearly has affected his outward personality, but beyond his hard exterior, he's a loving father who wants the best for his son — even if his methods are secretive, questionable, and borderline abusive and violent. 
Bobby McCray in When They See Us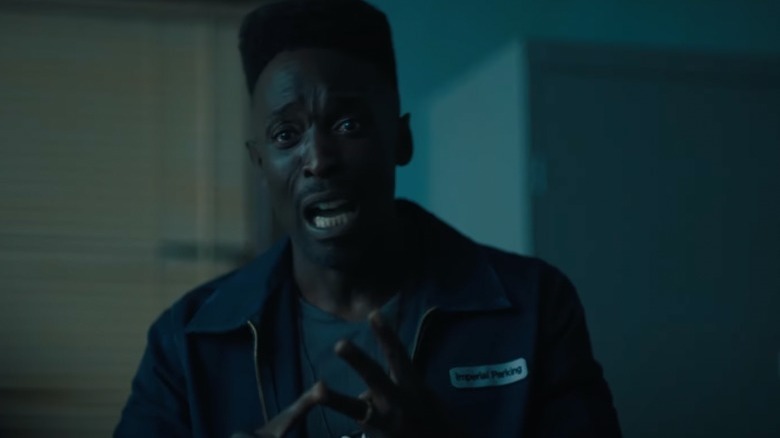 Netflix
Ava DuVernay's Netflix miniseries "When They See Us" is a harrowing and painfully realistic look at the story of the Central Park Five. Five young men were wrongly convicted for an assault and rape of a woman in the New York City park, despite evidence indicating they were innocent. While the portrayals of the five young men are at the heart of this miscarriage of justice, Williams' role as Bobby McCray, the father of Antron McCray, one of the wrongly convicted, was an important perspective to add to the story. 
Bobby's story is complicated, as are many portrayals that involve Black people confronting racial prejudices and discrimination in the legal system. In a heart-wrenching scene, Bobby pressures his own son into falsely confessing to the crime. While it clearly was the wrong decision in hindsight, it's obvious that Williams was trying to make the best for his son within an unfair and racist system. Williams exudes desperation and a determination to help his son throughout the miniseries, even though his decision to push for confession tarnished their relationship for years after the fact (via Express U.K.). 
Robert in 12 Years A Slave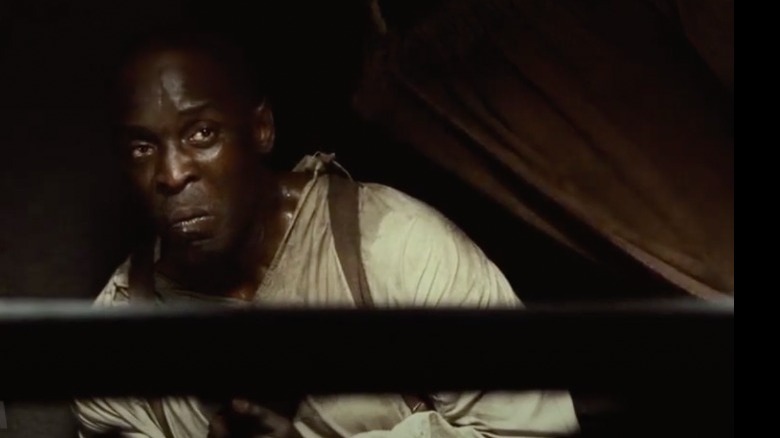 Searchlight Pictures
While Williams has done most of his memorable work on the small screen, his impact in film should not be overlooked. In the biographic drama "12 Years A Slave," Williams takes on the role of Robert, an enslaved man desperate to get out of his condition of servitude. He wasn't a main character and wasn't featured in many scenes, but his acting shines through to make his short appearance so memorable. Williams showcases the trauma and fear instilled in Robert when he is enslaved, abused, and beaten.
Robert tries to convince Solomon (Chiwetel Ejiofor) and his fellow slaves to riot against their captors. He does this in one of the most dangerous ways possible: by attempting escape. It shows that he's willing to risk his life for everybody's freedom. He's pivotal in Solomon's story, as Solomon takes lessons from Robert to determine how to navigate plantation life, and eventually, find the inspiration to escape it.