Why Harry From Bosch Looks So Familiar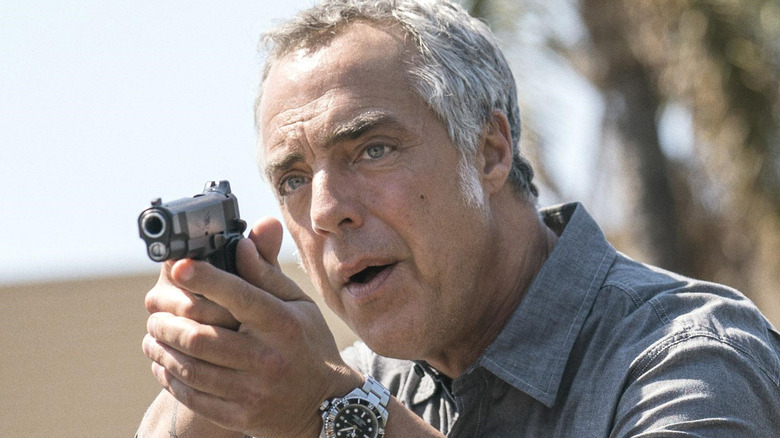 Amazon Studios
Season 7 of "Bosch" premieres on June 25, 2021, and when it does, it will be the final season for the most popular drama series in Amazon's relatively short history as a content creator. And for every single one of the 60 episodes of "Bosch" that have aired so far, actor Titus Welliver has played the titular character, LAPD Detective Hieronymus "Harry" Bosch.
Harry Bosch is just one role in a long and busy career for Welliver, which began with a small role in the 1990 Charlie Sheen action vehicle, "Navy SEALs." Bosch is also, as it happens, a fairly unusual role compared with Welliver's usual work. Welliver has appeared in many of the biggest and most successful TV drama series from the past 30 years, but he usually plays prominent supporting or guest roles rather than the main part.
Titus Welliver has worked so often that if you've watched any TV dramas in the past three decades, the odds are pretty great that you've seen him before. Here's where you may know the actor who plays Harry Bosch from.
Titus Welliver's first lead role on a TV series was Officer Lowry on Brooklyn South
Titus Welliver has been such a regular fixture on TV dramas since the 1990s that choosing only his most prominent roles inevitably means leaving some major ones out. By the time Welliver landed a series regular role on "Brooklyn South," he'd already appeared on classic shows like "Matlock," "L.A. Law," and "The X-Files." He had even secured an eight-episode arc on "NYPD Blue," the iconic cop series created by Stephen Bochco and David Milch.
Milch and Bochco also created "Brooklyn South," so they were very familiar with Welliver's work when that show premiered in 1997. The show followed the police officers of a high-crime precinct in Brooklyn. Welliver played Officer Jake Lowery, a patrol cop who, like most cops on Bochco and Milch's shows, battles personal demons. In Lowery's case, he's prone to violence and doesn't make the wisest dating choices, either.
Welliver appeared on all 22 episodes of "Brooklyn South's" first season before CBS cancelled it in 1998.
Titus Welliver was Al Swearengen's most capable henchman on Deadwood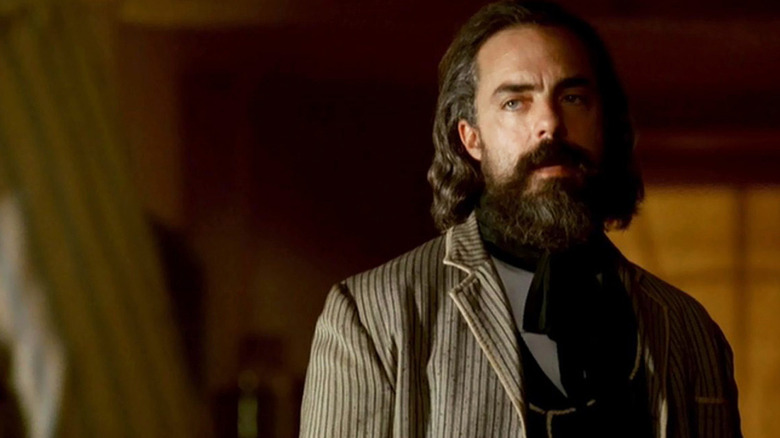 HBO
Titus Welliver once again teamed up with writer David Milch in 2004 when he played the role of Silas Adams on Milch's iconic western series, "Deadwood." Adams is the Yankton representative who comes to Deadwood in the middle of season 2, and whom Al Swearengen convinces to work for him. Adams is more than willing to get his hands dirty, but unlike Swearengen's other henchmen, Dan Dority and Johnny Burns, he also has a sharp political mind and a deep knowledge of Yankton's political situation. This makes him invaluable to Swearengen, who at that point was playing Montana and the Dakota Territory off each other to get the most advantageous position for the town. 
Welliver appeared in 27 episodes of "Deadwood," although he didn't return for the "Deadwood" movie in 2019 due to a scheduling conflict with "Bosch (via "Deadwood" co-star W. Earl Brown on Twitter).
Titus Welliver played the big villain of Lost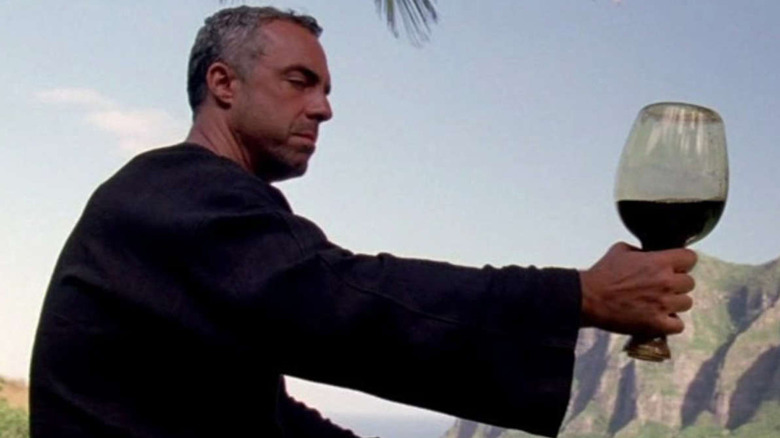 ABC
Beginning in 2009, Titus Welliver had one of the biggest guest roles of the decade ,when he appeared on "Lost" as a mysterious figure commonly referred to as The Man in Black. If you're only casually familiar with the show, The Man in Black is the personification of the Smoke Monster, the mysterious, malevolent cloud that menaced the survivors on the Island throughout the series. The Smoke Monster appeared in 41 "Lost" episodes overall, and Welliver appeared in three over the show's final two seasons.
As if playing the embodiment of an angry smoke cloud isn't difficult enough, Welliver had the added challenge of preparing for the role without knowing any of his character's backstory. Welliver preferred to be kept in the dark so that he wouldn't inadvertently reveal spoilers. He was so paranoid that he wouldn't even keep scripts. 
"On my days off, they would just bring the sides for the scenes that I would be shooting the next day," Welliver told "Couch Surfing" (via Entertainment Weekly). "A [assistant] would come. I would say, 'Just hang out in the lobby.' It would take an hour and I would just learn the lines and hand it back to him because I was so paranoid and didn't want the responsibility of having my sides slip into the hands of some spoiler person."
Titus Welliver was Alicia and Peter Florrick's nemesis on The Good Wife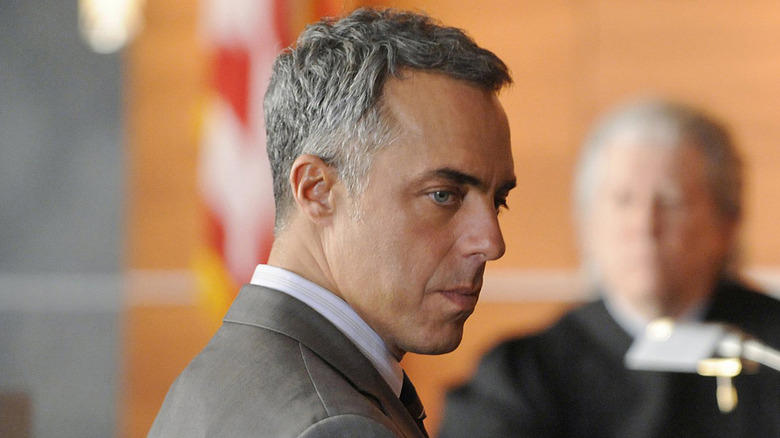 CBS
Like lots of regular TV drama actors, Titus Welliver has quite often portrayed both cops and lawyers. While Harry Bosch is his biggest cop role to date, his biggest lawyer role is arguably Glenn Childs from "The Good Wife." Childs is the ambitious prosecutor who kicks off the events of the series by releasing a sex tape of State Attorney Peter Florrick (Christopher Noth) and a sex worker. The revelation lands Peter in jail and allows Childs to replace him as the state attorney. When Alicia is forced back into her legal career to support her family, Childs continues to oppose her whenever possible. Eventually, he becomes an Assistant US Attorney, and then tries to start a Chicago version of TMZ.
Landing a role on "The Good Wife" kicked off yet another successful decade of TV drama acting for Welliver. After "The Good Wife," he appeared on TV mainstays throughout the 2010s, including the likes of "CSI," "Grimm," "White Collar," and "Agents of S.H.I.E.L.D.," to name a few.