Why Beyoncé's New Tiffany & Co. Commercial Has The Internet Buzzing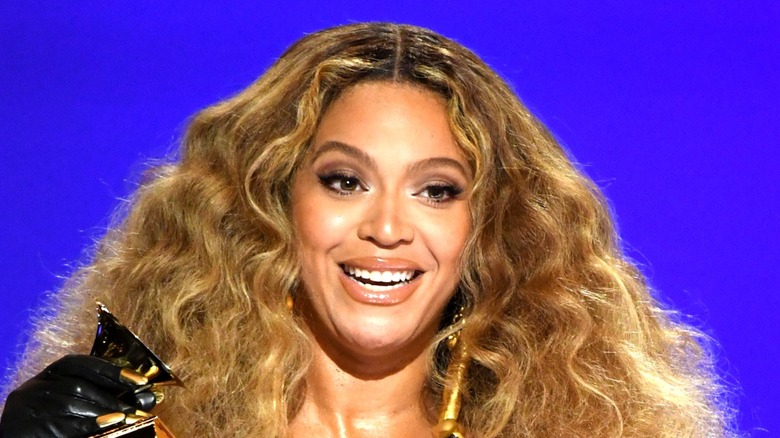 Kevin Winter/Getty Images for The Recording Academy
On Sunday, the latest and greatest TV shows were all celebrated at the 73rd Primetime Emmy Awards. It was a big night for the Netflix original series "The Crown," which won 11 awards, and Apple TV+'s "Ted Lasso," which won seven awards and now holds the record for earning the most nominations of a freshman comedy series in Emmys history.
Standout moments from the award show included Michaela Coel's powerful acceptance speech for Outstanding Writing for her HBO series "I May Destroy You," and Gillian Anderson, who won an award for her role as Margaret Thatcher on "The Crown," being asked if she'd consulted with the long-deceased politician for the part (via Twitter). But despite the night's focus being on TV and its stars, it was Beyoncé who managed to steal the show by appearing in a new commercial for Tiffany & Co. The pop superstar wasn't up for any awards on Sunday, but she has received eight previous Emmy nominations.
So, why is this one-minute commercial earning so much buzz online?
An iconic star referencing an iconic film
The simple answer is because it's Beyoncé — everything she does is an instant hit. It also helps that the luxury jewelry brand's new ad references a classic film (1961's "Breakfast at Tiffany's"). The commercial sees the reigning Queen of Pop dressed as Audrey Hepburn's "Breakfast at Tiffany's" character, Holly Golightly, all while performing the film's iconic original song, "Moon River."
From Beyoncé's black dress and hairdo to its perfect music choice, the commercial is as timeless and charming as the film that helped inspire it. Jay-Z also, notably, appears in the commercial to lovingly watch its star sing and relish the time their busy schedules allow them to spend together.
Fans took to Twitter to share their reactions to the commercial, which largely alternated between lots of fire emojis and crying emojis, though, many also took the chance to hype up Beyoncé and admire her voice. "Wait. Where's the #EMMY2021 for @Beyoncé & Jay-Z's Tiffany commercial? God, that was gorgeous," tweeted @DonnaJTuttle, while @1Life_DreamBIG wrote, "That Tiffany's commercial with Beyoncé and Jay-Z is the most beautiful romantic endearing ad on tv right now."
This isn't the first time the power couple has paid homage to iconic pieces of art in their work, but whether she's posing with art at The Lourve (via TIME) or wearing diamonds and referencing "Breakfast at Tiffany's," anything involving Beyoncé is bound to get the internet buzzing.