Read This Before You See There's Someone Inside Your House
This content was paid for by Netflix and created by Looper.
The spooky season is almost here, and "There's Someone Inside Your House" is coming this October 6 to usher in the Halloween mood in a big way. The film follows the students of Osborne High School as they try to survive a deadly new threat: There's a new serial killer on the loose who's stalking the kids of the campus and exposing their darkest secrets before killing them in gruesome ways. Even more menacing? This killer likes to wear a mask of each victim's face during these attacks to make the crime scenes even more shocking and terrifying to the town.
Makani Young (Sydney Park) is a high school student who transferred from Hawaii to this small-town Nebraska school to live with her grandmother about a year before the mayhem begins. Though Makani also has a mysterious past to contend with, she and her new friends must work together to unmask this murderous maniac before it's too late for them all.
Here's what else you need to know about "There's Someone Inside Your House."
A shot of slasher nostalgia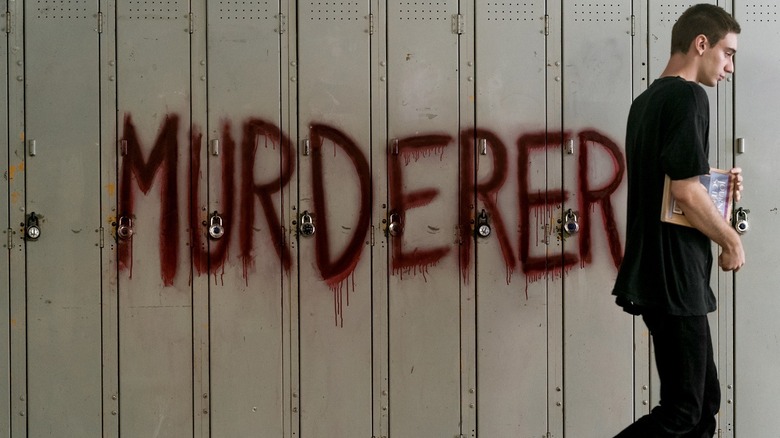 David Bukach/Netflix
"There's Someone Inside Your House" is an adaptation of Stephanie Perkins' 2017 young adult novel of the same name, which has been widely compared to some of the most memorable films from the '90s slasher scene, including "Scream" and "I Know What You Did Last Summer," for its vintage horror appeal. Critics also praised the book for its creatively macabre murder scenes and its "relentless" villain that keeps readers on their toes.
The novel is also notable for subverting certain narrative expectations throughout. That's because, as Perkins herself put it, the point of the story is not just to find out the identity of the killer but to see how Makani and her friends grapple with this terrifying threat and their own secrets.
"There's Someone Inside Your House" is Perkins' first horror novel; she previously wrote the hit YA romance books "Anna and the French Kiss," "Lola and the Boy Next Door," and "Isla and the Happily Ever After." But Perkins stuck to the genre for her next novel, a horror story called "The Woods Are Always Watching," which hit shelves this August.
The cast is full of familiar faces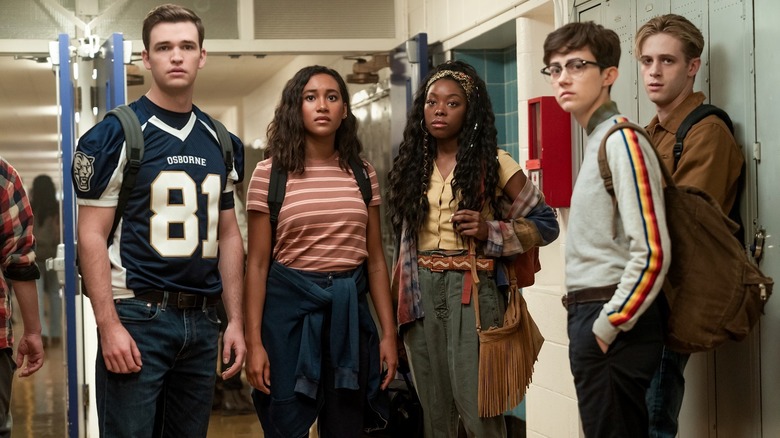 Netflix
Leading up the cast of "There's Someone Inside Your House" is Sydney Park, an actress who is known for her work as Gabby Phillips in the Nick at Nite series "Instant Mom" and as Winter in "The Santa Clarita Diet." "The Walking Dead" fans may recognize her as the actress who portrayed the Oceanside survivor Cyndie, while she also starred as Caitlin Lewis in the "Pretty Little Liars" spin-off "The Perfectionists." She also voices the character Pru Granger in the series "Spirit Riding Free."
Meanwhile, Théodore Pellerin stars in the film as Oliver Larsson. Pellerin previously starred as Xavier in the 2018 film "Boy Erased," as Cody Bonar in Showtime's "On Becoming a God in Central Florida," and, most recently, as Jasper in the 2020 film "Never Rarely Sometimes Always."
Audiences will likely also recognize Emilija Baranac, who stars in the film as Hailey and is known for her role as Genevieve in the "To All the Boys I've Loved Before" films. Baranac also stars as Midge Klump in TV's "Riverdale" and could also be seen as Audrey in the second season of "Chilling Adventures of Sabrina." Asjha Cooper stars in the pic as Alex; Cooper previously played various teen roles including Jessica from "Secret Diary of an American Cheerleader," Sharon from "Everybody Wants Some!!," Eva from FX's "Snowfall," and Kia Williams in The CW's "All American."
There are plenty of other familiar faces in the cast of "There's Someone Inside Your House." There's "Good Witch" star Dale Whibley; "Z Nation" and "Boy Erased" star Jesse LaTourette; "Message from the King" star Diego Josef; "Beyond" star Burkely Duffield; "Virgin River" star Sarah Dugdale; "Travelers" and "Riverdale" alum William MacDonald; "When Calls the Heart" star Andrew Dunbar; and Project Mc² star Markian Tarasuik. Needless to say, that's a stacked cast.
The behind-the-scenes talent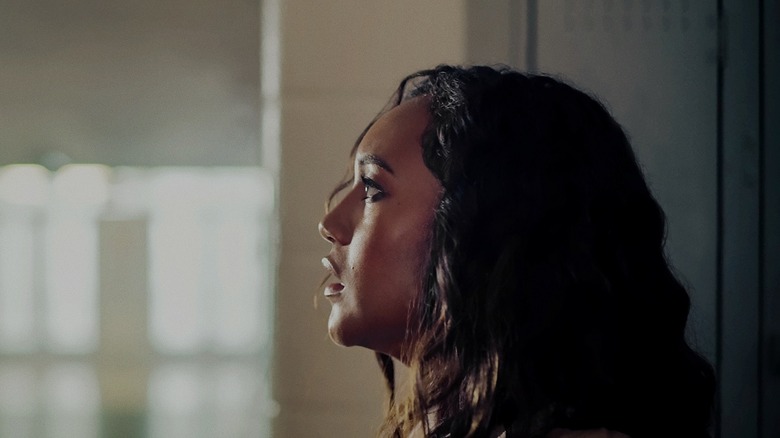 Netflix
The screenplay for "There's Someone Inside Your House" is written by Henry Gayden, whom you might know for his work with Darren Lemke on the script for the 2019 superhero smash "Shazam!" Gayden will return to write the upcoming sequel, "Shazam! Fury of the Gods," and he is also known for his work on all six episodes of FEARnet's "Zombie Roadkill" series, which were directed by Dave Green. Gayden and Green later re-teamed for the 2014 sci-fi adventure film "Earth to Echo." All of these previous works prove that Gayden has a particular knack for writing about young characters dealing with extraordinary — and often scary — situations, which no doubt comes in handy for his work on the adaptation of "There's Someone Inside Your House."
Director Patrick Brice has also quickly established himself as leading talent in the horror genre, thanks to his work on the 2014 thriller "Creep" and the 2017 sequel "Creep 2." Not only did Brice direct and co-write both films alongside Mark Duplass, but he also starred in the first. Brice also wrote and directed 2015's "The Overnight, an edgy mystery-comedy with a star-studded cast, and he also helmed the 2019 comedy-horror "Corporate Animals," along with several key episodes of HBO's anthology series "Room 104."
"There's Someone Inside Your House" is produced by James Wan's Atomic Monster Productions — which brought us instant classics of the genre like "The Conjuring" movie series and "Lights Out" – as well as Shawn Levy's 21 Laps Entertainment, the company behind favorites like "Stranger Things," "I Am Not Okay with This," and the series adaptation of Leigh Bardugo's "Shadow and Bone." 
Tune in for all the chills on October 6.