Will Sinbad Really Appear In Shazam! 2: Fury Of The Gods?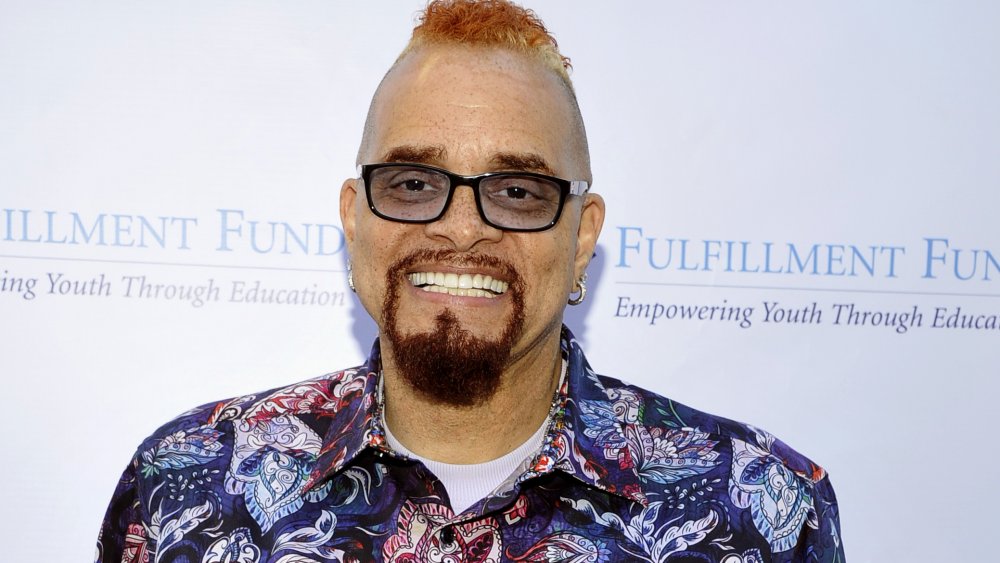 John Sciulli/Getty Images
A list of things that fans expected to get during the Shazam! 2 panel at DC FanDome 2020: some behind-the-scenes photos, perhaps some concept art, a short synopsis, or even just definitive confirmation of the new characters set to appear in the sequel pic. A list of what fans got: the reveal of the movie's badass formal title – Shazam! Fury of the Gods — and an unexpected appearance from stand-up comedian and actor Sinbad. 
"Why was Sinbad on the panel for Shazam! Fury of the Gods?" you ask? Well, there are two factors at play. 
The first is that Sinbad (real name: David Adkins) is thought to have played a genie in a 1994 film entitled Shazaam, which has been the subject of intense conversations about whether it even existed at all. Fact-checking site Snopes reports that Sinbad never portrayed such a character, and that the film countless people remembered as Shazaam was a figment of their imagination — another entity fallen away to the Mandela effect, a phenomenon in which a large collection of individuals share the same false memory. While it seems that people may have been confusing Shazaam for the Shaq-starring movie Kazaam (in which the NBA star also plays a genie), Sinbad went on record to say that he actively tried to cover up Shazaam's existence because he was embarrassed of the movie — though it sounded like he was completely joking based on the fact that he said he had government officials steal copies of Shazaam out of people's homes. All that Shazaam chaos kicked back up ahead of the April 2019 release of Shazam! — for obvious reasons. 
Sinbad showing up during the Shazam! Fury of the Gods panel was indeed partly to capitalize on all the memes and jokes, but his appearance was also to tease something major: his apparent involvement in the upcoming sequel. 
But is Sinbad telling the truth? Will he actually be in Shazam! Fury of the Gods? Let's break it down.
Sinbad is probably serious about Shazam! Fury of the Gods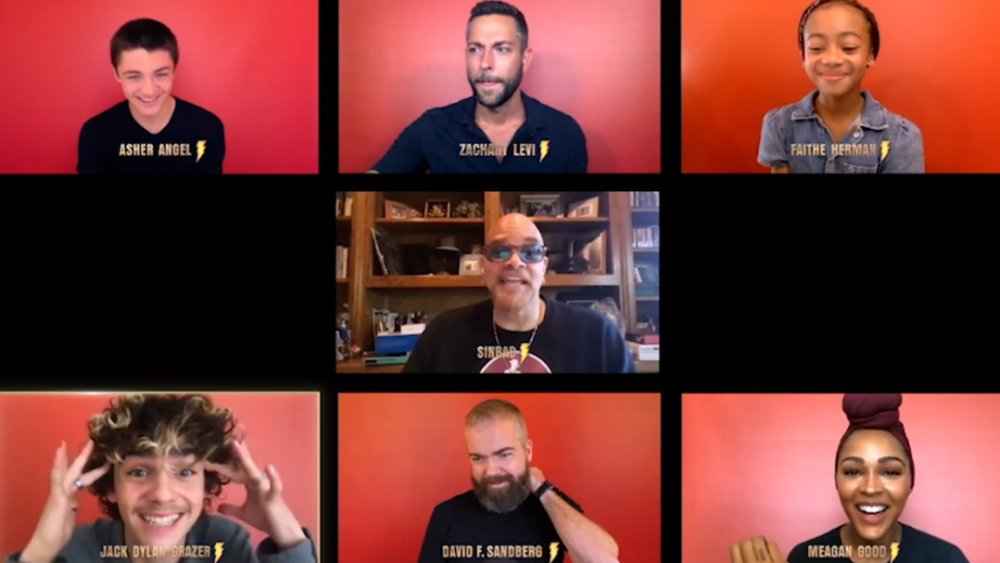 Popping up in a Zoom conference call appropriately named "Shazoom" during the sequel flick's FanDome presentation, Sinbad dropped the bombshell: "I'm going to work right now to rectify the [Shazaam] situation once and for all with a big, prominent role in Shazam! 2." 
That statement and the reveal of the film's title were the only things discussed during the presentation, and there wasn't much that director David F. Sandberg could reveal about the movie since it's so far out from its fall 2022 release date. 
We don't know who Sinbad might play in Shazam! Fury of the Gods, let alone if he's being serious about his casting. Given his penchant for shenanigans (see the Shazaam cover-up "confession" video) and his long career in comedy, there's a chance that Sinbad was just joking. On the flip side, he could have been totally serious. If he wasn't and was only kidding about having a prominent part in the Shazam! sequel, that would essentially render only half of the movie's DC FanDome panel legit. We're inclined to believe that Sinbad is going to pop up in Shazam! Fury of the Gods — and fans already have ideas about who he might play. 
Twitter user @marsanj47 theorizes that Sinbad will take on the role of Tawky Tawny, the anthropomorphic tiger who favors living amongst humans rather than out in the wild and has a keen sense of fashion, particularly tweed suits. (Tawky Tawny hasn't been confirmed for Fury of the Gods, so this remains just a bit of fantasy casting for now.) Other fans on Twitter have posited that perhaps Sinbad is voicing Mr. Mind — but considering Sandberg provided the voice of the powerful Venusian worm villain in the first Shazam!'s post-credits scene, that part is probably out of the question. 
What feels most plausible is that Sinbad will portray one of the DC Comics gods in the film, purely based on the title of the movie. Who those gods will be and which one Sinbad might play remains unknown, as Sandberg kept mum about that during the Fury of the Gods presentation. 
The known cast of Shazam: Fury of the Gods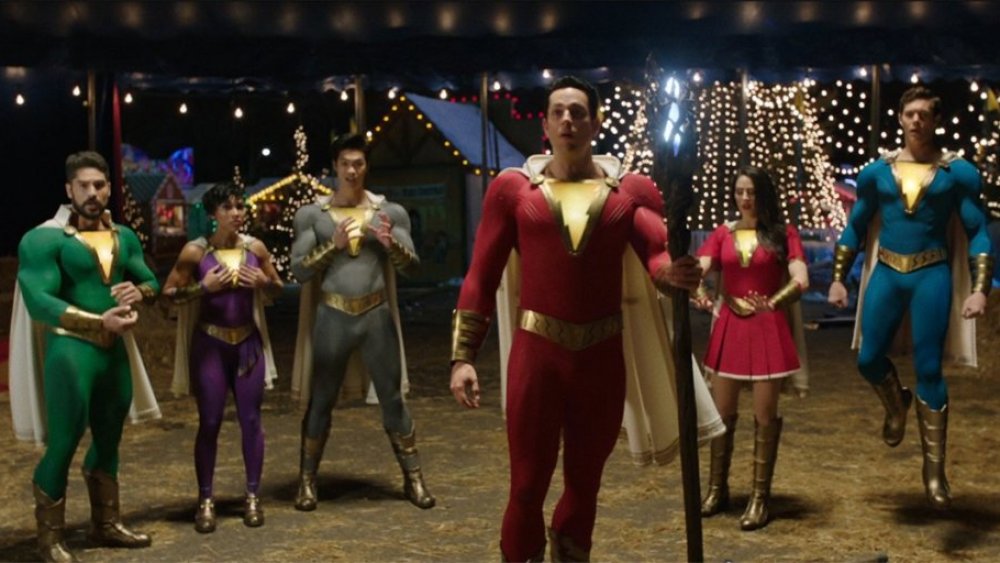 Warner Bros.
All of our favorites from the first Shazam! movie are expected to zap back in for the sequel. Joining Asher Angel as the teenage version of Billy Batson and Zachary Levi as the grown-up, glowed-up Billy in his Shazam form are Jack Dylan Grazer as Freddy Freeman, Billy's best bud and foster brother; Faithe Herman as Darla Dudley and Grace Fulton as Mary Bromfield, Billy's foster sisters; Ian Chen as Eugene Choi and Jovan Armand as Pedro Peña, Billy's other foster brothers; and Marta Milans and Cooper Andrews as Rosa and Victor Vasquez, Billy's foster parents. Djimon Honsou will, of course, return as Shazam, the centuries-old Council of Wizards member who elected Billy as his pure-hearted champion.
Also set to make appearances are the adult versions of all of Billy's foster siblings, who became superheroes themselves at the end of Shazam! during the battle against Mark Strong's evil Dr. Thaddeus Sivana. These include Adam Brody as Freddy, Meagan Good as Darla, Michelle Borth as Mary, Ross Butler as Ian, and D. J. Cotrona as Pedro.
Though Shazam's comic book nemesis Black Adam has been making headlines left and right thanks to the upcoming Black Adam solo movie starring Dwayne "The Rock" Johnson, the two characters won't meet in Shazam! Fury of the Gods. That face-off is reserved for the third Shazam! movie, according to Levi himself. However, fans might see Johnson make a cheeky cameo in Shazam! Fury of the Gods, setting up the events of the three-quel. Never say never.
Shazam! Fury of the Gods is scheduled to arrive in theaters on November 4, 2022.