The Transformation Of Asjha Cooper From Childhood To Chicago Med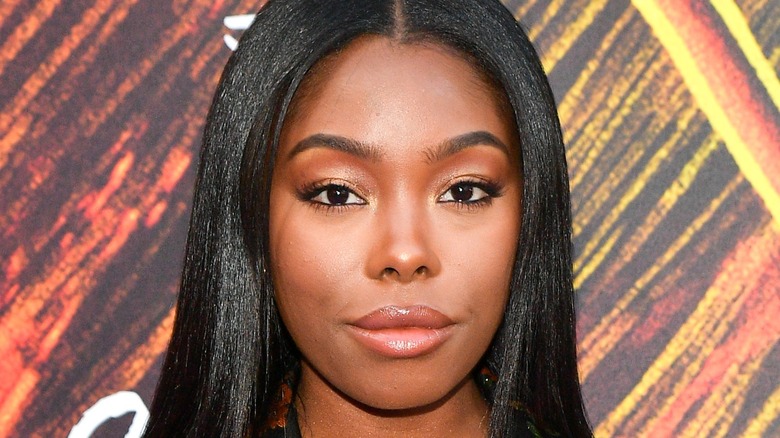 Matt Winkelmeyer/Getty Images
It's an exciting time for fans of NBC's expansive "One Chicago" franchise, with "Chicago Fire," "Chicago P.D.," and "Chicago Med" all premiering their newest seasons in late September. While the popular trio of series from legendary producer Dick Wolf (who also created the "Law & Order" franchise) have worked up plenty of twists and turns for their new seasons as well, the biggest changes have taken place on "Chicago Med," coming off the departures of a couple of key cast members at the end of its previous season.
But when one door closes, another opens, and "Chicago Med" moved to preemptively fill some of the void left by those exits by adding a new character late last season in the form of medical student Vanessa Taylor. The character was eventually revealed to be the daughter of nurse Maggie Lockwood (Marlyne Barrett), but their relationship remains, as of this writing, a secret from the rest of the staff at Gaffney Chicago Medical Center. 
"Vanessa has discovered everything and doesn't want Maggie telling people, doesn't want her reputation influenced by that," executive producer Diane Frolov told TV Guide. "Maggie is going to attempt to honor that but Maggie is a mother so she'll have this constant tension in her: When does she intervene? When does she pull back? And Vanessa's angry."
But while Vanessa's arrival has caused shockwaves in the series itself, "Chicago Med" fans have been busy wondering about Asjha Cooper, the actress who plays Vanessa Taylor, and why she looks so familiar.
Asjha Cooper got her start playing high schoolers — and that hasn't entirely changed
Stepping confidently into the role of Dr. Vanessa Taylor, actress Asjha Cooper has already established herself as a force to be reckoned with on "Chicago Med," and if fans of the series felt like she looked familiar, it's for good reason. Indeed, some viewers may feel they've already watched Cooper grow up before their eyes because the actress first gained recognition by playing teenagers on TV. That began when she made her screen acting debut in a 2010 episode of "Friday Night Lights" when she was 17.
Cooper continued playing teenagers even as she entered her 20s, landing a series regular role on "Secret Diary of an American Cheerleader," a series produced for YouTube in 2013, before going on to play teens in episodes of Nickelodeon's "Sam & Cat," MTV's "Faking It," and Freeform's "The Fosters." The actress finally graduated from high school roles when she was cast by director Richard Linklater ("Dazed and Confused," "Boyhood") as a college student in "Everybody Wants Some!!" in 2016.
Cooper's career continued its ascent with recurring roles on FX's "Snowfall" and the CW's "All American." The actress also recently shot the comedy pilot "None of the Above" for Freeform (via Deadline), which, unfortunately, was not ordered to series. Luckily, that turn of fate also meant that Cooper's schedule was suddenly free enough to let her star in "Chicago Med."
Asjha Cooper recently starred in two horror films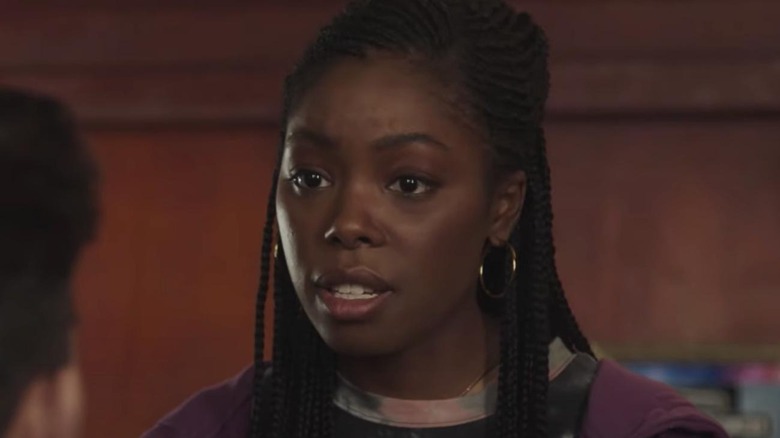 Amazon Prime
All those high school and college-aged roles set the stage for Asjha Cooper's emergence on "Chicago Med," which is giving her more exposure than any of her prior projects. However, while she's clearly starring as a college graduate on the NBC series, the 28-year-old actress is still playing teenagers in other projects. 
For instance, Cooper just recently starred in the Blumhouse horror movie "Black as Night" on Amazon Prime as a 15-year-old girl. The actress told Screen Rant she related to the character in the film as "a younger version of myself; all of her insecurities and issues of colorism [are] everything that I dealt with when I was younger. ... I just was like, 'Wow,' I felt really seen when I was reading this script and I just really wanted to be a part of the project."
Cooper also appears in the new Netflix horror flick "There's Someone Inside Your House" as a student in — you guessed it — high school. However, in a separate interview with Screen Rant, the star pointed out that even though the movie was released in late 2021, it was originally filmed in 2019 when she was only 26. "Horror movies are fun to film so I was having a lot of fun for the last two years," Cooper told the outlet. "Especially with a cast like this. It was so much fun."
Now, instead of running for her life, Cooper is busy saving lives on-screen in "Chicago Med," where she continues to cement her status as a talented and versatile up-and-coming star.