Lily Rabe Opens Up About Her Character's Twisted Fate In AHS: Red Tide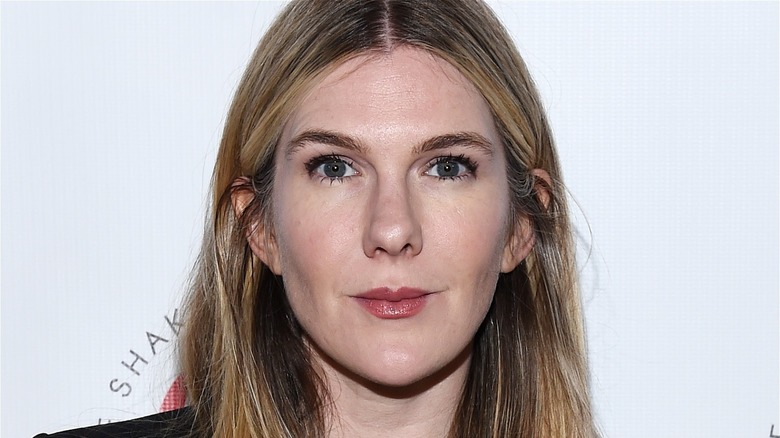 Amanda Edwards/Getty Images
Contains spoilers for "American Horror Story: Double Feature" Episode 5.
The heart-pounding first half of "American Horror Story" Season 10 is almost over, and it's gearing up for an intense finale. Also known as "Red Tide," the first half of "AHS: Double Feature" centers around the Gardner family, who relocate to a fictional version of Provincetown, Massachusetts, so the patriarch Harry (Finn Wittrock) can focus on his writing career. While his pregnant wife Doris (Lily Rabe) and their young daughter Alma (Ryan Kiera Armstrong) try to adjust to their new home, the sinister truth behind the small town comes to light.
Some small-town locals introduce Harry to a mysterious black pill that enhances people's natural talents, but for a price — those who take the pill have to drink fresh blood to stay healthy, since the pills absorb the body's nutrients to work. Additionally, anyone who takes the pills but lacks natural creative skills become vampire-like, pale creatures. When Alma realizes Harry takes black pills that allow him to focus and find inspiration, she also takes them so she can become the best at playing violin — which obviously creates tension in the family. 
And in Episode 5, Doris is also essentially forced into taking a black pill herself, which leads to dire consequences. Recently, actor Lily Rabe provided more context about her character's decision, and what it means for the family's future.
Gaslighting was rampant in Episode 5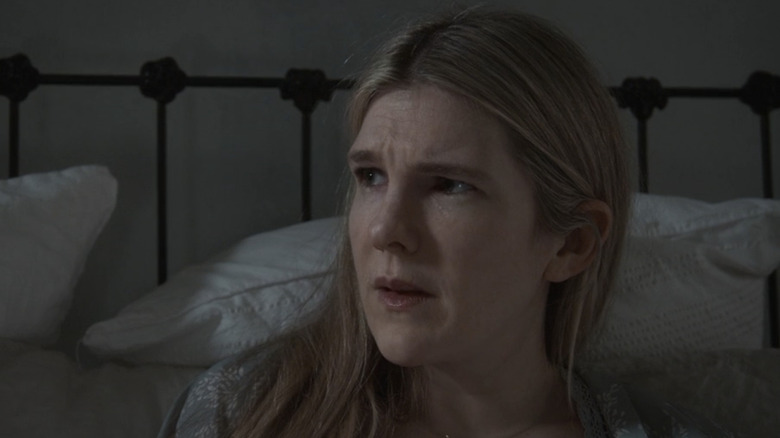 FX
In "AHS: Double Feature" Episode 5 — aptly titled "Gaslight" — Doris gives birth, and is subsequently kept drugged to prevent her from learning more about the black pills. Harry, Alma, and Harry's agent Ursula (Leslie Grossman) work together to convince Doris that she's been imagining all the horrible stuff happening in her home, like Alma literally drinking blood from her new baby brother.
Eventually, Alma convinces her mother to take one of the black pills as well (which has also helped to cement the belief that Alma is the true villain of this season). Unfortunately for Doris, her artistic talents prove to be lacking, and she quickly succumbs to the fate of the other pale people that lurk throughout the town: she vomits profusely, her hair falls out, and she loses touch with reality. 
Now, in an interview with The Wrap, Rabe revealed that she didn't think Doris taking the pill was inevitable, and she noted that she remained firm in her initial refusal of the pill earlier in Episode 5, while her family was manipulating her. In the same interview, Rabe also provided her own theory behind Doris' decision to take the black pill in the first place.
Doris took the black pill for her daughter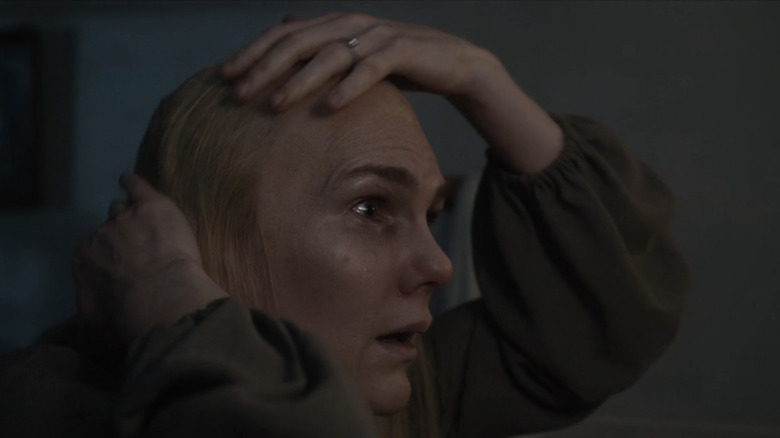 FX
During the interview, Lily Rabe went into detail regarding Doris' desperation to escape the confusing world her family created around her, although she did eventually succumb to the gaslighting and pressure. According to Rabe, Doris's final decision to take the pill was due to her love for her daughter. "I think it is, ultimately, only Alma who would have been able to get her to take the pill. I think if the same scene had happened with Harry — at that point, she loves Harry and she's wildly devoted to him, as we know by this point, but I think it is only her child, it is only her heart that is going to be able to look her in the eye and say, 'I believe in you. There is hope. There is hope in this pill.' I think what actually happens for her in that moment is just a flicker of a possible better outcome than what she's been faced with. It's so brief and it's just like this little crack of light that gets in."
Rabe further explained that she felt Doris was desperate to keep her family together, as well as find proof in her own talents. "I think, in that moment, there is actually the possibility of not only hope for saving her family... but also, there is the hope, this fear that everyone has, that she would become a Pale Person, not that she has the knowledge of exactly how it all works, but her own fear of her own talent and viability outside of her family and her own identity and her own self worth. I don't think there's anyone who doubts it more than Doris."
New episodes of "American Horror Story: Red Tide" air Wednesday nights on FX.