Dave Bautista Doesn't Know If Drax Survives Avengers: Infinity War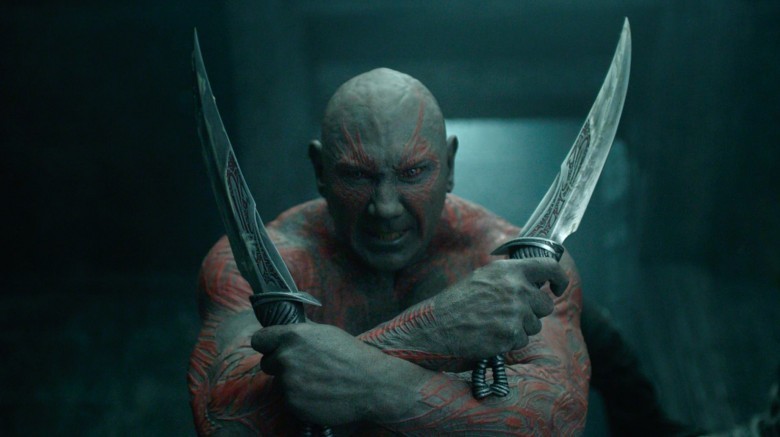 Sorry, Drax fans– Dave Bautista doesn't have good news for you. While he didn't confirm that Drax would perish in Avengers: Infinity War, Bautista did say in a recent interview that he's unsure if his character, who has it out for Avengers big bad Thanos, will make it through. "I've shot some of [Avengers: Infinity War] now," Bautista told Yahoo! Movies UK while promoting the upcoming Guardians of the Galaxy Vol. 2. "First of all, I hope that [Drax] makes it through Avengers. I'm assuming that he will make it through Avengers and go on to Vol. 3."
This is an odd statement from Bautista, who would presumably have seen the entire script for Avengers: Infinity War by now. However, it's possible that he could have not finished reading the script, or that Marvel could be trying to keep the actors out of the know for as long as possible. There's also a chance that Bautista is just playing coy on Drax's fate, trying to be a cog in Marvel's secret keeping machine.
Still, there are quite a few signs that point to Drax not making it through Infinity War. The character wants revenge on Thanos, and he has shown in the Guardians movies that he isn't always the most sensible when it comes to avenging his family's death. His single-mindedness could easily result in him rushing towards a fight he isn't able to win, and, considering the fact that the next two Avengers movies are likely to see the deaths of many of our favorite heroes, he could not make it out alive.
We still have hope for Drax, though, especially considering how much Guardians writer/director James Gunn values his characters. Gunn, an executive producer on the next two Avengers movies, would likely be upset to let go of one of his leads, and will probably want to keep Drax around for Vol. 3, the last iteration of the current team of Guardians. Should he live until then, Bautista knows what he wants to see for the character, telling Yahoo!, "I'd like to tell more of the backstory of Drax and his family and how he lost them."
Drax will next appear in Guardians of the Galaxy Vol. 2, due out May 5. Avengers: Infinity War will be released on May 4, 2018, while the untitled fourth Avengers film (in which Drax may or may not appear) will be released on May 3, 2019.