Lily Rabe Reveals Which AHS Seasons She'd Like To See Crossover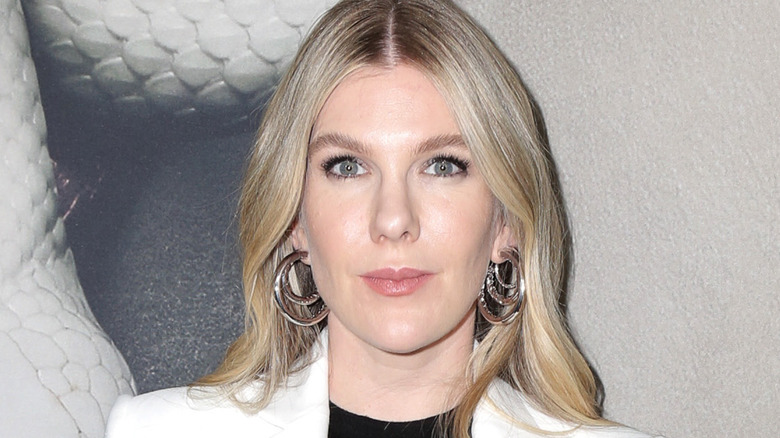 Kathy Hutchins/Shutterstock
With the finale of Part 1 of "American Horror Story: Double Feature," also known as "Red Tide," almost here, the show's stars are breaking down the fate of their characters before the show takes a 180 degree turn for Part 2, "Death Valley." In Part 1, Lily Rabe, Finn Wittrock, and Ryan Kiera Armstrong play a sweet, normal family arriving in Provincetown, Massachusetts, for a few months vacation so that they can spend time together and Henry (Wittrock) can finish the script he's writing. His wife, Doris (Rabe), is heavily pregnant, and she gets bad vides from the town from the beginning, but no one listens to her. As longtime "American Horror Story" fans will know, only bad things are in the family's future, and the chances of them all making it out alive are slim. 
While "Death Valley" is still mostly a mystery, fans know that the story will connect with "Red Tide" in some way, and involve aliens. Over the course of the anthology show's 10 seasons so far, "American Horror Story" has consistently brought intense, compelling stories through crazy scenarios, constantly pushing the boundaries of what is done on a television series. As many cast members return season after season, it's clear that the actors love working on the show. There's honestly no telling what Ryan Murphy, Brad Falchuk, and the rest of the "American Horror Story" team might do next. Frequent collaborator Rabe recently spoke with Decider about exactly this, considering what seasons she'd like to crossover if they decided to do another season like "Apocalypse." 
Rabe wants Asylum and Red Tide to do a crossover
FX
With Season 8 of "American Horror Story," known as "Apocalypse," the horror show brought "Murder House" and "Coven" characters together to tell a new story set in the future. Many fans loved the way the series connected past fan-favorites in this way and would love to see it happen again with other seasons. Well, it seems like the cast feels the same way, as Rabe shared which two seasons she'd like to see crossover in a recent interview. 
Talking with Decider, Rabe was asked about her dream crossover, and her answer might surprise you. While she mentioned two pairings, the one she eventually stuck with was "Asylum" and "Red Tide." As for why, Rabe explained that the two connect the most in terms of themes, focusing on "those questions of sanity and of psychological torture. To me, those are always, if I had to choose, probably the winners in terms of what I find the absolute most compelling." 
In "Asylum," Rabe plays Sister Mary Eunice, a nun who becomes possessed by the Devil. "Asylum" is definitely one of the seasons that fans most want to see revisited, with many referencing Sarah Paulson and Jessica Lange's amazing performances. But Rabe also mentioned a possible crossover between "Asylum" and "Coven," in which she plays the witch Misty Day, because she simply "really love witches."