G.I. Joe Creator Larry Hama Explains Why Henry Golding Is Perfect For Snake Eyes - Exclusive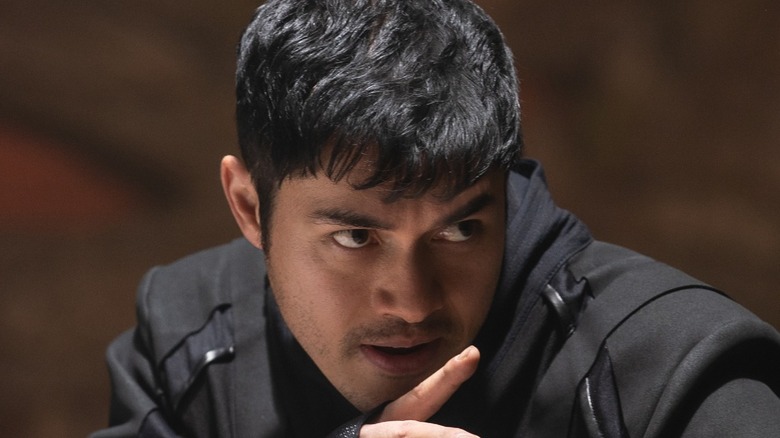 Paramount Pictures
Since Larry Hama wrote the "G.I. Joe: A Real American Hero" comic book in 1982, one of the characters most frequently associated with the franchise has been the black bodysuit-clad ninja commando Snake Eyes. Fans have no doubt embraced Snake Eyes because of the mystery surrounding the character, since he never removes his mask or speaks, following the aftermath of a helicopter explosion that disfigured his face and damaged his vocal cords.
Snake Eyes, of course, has been realized in many forms of media for nearly the past four decades, including the "G.I. Joe" comic books, the Hasbro action figure toy line, the animated series, and two live-action films in 2009 and 2013. Then in July 2021, after taking a big breather from the big screen, Paramount Pictures recalibrated the movie series and cast acclaimed actor Henry Golding to play the titular character in 2021's "Snake Eyes: G.I. Joe Origins."
The biggest difference fans will notice in "Snake Eyes," now playing on digital HD and premium video on demand, is that they are getting to see the events that defined the character before he donned the iconic costume. The film not only traces the origins of the brotherly bond behind Snake Eyes (Golding) and Tommy Arashikage (Andrew Koji) — it chronicles the path leading to Snake Eyes joining the G.I. Joe counterterrorist team, and the transformation of Tommy into Storm Shadow as he becomes a member of the terrorist organization Cobra.
In an exclusive interview with Looper, Hama revealed why he loved that Golding was cast to play one of his most prized characters.
Larry Hama says Henry Golding is 'the real thing'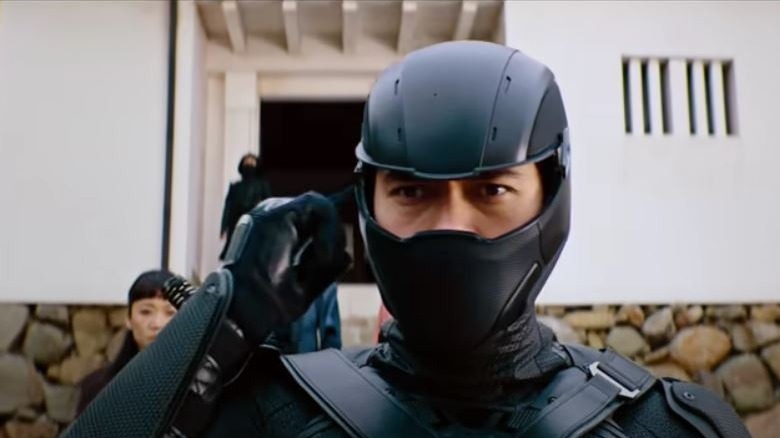 Paramount Pictures
After bursting onto the scene in "Crazy Rich Asians" in 2018, Henry Golding has gone on to play memorable roles in such films as Guy Ritchie's crime comedy "The Gentlemen," and the romantic fantasy drama "Last Christmas." And Larry Hama thinks that he perfectly embodies the fan-favorite G.I. Joe character in "Snake Eyes."
"Well, he's sort of like the real thing. He has this sort of natural likeability, and his acting skills are really all there," Hama enthused. "If you've seen him in anything else, you realize, 'Oh, wow, he's acting.' He's not like any number of stars who are only themselves, ever. And he grounds it. And the fact that the setup is so that this is before he loses his ability to speak, and we get to hear him and find out what he is internally instead of imagining it in the comic form."
One of the biggest departures from most portrayals of Snake Eyes, in the new film, is that Golding's version is virtually unmasked the whole time, since the traumatic event that Hama is alluding to — the loss of his voice (and disfigurement of his face) — hasn't happened yet. However, should a future "Snake Eyes" film go that route and have Golding concealed under the mask, Hama believes there is a way to make sure that the charismatic actor's movie star looks don't go completely to waste.
"I think there's a way to do that. I mean, look at 'The Mandalorian.' The main character never takes off his helmet except for the last episode or something," Hama said. "With the 'Snake Eyes' format, you could always have flashbacks. There are ways to get around all of this stuff. It's a very flexible medium."
Larry Hama has a pick for the next G.I. Joe Origins film he'd like to see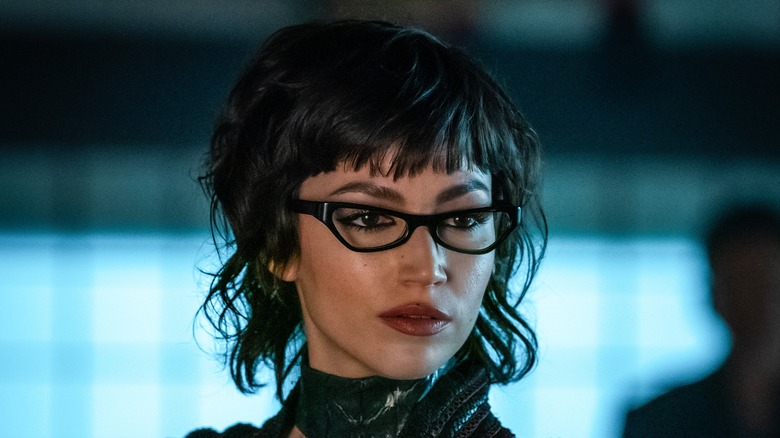 Paramount Pictures
While "Snake Eyes" largely concentrates on the bond and falling out of Snake Eyes and Tommy, two other legendary G.I. Joe characters — Scarlett (Samara Weaving) and the Baroness (Úrsula Corberó) — have pivotal supporting roles in the film.
If Hama had his druthers, he said he'd like to see the Baroness — one of the principal villains in Cobra — get the "G.I. Joe Origins" movie treatment next. "She's very intriguing character, I think," Hama revealed to Looper. "I noticed that when I go to the conventions, the Baroness cosplayers players outnumber all the other 'G.I. Joe' cosplayers two to one or three to one. So, there's obviously some potential there."
Directed by Robert Schwentke and also starring Haruka Abe as Storm Shadow's trusted confidant, Akiko, "Snake Eyes" is available on digital HD and premium video on demand. The film also debuts on 4K Ultra HD Blu-ray, Blu-ray, DVD, and On Demand on October 19.