Henry Golding Brings The Action As Snake Eyes' Leading Man - Exclusive Interview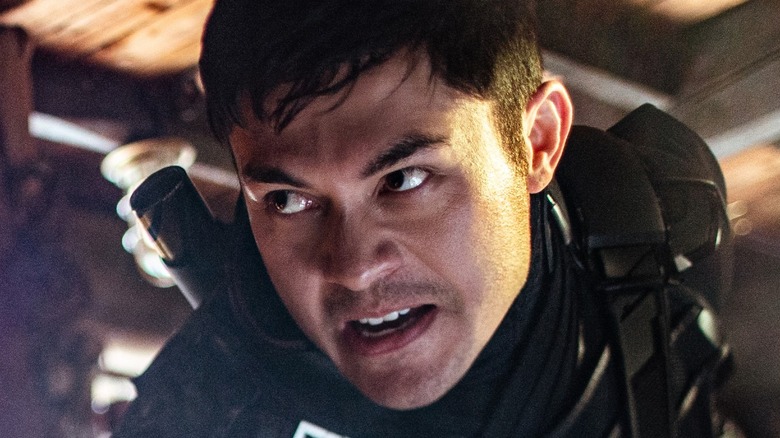 Paramount Pictures
After taking Hollywood by storm with his breakthrough role as Nick Young in the 2018 box office smash "Crazy Rich Asians," Henry Golding has become one of the hottest actors in show business. After starring opposite Blake Lively and Anna Kendrick in the acclaimed mystery comedy "A Simple Favor" a month after the release of "Crazy Rich Asians," Golding followed up with a pair of films — "Monsoon" and "Last Christmas" — in 2019.
Kicking off 2020 playing the menacing gangster Dry Eye in Guy Ritchie's crime comedy "The Gentlemen," Golding, like many other actors, had to put his career on hold because of the COVID-19 pandemic. But with films back in production and theaters back open for business, Golding is back on the big screen — and playing a beloved character to boot — in the title role of "Snake Eyes: G.I. Joe Origins."
Now in theaters nationwide, "Snake Eyes" chronicles how the black-clad ninja came to be, from a traumatic childhood event to his serendipitous pairing with Tommy Arashikage, the heir apparent to lead the revered Arashikage clan in Japan. And while Snake Eyes' mysterious background troubles the clan's head of security, Akiko (Haruka Abe), Tommy places his complete trust in him, and a brotherly bond is formed. But loyalties are tested with the reveal of Snake Eyes' intentions, and when the terrorist organization Cobra and its ruthless intelligence officer the Baroness (Úrsula Corberó) enters the picture, it lays the groundwork for Tommy's transformation into the fearsome ninja Storm Shadow.
In an exclusive interview with Looper, Golding discussed what he hopes fans will get out of the "G.I. Joe" movie spinoff, as well as offering an update on the pending "Crazy Rich Asians" sequels. Golding also gave his thoughts on becoming a "G.I. Joe" action figure and mulled a real-life showdown with one of his "Snake Eyes" co-stars.
Henry Golding says Snake Eyes presents a broader world view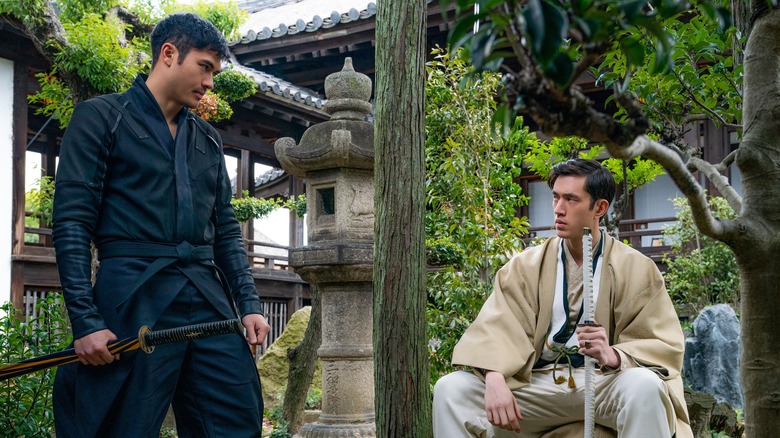 Paramount Pictures
I love the previous "G.I. Joe" films with the last one, of course, being directed by your "Crazy Rich Asians" buddy Jon Chu. After the success of "Crazy Rich Asians," I can't help but think that you're very excited for "Snake Eyes" to be presented to the world because it properly represents Asian culture and it's told largely through an Asian cast. Would that be true?
Yeah, absolutely. But I think it goes into many sort of more subtle details in terms of not casting the net out to Asians in general. Because of the importance of the Arashikage and the Japanese element of it all, there are many layers to being Asian, which is something we didn't have to spell out for everybody because we know how globalized the world is now. So to have myself star in the titular role of "Snake Eyes," and also have an equally as amazing cast members playing other roles, I think it definitely sort of is a step forward in normalizing the subtle differences of culture and place. 
Speaking of Jon Chu, you have to tell me quickly — any movement on the "Crazy Rich Asians" sequels? People are pining for these after the success of the first one.
They definitely are, and I hope they're writing away, but I think they're trying to knock through the second and third script. I'm sure they're whittling away at it.
Henry Golding says it was thrilling becoming Snake Eye and a GI Joe action figure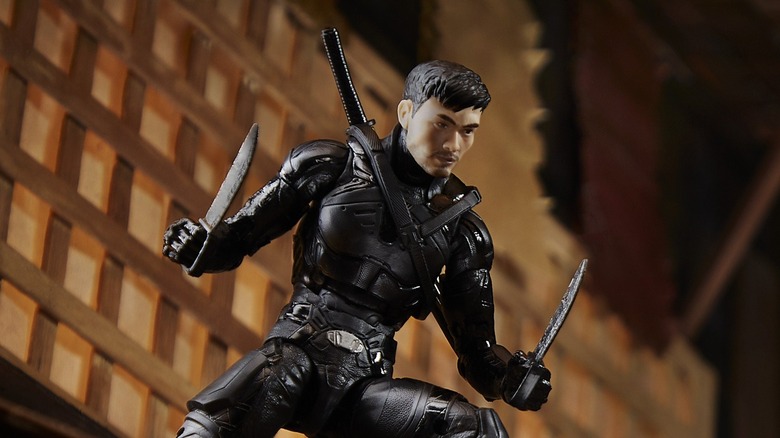 Hasbro
It must be really empowering to put on, at the end of the film, the Snake Eyes outfit for the first time. What sort of emotions did that evoke?
Walking through the set with it all on, like the complete outfit, was amazing. And it was one of those things that you sort of stand a bit straighter. Everybody's kind of looking around and in awe, and just looking you up and down. But it's definitely a sense of gravitas, and the charge that I'm bestowed in creating and bringing this character to life. 
You're carrying the torch for the character — and you're carrying the torch as an action figure. That is such a cool stop-motion animation bit released by Paramount, seeing you come to life as a "G.I. Joe" action figure. That must be a real trip.
I mean, it's one of the benefits of being in an amazing franchise, and obviously being partnered with Hasbro, that you get these beautiful toys that these craftsmen work so meticulously on. And they got the face. I've got to say, even my wife said, "It looks just like you." So yeah, it's pretty surreal. But it's like a souvenir in life, right? You're able to pass it down. Like, "Oh, I was in this movie" to my kid. And they're like, "Oh, shut up, dad. Like, whatever." So no, it's definitely one of the bonuses of being Snake Eyes. 
I talked with Andrew Koji for his role as Storm Shadow as well, and I posed this question to him: You guys are like brothers but adversaries in the film — but offscreen, you versus Andrew, who wins? 
Oh! I think Andrew has been doing martial arts since he was like 12 years old. He's been doing Taekwondo. But I feel I'm pretty good in a scrap. So it depends on the rules. And I think they definitely put us in shape. So yeah, I would say we both wouldn't fare very well. Let's just say that.
Directed by Robert Schwentke, and also starring Samara Weaving as "G.I. Joe" mainstay Scarlett O'Hara, "Snakes Eyes: G.I. Joe Origins" is playing in theaters nationwide.