Snake Eyes' Haruka Abe Dishes On The Thrill Of Creating A New G.I. Joe Character - Exclusive Interview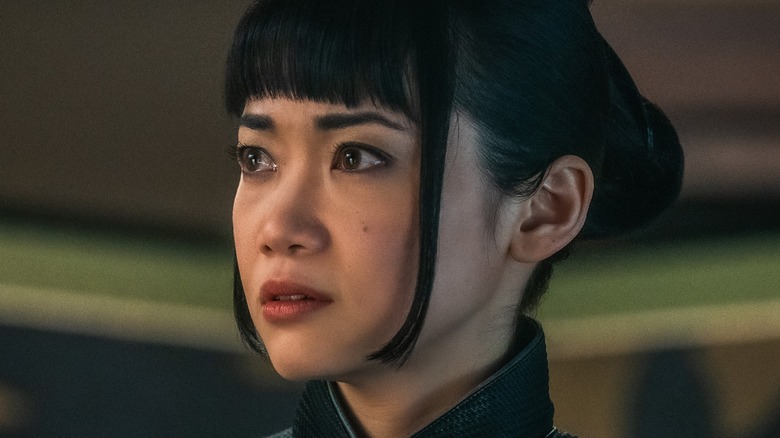 Paramount Pictures
Unlike her fellow castmates in the new action adventure "Snake Eyes: G.I. Joe Origins," actor Haruka Abe had the unique opportunity to play a new character in the "G.I. Joe" universe. But as Abe quickly realized, creating a character came with a pair of different emotions — exhilaration and fear — considering how Akiko needed to hold her own against four fan favorites. After all, Snake Eyes, Scarlett, and the Baroness were in the first issue of Marvel Comics' "G.I. Joe: An American Hero" comic book in 1982, and Storm Shadow came a couple years later; their popularity only rose with the introduction of the animated series and revamped "G.I. Joe" action figure line.
In "Snake Eyes," Abe plays Akiko, the head of the Arashikage Clan, who scrutinizes the decision by Tommy Arashikage (Andrew Koji) to make a man known only as Snake Eyes (Henry Golding) a part of their world. After Snake Eyes defies his boss' order to murder Tommy, the Arashikage Clan's heir apparent feels it's his duty to repay the mysterious loner, who in truth is concealing a secret mission that's tied to a tragic event in his youth. However, the brotherly bond Tommy and Snake Eyes forms begins to unravel when it's revealed that the terrorist organization Cobra and its brilliant intelligence officer the Baroness (Úrsula Corberó) are coming after the Arashikage Clan, and Snake Eyes' seeming betrayal of Tommy leads the skilled ninja on the path to becoming Storm Shadow.
Also starring Samara Weaving as Scarlett and directed by Robert Schwentke, "Snake Eyes" opens in theaters nationwide on Friday, July 23. In an exclusive interview with Looper, Abe detailed the freedom she had while building her character, her work with Golding, and her hopes for her character as the "G.I. Joe" franchise expands.
Haruka Abe seized the opportunity to define her character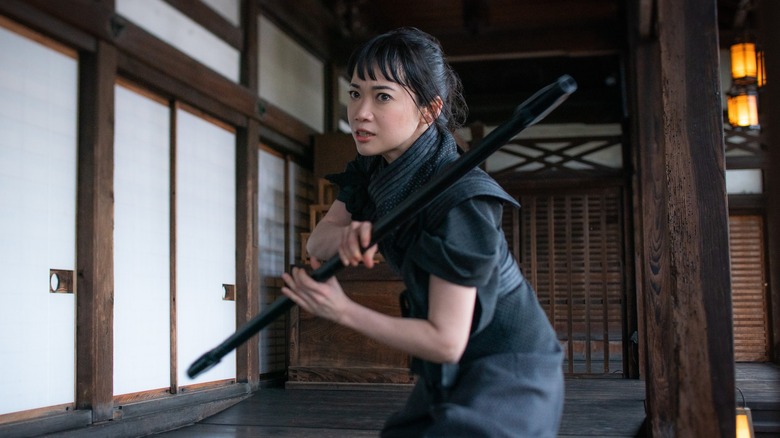 Paramount Pictures
Akiko makes it known from the get-go that she does not trust Snake Eyes. Was it a comfort knowing that you could trust Henry Golding in this role? You have some scenes where you mix it up, and you have that highway chase — there's a lot going on between you two during this film.
Henry is such a dream lead to have and he's so welcoming and gracious and friendly, and down to earth. I think it's impossible not to hit it off with him straight away and that's such a great quality to have, I think, so working with him was such a joy. Such a joy. 
Plus I read that he thinks you're a badass. Coming from the guy who was Snake Eyes, that's quite a compliment, isn't it?
[Laughs] That is quite a compliment. Yeah, for sure. 
Unlike many of the characters that fans know going into "Snake Eyes," you have a unique opportunity in that Akiko is somebody that you can define since she's a new character. Was that an exciting prospect for you knowing you could define her, or was it somewhat intimidating knowing, "Geez, I'm introducing somebody and everybody already knows all these other characters." 
It was definitely both terrifying and exciting in equal measure because, on one hand, being this complete newbie among such iconic beloved characters was very scary, but the freedom I had because I got to create this character from scratch and I got to really dive into the script, and knead and mold and shape this character from scratch together with the hair and makeup team and the costume team was really exhilarating. So yeah, it was a great experience.
Haruka Abe has hopes for more Akiko in upcoming G.I. Joe films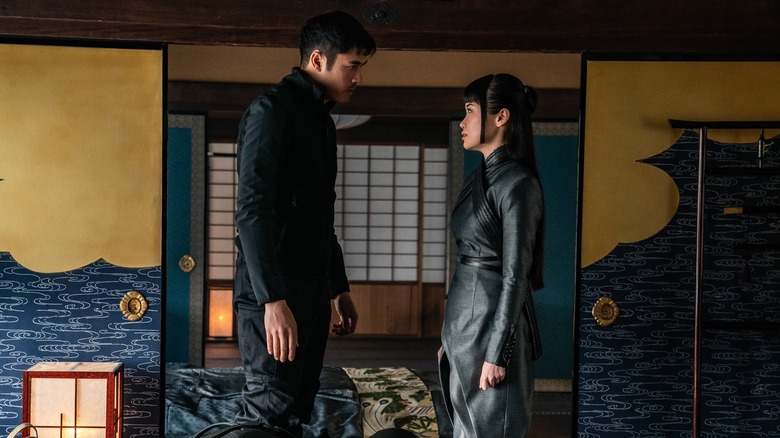 Paramount Pictures
What were the most intense scenes for you to film? I'm sure you can name any number of them, but there had to have been one that stood above the rest.
The scene in the alleyway in the rain was pretty challenging because it was very, very cold that day. We were filming in Vancouver, the end of November, and the rain was very, very cold. I think everyone was turning blue toward the end of this, but it was still fun. But yeah, I do remember that coldness very well. 
What do you hope for Akiko from here? Because obviously the door is open for much, much more.
Yeah, I think there's so much to be explored about her background and also her relationship, her dynamic with Storm Shadow and Snake Eyes. So yeah, I can't wait to see where her character will go. 
G.I. Joe started in America with Hasbro, but has become this worldwide phenomenon over the years with the toys, the cartoons, comic books, and the live-action films. At what point did G.I. Joe enter your life? 
I was familiar with it my whole life, I think, but I never really got a proper intro into that world growing up because I'm the oldest of my three sisters. I grew up fairly girly household. So yeah, I'd say my first proper intro to the universe was when I got cast. Well, when I was auditioning for the role. 
You'd better at least get an action figure out of this! You've got to be lobbying for it. 
Absolutely — I'm getting one! I'm definitely getting one!