The Walking Dead Showrunner Promises Faster Pace In Season Eight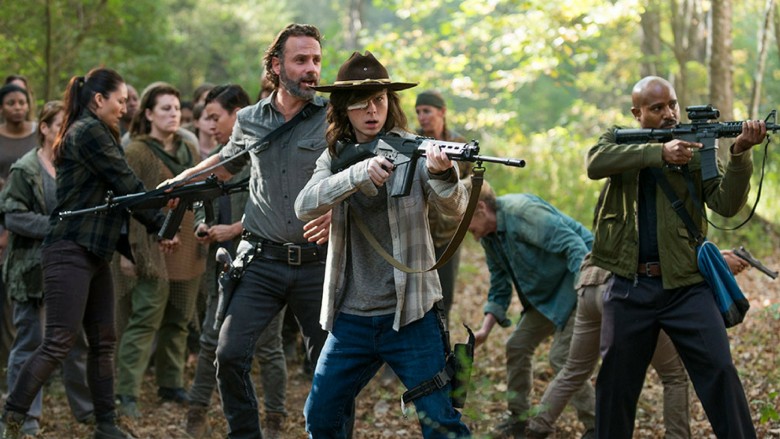 The Walking Dead is going to pick up the pace in season eight. Showrunner Scott M. Gimple said in a recent interview with Entertainment Weekly that the All Out War storyline the show will follow next season will force them to move a lot faster than they have in the past, resulting in a "breakneck" pace.
Gimple says that season eight, which will add three new series regulars to the show's ensemble cast, will also stop airing self-contained episodes highlighting a particular community due to the fact that the storyline will focus entirely on the "pretty intense conflict." "It's going to affect the structure in ways that make it a bit more kinetic, a bit more breakneck— shifting away from entire stories in one episode, and sort of fractured over several episodes, with little pieces of each story coming together," he said.
According to Gimple, part of the reason why season seven spent as much time as it did on the standalone storylines was in preparation for this season's faster pace. "I remember talking about that with [co-executive producer] Angela Kang early on in season seven," said Gimple. "Because we knew the way that seven was going to be structured, and we knew we wanted to mix it up in eight, and we knew what eight was going to be and how that would dictate a very different kind of structure anyways. So, yeah, things are going to move, and possibly not have the kind of deep dives into characters in single episodes, but rather laying out the pieces as we go on."
The cast and crew of the show have all expressed their excitement to return for season eight, with star Andrew Lincoln saying this is the most pumped he's ever been to come back for filming. Although the show's season seven finale didn't do anywhere near as well in the ratings as past outings, it did set up the type of epic, deadly episodes that fans have come to know and love from the series, and teased the fan favorite All Out War storyline's introduction. The Walking Dead will start production on season eight at the beginning of May, ahead of its expected October premiere date. While we wait, see an explainer of everything that went down in the season seven finale.