The Walking Dead Season 7 Finale Got Dismal Ratings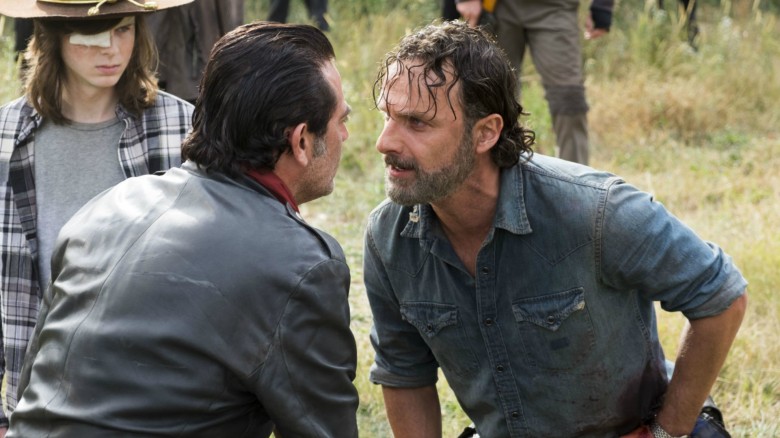 AMC
It's entirely possible that audiences just don't feel like walking anymore, dead or alive.
Variety reports that the season 7 finale of The Walking Dead posted the lowest finale ratings for the series since season 2, according to Nielsen data. The 90-minute episode titled "The First Day Of The Rest of Your Life" received a 5.4 rating in the adults 18-49 demographic with 11.3 million viewers. While that's on par with the averages throughout the seventh season, it's way down from the season 6 finale, which sported a 6.9 rating and brought in 14.2 million viewers.
It was also nowhere close to the season opener, which resolved the cliffhanger of who Negan killed at the end of season 6. That episode (the second-biggest in the show's history) drew an 8.4 rating and 17 million viewers. That means the series dropped approximately 33 percent in total viewers from the beginning of season 7 to the end.
To be fair, The Walking Dead finale was up against some stiff competition. It aired at the same time as the ACM Awards on CBS, the series finale of Black Sails on Starz, the season finale of Big Little Lies on HBO, and the WWE's pay-per-view Wrestlemania.
Still, The Walking Dead is already renewed for season 8, and the numbers are all relative. The show is still the season's top-rated series on TV, both broadcast and cable, with a huge lead on the likes of The Big Bang Theory, Empire, and This Is Us. So don't stick a stake through the show anytime soon.
While we begin the countdown to next season, check out things we're sick of on The Walking Dead and how star Andrew Lincoln thinks Rick should die.