The Walking Dead Teases The Return Of The Whisperers In New Sneak Peak
The Whisperers could soon be returning to "The Walking Dead."
First introduced in Season 9, the Whisperers are a hostile group of survivors who disguise themselves as walkers to blend in with the rest of the horde. Led by a woman named Alpha (Samantha Morton), they made life hell for many of our favorite characters throughout Seasons 9 and 10. Thankfully, the Whisperer War came to an end in the Season 10 finale when, days after Negan (Jeffrey Dean Morgan) killed Alpha, Daryl (Norman Reedus) defeated Beta (Ryan Hurst) by stabbing him through the eyes, eliciting a scream that alerted a nearby horde of walkers, which soon devoured him.
But while Alpha's and Beta's deaths might have ended the war with the Whisperers, the damage was done. Most notably, the Hilltop Colony burned to the ground and a horde of walkers was set upon Alexandria. With its early debut on AMC+, the network has released a new trailer for "Out of the Ashes." The fifth episode of Season 11 teases a return to the ruins of Hilltop, as well as the potential return of the remaining Whisperers.
How the Whisperers might return to The Walking Dead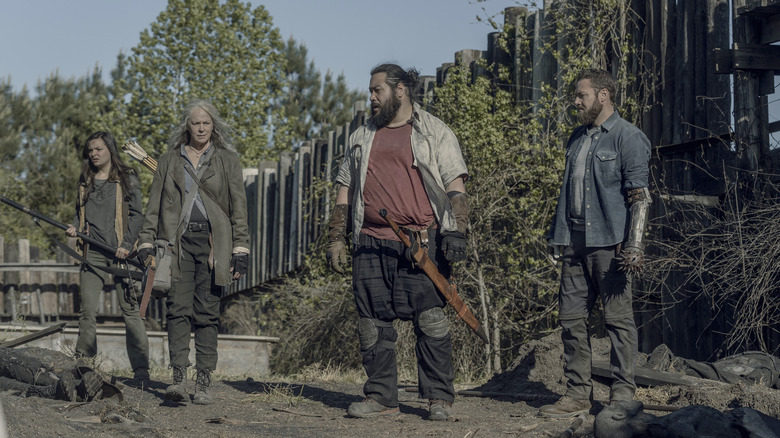 Josh Stringer/AMC
The official logline for "Out of the Ashes" reads as follows: "Alexandrians encounter Hilltop squatters; Eugene's group undergoes orientation at the Commonwealth." So, are the squatters in question the remaining Whisperers? It seems possible.
At the end of the fast-moving trailer for the episode, a Whisperer mask is discovered. We don't see who finds it, but Carol (Melissa McBride), Aaron (Ross Marquand), Jerry (Cooper Andrews), and former Whisperer Lydia (Cassady McClincy) have all returned to Hilltop in search of tools, and it seems the mask is discovered while they're there.
Now, this could just be a mask — the Season 11 trailer teased Maggie (Lauren Cohan) donning one, and this could explain where she got it — but that seems unlikely for a show like "The Walking Dead." After all, the effects of the Whisperer War continue to be seen in Season 11. Alpha's walker horde that Beta unleashed upon Alexandria prior to his death last season has left the place on its last legs, with its inhabitants starving. This has pushed Maggie to embark on a trip to Meridian in search of supplies, thus putting her on a collision course with the Reapers. The discovery of the mask reminds us of what the Whisperers have done and that some of them are still out there. It'll be interesting to see how this development plays out this season.
"The Walking Dead" airs Sundays at 9/8c on AMC. "Out of the Ashes" is streaming early on AMC+.