The Katie Couric Appearance On Pawn Stars You Forgot About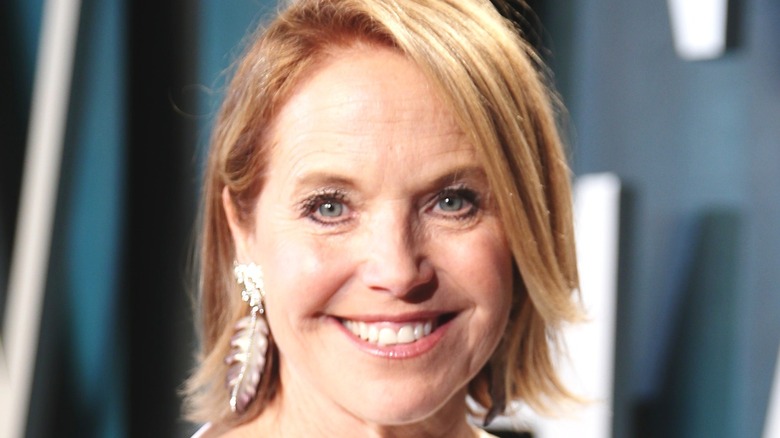 Rich Fury/VF20/Getty Images for Vanity Fair
While the hit History reality series "Pawn Stars" mainly features everyday people who travel to Rick Harrison's World Famous Gold & Silver Pawn Shop in search of a big payday for their unique collections, once in a while the pawn stars attracted regular stars from all areas of pop culture.
Perhaps the most famous person to be featured on the series is Bob Dylan, who thanks to a blunder by Austin "Chumlee" Russell, inscribed his "Self-Portrait" album to the affable pawnbroker, much to the chagrin of Rick Harrison. Other famous folks who have stopped by the shop include comedy actor Steve Carrell, wrestling giant Mick Foley, and UFC President Dana White. Other stops are newsworthy because, well, they are news personalities like Katie Couric.
Couric is famous for her long stint hosting NBC's "Today" show and her turn on "The CBS Evening News" anchor desk, as well as her own talk show "Katie." The journalist stopped by the shop during a 2013 episode but wasn't instantly recognized by Rick's son, Corey "Big Hoss" Harrison. Corey got the "Katie" part right, but saying he has a problem with names, he first referred to Couric to "Katie Holmes," and then, "Katy Perry." Rick intervened to clear up the case of mistaken identity to help out the familiar face.
Katie Couric expressed interest in Mark Twain memorabilia on Pawn Stars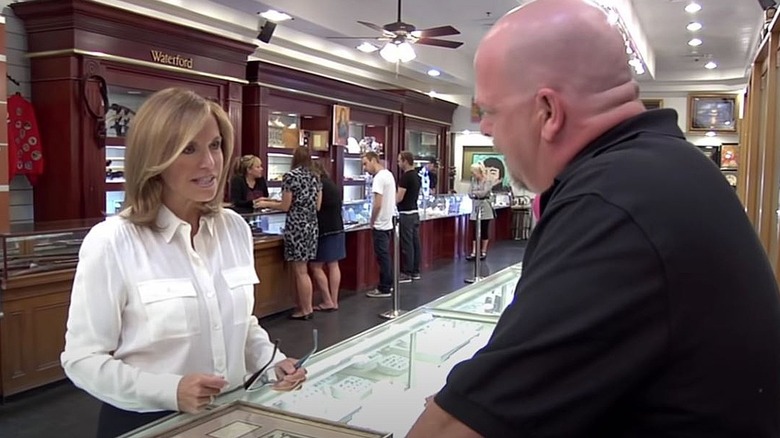 YouTube/History
Of all the pawn shop's unique items, Katie Couric zoned in on a frame that included a mountain photo, an engraved plate, and a card with a saying and a signature of legendary American writer and humorist Mark Twain.
"He used to give these out, scratch little things on a card, sign it and this one's even dated: January 1900," Rick Harrison explained to Couric. While Couric was examining what Twain wrote on the card — "We ought never do wrong when anyone is looking" — Harrison said, "It's a great piece of advice."
Couric agreed, reading the saying out loud with a laugh, "I read a lot of Mark Twain in college. I absolutely love his work. I love his wry sense of humor. He's one of the greatest writers in American history."
But with as much affinity as Couric had for Twain and his historical significance, would she be willing to pay a steep price for the rare piece of memorabilia?
Rick Harrison and Katie Couric negotiated a fair price for the Mark Twain item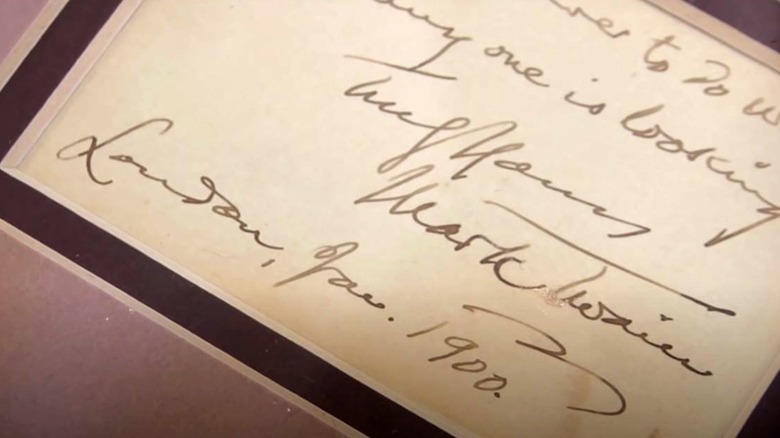 YouTube/History
Expressing interest in purchasing the Mark Twain piece, Rick Harrison told Katie Couric that he was asking $20,000. After Couric seemed a bit taken aback by the offer, Harrison explained in a pre-taped segment that he originally purchased the Twain item for $8,500. And while $20,000 is quite a huge markup for the item, the pawnshop is a business with overhead. Harrison and his fellow pawnbrokers have always been upfront that they need to make money on every item they purchase.
Noting that $20,000 was "a little more" than she wanted to spend, Couric countered with an offer of $12,000. After a bit of hesitation, Harrison told Couric, "Deal!"
Taken aback again, this time by Harrison accepting her offer, Couric said, "Really? Sold?" Essentially, Harrison deferred to his patron's celebrity status, saying, "It's not every day we get Katie Couric in here."
"I rarely take this much off an item because I have to keep the doors open, but Katie Couric has a talk show with millions of viewers. I got to keep her happy," Harrison added, laughing.
Not coincidentally, Couric's visit to Harrison's pawn shop was featured on her "Katie" talk show, HuffPost reported.