The Sesame Street Movie - What We Know So Far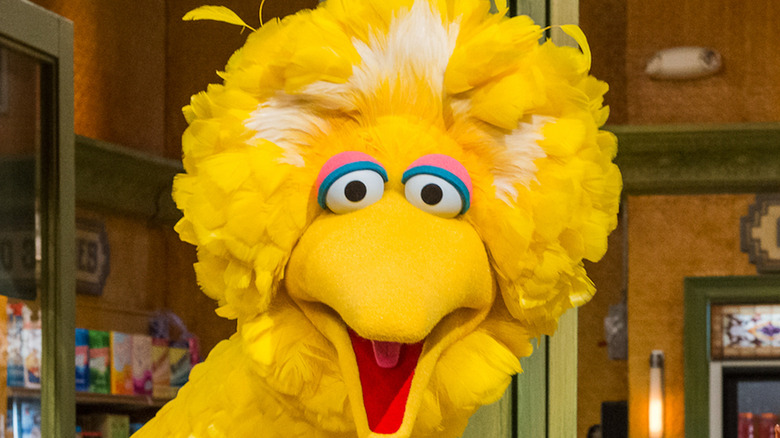 HBO
It's been nine years since 20th Century Studios announced plans in 2012 to produce a "Sesame Street" movie (via The Hollywood Reporter). Before the project could get off the ground, it was hit with a series of shakeups and setbacks. After 20th Century passed the project off to Warner Bros., per The Tracking Board, Shawn Levy exited the project as director, with writer Joey Mazzarino following soon after. In 2018, Variety reported Levy was still working on a "Sesame Street" pic as a producer under his 21 Laps banner, with Jonathan Krisel ("Portlandia," "Kroll Show") replacing him as director. Krisel's hiring marks his first step into directing kid-friendly material and feature-length films.
Production delays set the "Sesame Street" movie back yet again in 2019 (via The Wrap) and COVID-19 further impacted plans in 2020. Now, the project is now heading back into production. With so much information available about this new film, it can be hard to keep track of it all. So, here's everything we know about the upcoming live-action "Sesame Street" feature. 
What is the release date for the Sesame Street movie?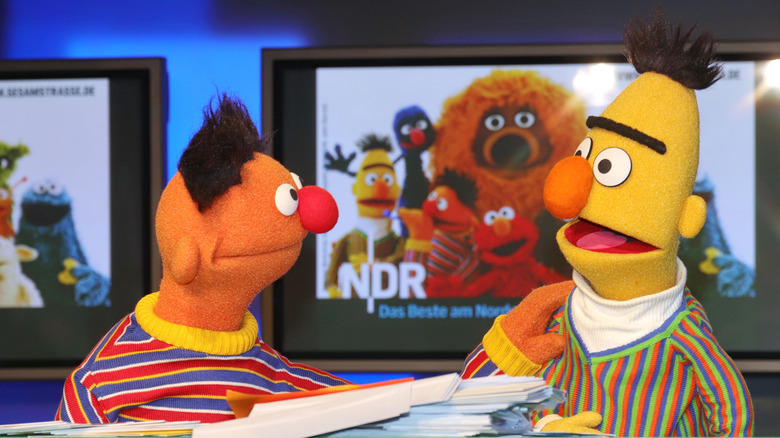 Tristar Media/Getty Images
The "Sesame Street" movie was initially scheduled for a January 2021 release. In June 2019, The Wrap reported that filming on the "Sesame Street" film was delayed nine months, with a start date set for April 2020. The project was on track to hit the new shooting date until COVID-19 forced the studio to push the release date back another year. Now, the long-gestating project has a January 2022 release date (via The Wrap).
In August, producer Shawn Levy teased that the "Sesame Street" pic may head to HBO Max as a streaming exclusive rather than a full-scale theatrical release (via Collider). If this ends up being the case, it changes things quite a bit because streaming deals are different than theatrical releases. Those involved in a tentpole film usually expect extra income based on ticket sales, whereas streaming does not offer such dividends. This has led to contention in the industry, the most recent example being the lawsuit Scarlett Johansson filed against Disney after "Black Widow" was released on Disney+ alongside its theatrical debut.
Who is in the cast of the Sesame Street movie?
Silvia Elizabeth Pangaro/Shutterstock
There is one actor set in stone for the "Sesame Street" movie cast. In February 2019, Jonathan Krisel confirmed to The Hollywood Reporter that Anne Hathaway would star. According to the "Sesame Street" feature's IMDb page, Hathaway will play Sally Hawthorne, a friend of the Sesame Street crew. We can also assume the current cast of the "Sesame Street" TV show will be joining, too. You can't have a "Sesame Street" flick without Oscar, Grover, Elmo, and the rest of their adorable Muppet friends.
Bo Burnham, known for his musical talent but not necessarily for his kid-friendly material, is writing the music for the "Sesame Street" movie, per Deadline. His most recent Netflix special, "Inside," does contain a parody of "Sesame Street"-style children's educational music, although the skit quickly goes off the rails into hardcore political commentary.
According to Collider, Chance the Rapper was in negotiations for a major role before the COVID-19 pandemic struck in 2020. It was reported that Chance would play an aide to the mayor of New York City. Both Burnham and Chance have proven themselves to be incredibly prolific talents, racking up their fair share of awards, and it will be intriguing to see how they translate those skills for a project like "Sesame Street."
What is the plot of the Sesame Street movie?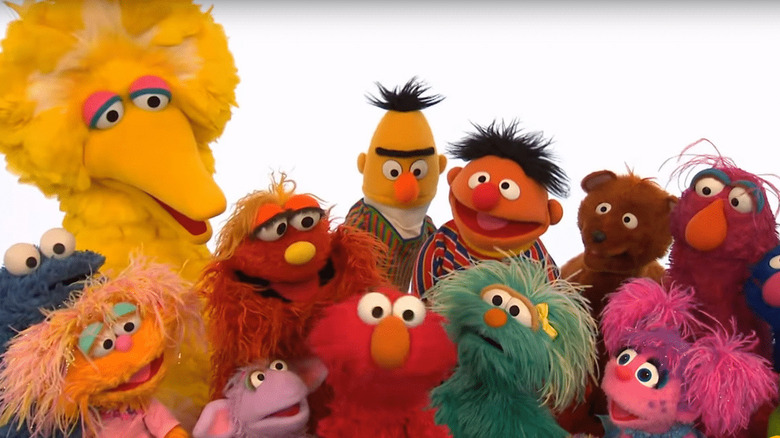 HBO Max
The IMDb page for the "Sesame Street" movie currently features a synopsis that begins with, "Big Bird and his Sesame Street friends are mysteriously expelled from their neighborhood, finding themselves in Manhattan." From here, the story will revolve around the group's attempts to find a way home while wandering through New York City with help from Hathaway's Sally Hawthorne, a "plucky history show host" whose TV program is in danger of being canceled. The antagonist of this "Sesame Street" tale will be the mayor of New York City, which should feel painfully accurate to anyone who has ever lived in New York City. According to IMDb, the mayor is determined to keep Sesame Street a secret from the people of New York.
Director Jonathan Krisel first teased this story idea in a February 2019 interview with The Hollywood Reporter. At the time, Krisel revealed to the outlet "that [the 'Sesame Street' movie] will be a musical drawing inspiration from the show's theme song, with characters getting lost in NYC and trying to find their way back to Sesame Street." It seems Krisel is referring to the show's famous theme song refrain, "Can you tell me how to get to Sesame Street?"
It all sounds like the "Sesame Street" pic will be a frolicking adventure, packed with whimsy and a bit of educational content for children to enjoy — along with a fair share of parents!