The Final Ed Asner Role You Didn't Know You Could Find On Disney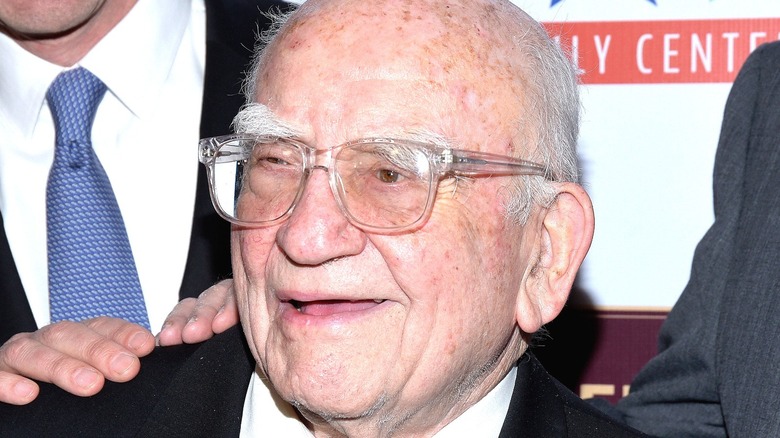 Michael Tullberg/Getty Images
While the showbiz world mourned the loss of legendary film and television actor Ed Asner after he passed away at age 91 on August 29, it appeared that there was one uplifting gift waiting in the wings for fans of his beloved voice role of Carl Fredricksen in the Disney-Pixar animated classic "Up." Asner returned, or so it seemed, anyway, as the voice of Carl in the new Disney+ series "Dug Days," set not long after the events of the hit animated film from 2009.
"Up," of course, tells the heartfelt story of Carl, a widower who in a tribute to his late wife, Ellie, lifts their house off its foundation with thousands of helium balloons with the goal of landing it on a cliff at their dream destination of Paradise Falls. It's a place the couple always wanted to venture to throughout their married life, but Ellie sadly passed away after both she and Carl retired, and their trip of a lifetime was never realized.
As it turns out, Carl had a companion on his adventure to Paradise Falls any, an accidental stowaway named Russell (voiced by Jordan Nagai), a youthful Wilderness Explorer trying to earn his scout badges. Landing near Paradise Falls, the two encounter Dug (Bob Peterson), a mischievous dog whose thoughts are interpreted and heard through a collar created by Carl's boyhood hero-turned-villain Charles Muntz (Christopher Plummer). 
For many fans, the prospect of hearing from Dug or Carl again seemed dim, given their last appearance together was for a 2009 film short called "Dug's Special Mission," which was a bonus feature on the DVD and Blu-ray release of "Up." However, Disney surprised fans with a teaser promo debuted on National Dog Day on August 26, promising a return of the beloved characters in "Dug Days."
Though not promoted, Ed Asner voices Carl Fredricksen in Dug Days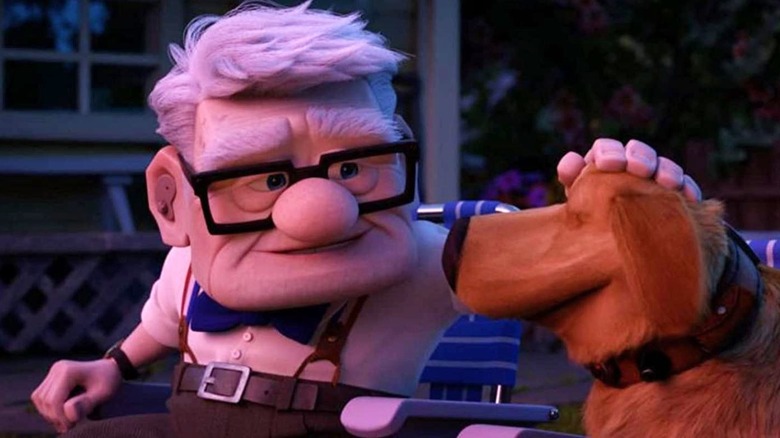 Disney-Pixar
"Up" was not only a blockbuster hit, but it also earned five Oscar nominations including Best Picture, and two wins including Best Animated Feature and Best Original Score. A sequel obviously never materialized, but with the boom in streaming and immense popularity of the Mouse House's Disney+ service, the creators of "Up" found a new home to tell stories inspired by the movie.
Comprised of five movie shorts, "Dug Days" is written and directed by Peterson, who also reprises the role of the affable Golden Retriever. The interesting thing about the teaser trailer, though, is that the voice of Carl distinctly sounds like Asner. However, in the press release about the series, Asner's name is never mentioned. Asner passed away three days after the debut of the trailer, lending to the mystery of whether a new voice actor stepped voiced Carl for "Dug Days."
According to Inside the Magic, Asner did indeed lend his voice to Carl for "Dug Days." The appearance comes as a surprise given that Asner's name wasn't part of the film's promotion, and a fitting tribute to the Emmy-winning "Mary Tyler Moore Show" and "Lou Grant" star who gained a new generation of fans thanks to his memorable turn as the geriatric hero. Asner's turn as Carl is also confirmed in the end credits for all five "Dug Days" episodes.
Ed Asner isn't the only original Up voice that is heard in Dug Days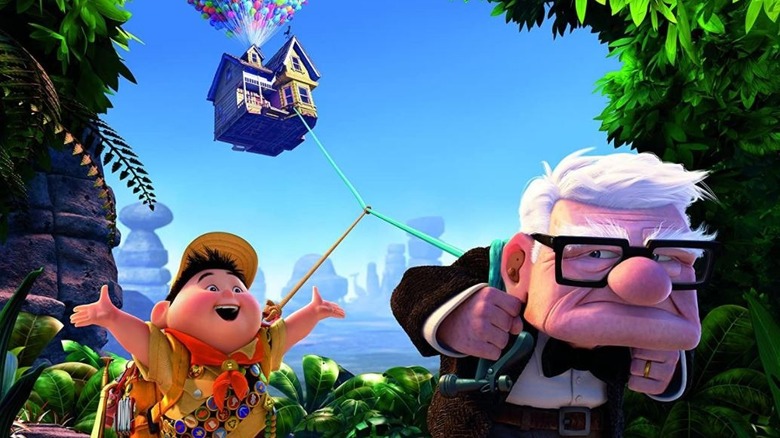 Disney-Pixar
For those who haven't tuned in "Dug Days" yet, the show centers on the mischief Dug stirs up in as he and Carl settle into their new home — an abode purchased after the sale of the blimp they flew home in at the end of "Up." Mostly taking place in the backyard of the house, the shorts — which range from 9 to 11 minutes in length — not only feature Dug and Carl, but a squirrel, naturally, that frequently distracts the curious canine.
Also appearing in one episode is Russell, whose voice is said to be Nagai's in the end credits. The interesting thing is, Russell sounds exactly as he did in 2009, which seems to be an impossibility since the actor was only 9 years old when "Up" was released in 2009. Since Nagai is now a college student and no longer acting, it's conceivable that Disney-Pixar either convinced him to record new lines as Russell and altered his voice to sound like he did when he was younger; or they could have simply sampled dialogue from "Up" to piece together a "new" performance.
As for the future of "Dug Days," unless Asner recorded more dialogue for another season of the series, the episodes will mark his swan song as the voice of Carl. In the meantime, Asner's fans have at least eight more projects of the late actor to look forward to that are either in production or post-production.