The Disney Series Dug Days Will Let You Revisit A Beloved Pixar Movie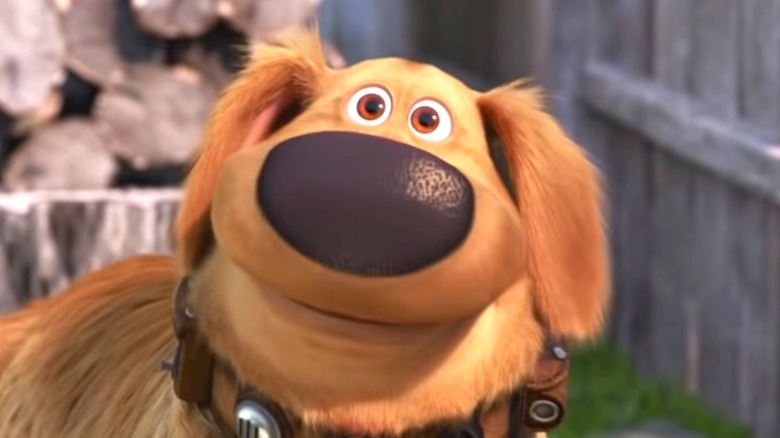 Disney-Pixar
One of the most beloved dogs in Disney-Pixar film history will soon be trotting to the small screen, 12 years after he won over the hearts of audiences in the blockbuster family adventure "Up." His name is simply Dug, and the peculiar pooch is back for a series of original shorts called "Dug Days" — which "Up" fans are sure to, well, dig.
Directed by Pete Docter, and co-written by Docter, Bob Peterson, and Tom McCarthy, "Up" follows the adventure of Carl Fredricksen (voice of Ed Asner), a 78-year-old retiree, along with a young accidental stowaway, Russell (Jordan Nagai), as Carl's house takes flight with thousands of helium balloons. Their destination is Paradise Falls, a vacation destination Carl and his late wife, Ellie, aspired to travel to their whole lives.
As Carl and Russell land near what will be the final resting spot of the house, they encounter a group of dogs owned by the nefarious ex-aviator Charles Muntz (Christopher Plummer) whose thoughts are interpreted and spoken out loud through the aid of an electronic collar. Among them is a lovable misfit named Dug, a golden retriever who proves to be a loyal, dependable companion — at least until he spots and yells at attention, "Squirrel!"
Not only did movie audiences embrace "Up"— it earned more than $735 million at the worldwide box office — it was also embraced by the Hollywood awards circuit. As such, the film was nominated for five Academy Awards, including Best Picture (a rarity for an animated film), Best Original Screenplay, and Best Sound Editing; and earned Docter a Best Animated Feature Oscar and Michael Giacchino a statuette for Best Original Score.
Dug Days will be presented in a series of film shorts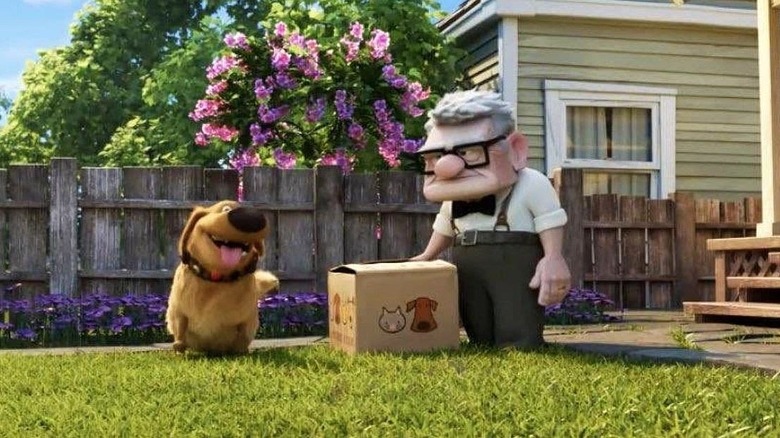 Disney-Pixar
While Dug got to star in his own original film short — "Dug's Special Mission" — when the film premiered on home video, a new announcement by Disney+ is telling fans that Dug's (dog) days are not behind him. The first trailer for "Dug Days" finds Dug making mischief around what appears to be Carl's new house, wrecking his patch of backyard azaleas. After all this time, Dug still appears clueless, as Carl tries to correct the talking dog after he says he "digged" the flowers. "You didn't digged, you dug," Carl says, while Dug curiously answers, "Yes? ... I am Dug."
Also back from "Up" for "Dug Days" is Russell, the intrepid Wilderness Explorer often confused for "small mailman" by Dug's canine companions in the film. Naturally, there's a squirrel in the series, too, who is simply billed as "Squirrel." While it hasn't been formally announced yet, it appears that Asner is back to voice Carl, while the voice of Russell remains a mystery. Nagai, now 21 years old, was a boy when he provided the voice for the character, so it's conceivable that he has been replaced by another voice actor or old voice tracks are being used.
One cast member returning for certain is Peterson, who voiced Dug in addition to co-writing the screenplay. In a press announcement from Disney and Pixar, it was revealed that Peterson is not only reprising the voice role of Dug, but he also wrote and directed the "Dug Days" shorts. In a statement, Peterson reflected on the enduring appeal of his canine alter-ego.
"Dug is pure of heart — he's a good soul. I think people enjoy that part of Dug," Peterson said. "Plus, people love their dogs. We've gone to great lengths to include truth in dog behavior, so they see their own dogs in Dug."
All shorts of "Dug Days" begin streaming on Disney+ September 1.