Jason Behr Reveals What It's Really Like Working With Melissa Benoist On Supergirl - Exclusive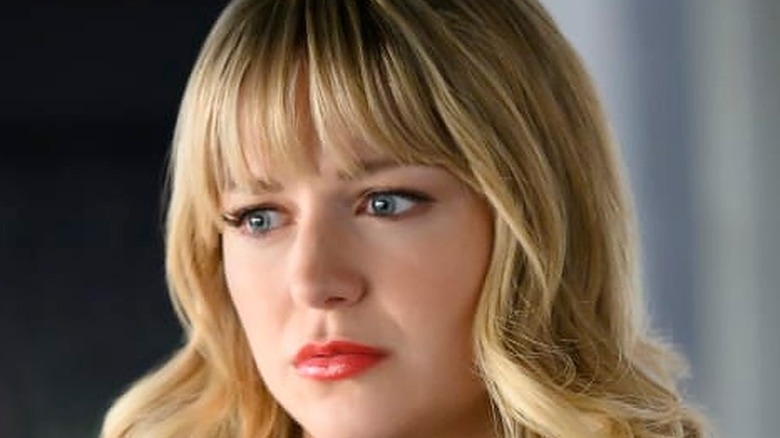 The CW
The final half of the last season of "Supergirl" is finally here, and the cast is busy reminiscing about their time on the show following the conclusion of filming. This year, Jason Behr took over the role of Supergirl's father Zor-El from Robert Grant to give Kara some well-deserved familial closure. 
Going from being an orphan whose entire planet was destroyed to getting both parents (and a taste of home) back is quite the emotional journey, but of course, Melissa Benoist, who plays Supergirl, was more than up for the challenge. After six seasons following the show, fans aren't quite ready to say goodbye to the Superfriends — nor the cast to each other — but maybe we'll see some of our favorite "Supergirl" characters and cast show up in Smallville, Gotham City, or Central City. The multiverse is literally teeming with possibilities.
Looper spoke to Jason Behr for an exclusive interview about the final season of "Supergirl." He dished on what it was like working with Melissa Benoist, and where he'd like to see Zor-El pop up in the Arrowverse in the future. 
Not all heroes wear capes, but Melissa Benoist does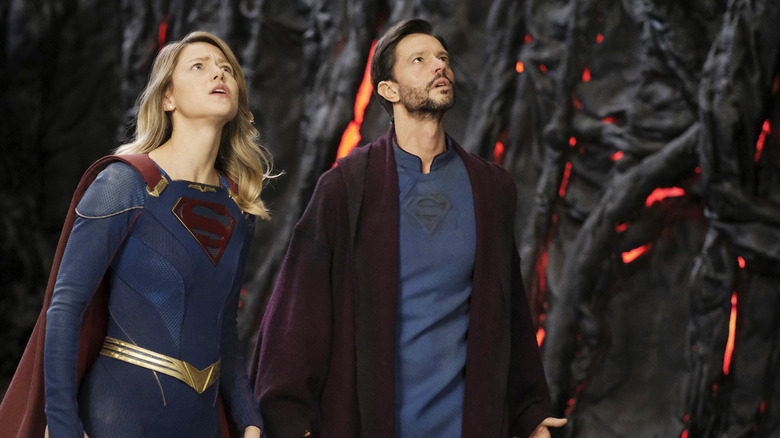 The CW
When it comes to having intense scenes with Melissa Benoist, Behr is an expert. You don't fight your way out of the Phantom Zone without creating an unbreakable bond. On what those scenes with Benoist were like filming, Behr said, "Well, it was different, because of COVID protocols, than I've ever experienced before. We didn't get a chance to hang out in each other's trailers and talk about the scene or talk about the characters. It was more through texts and through conversations on set before you do a scene." Who said being a superhero was easy?
He added, "What was nice about it was that in the beginning, it was seven episodes in the Phantom Zone, and it was all of my scenes with Melissa. So I got to know her as a person, as a parent for quite some time, which was really helpful when you're doing those emotional scenes. I was able to connect with her as a really wonderful, amazing human being. And it was really important to make those scenes really work." 
It sounds like Benoist is just as Super off screen as she is on.
An El family reunion?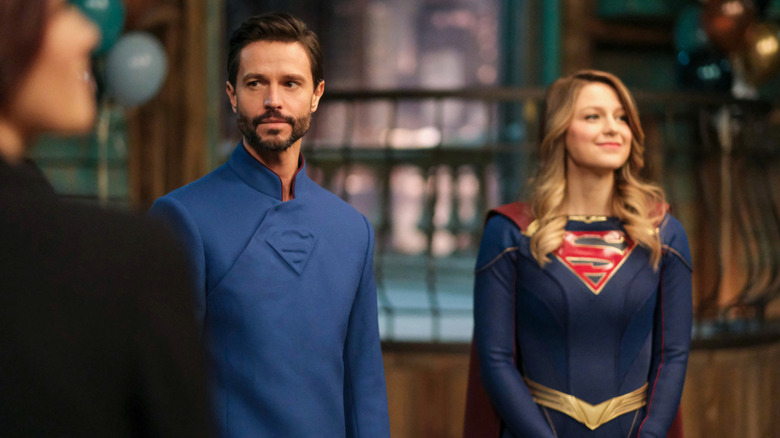 The CW
Behr would jump at the opportunity to have a full El family reunion on screen. He told us, "Well, that would be amazing to see — the full El family together. I would definitely love to see that happen. I know that the big thing for Zor-El would be the conversation he might have with Alura [Laura Benanti], and that would be something that I would love to see myself."
As sad as fans are saying goodbye to "Supergirl" this year, they should be heartened by the fact that it might not be the end for Zor-El. When asked about his interest in returning to the Arrowverse, Behr teased, "Well, I think that would be awesome. Also, [Supergirl's] cousin could always use a little visit from his uncle. Yeah, I loved playing Zor-El, and I would absolutely do that in a heartbeat. I mean, they made me a super-suit, so I definitely feel it could get some more mileage out of it." 
We know that Supergirl's sister Alex Danvers (Chyler Leigh) is heading to "The Flash" for the massive "Armageddon" event in November, so there's certainly hope for other cast members to make cameos in the near future.
Fans can watch the final season of "Supergirl" by tuning in to The CW on Tuesday nights. If you miss an episode, don't worry. Episodes are available to stream on The CW website the following day.