The Truth About Shang-Chi And Katy's Relationship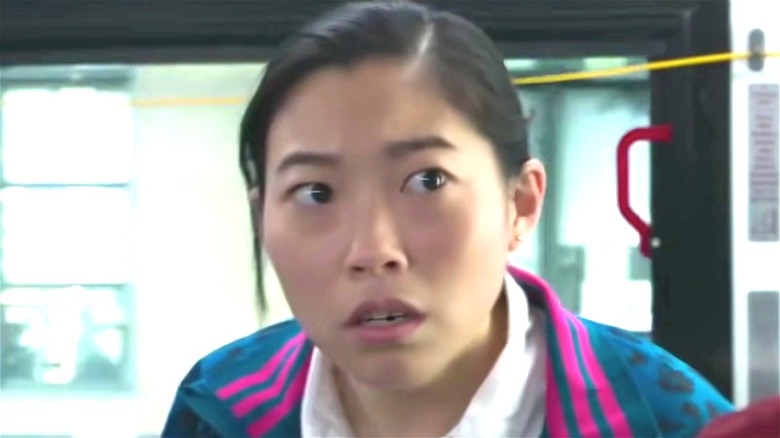 Marvel Studios/Disney
Contains spoilers for "Shang-Chi and the Legend of the Ten Rings."

After years of planning and preparation, Marvel Comics' own Shang-Chi has arrived on the big screen and in the Marvel Cinematic Universe. Simu Liu stars as the titular martial arts expert, bringing us along as he goes from an average guy from San Francisco with a dark past to the savior of the world. His father, the villainous Wenwu (Tony Leung), forcefully reenters his life and that of his estranged sister, Xialing's (Meng'er Zhang), taking them on a perilous journey to the mystical Ta-Lo where evil forces await to wreak havoc across the Earth.
For the most part, "Shang-Chi and the Legend of the Ten Rings" is a family affair, with only a handful of side characters coming along for the ride. The Ten Rings' brute, Razor Fist (Florian Munteanu), and the eccentric actor Trevor Slattery (Sir Ben Kingsley) get a moderate amount of screen time each, but they didn't play nearly as big a role as Katy (Awkwafina). She is introduced as Shang-Chi's longtime friend who goes from an irresponsible, carefree party girl to a skilled archer and bonafide hero — maintaining her sense of humor all the while. 
Throughout "Shang-Chi and the Legend of the Ten Rings," Shang-Chi and Katy's relationship is ill-defined, to say the least. Are they just close friends or romantic partners? Here's the truth about their special and unique bond.
Shang-Chi and Katy are just a couple of BFFs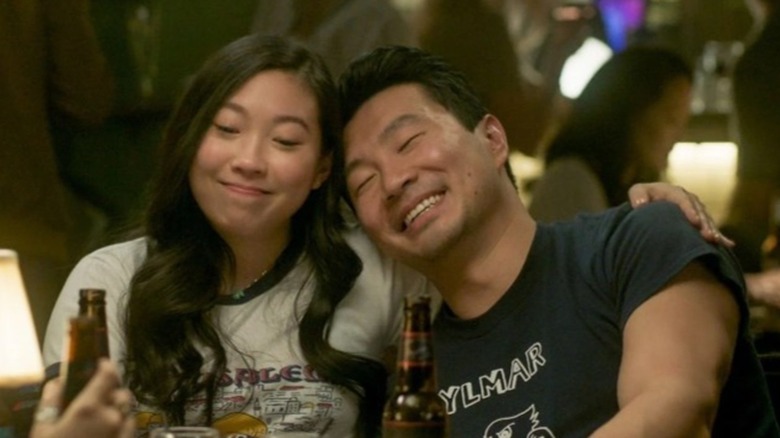 Marvel Studios/Disney
It's stated early on in "Shang-Chi and the Legend of the Ten Rings" that Katy has known Shang-Chi for years at this point. Their camaraderie is put on display in nearly every scene they share, and, had the minds behind the film found it appropriate, it would have made sense for them to end up in a romantic relationship by the film's end. However, that was never the plan for this MCU duo, as a highly credible source has confirmed that Katy and Shang-Chi are just friends.
As reported by The Nerds of Color, "Shang-Chi" director Destin Daniel Cretton's decision to make Katy and Shang-Chi BFF's only was a conscious one, noting that platonic relationships between men and women are seldom depicted in superhero flicks. "We haven't seen a lot of that onscreen, and we're really excited to create that relationship between Shang-Chi and Katy," Cretton said, noting that Shang-Chi's own journey — between his family turmoil and embrace of his own inner strength — left little emotional space for such a subplot anyway.
All things considered, Katy and Shang-Chi's bond works best as a friendship instead of a romance. Their playful banter and reciprocated willingness to go out of their way to help one another works best in such a context. Not to mention, piling a love story onto the already busy plot of "Shang-Chi and the Legend of the Ten Rings" would have come across as a bit excessive. Perhaps someday they'll find love in the MCU with other characters, but for the time being, they'll remain a couple of single besties.