What Ever Happened To The Cast Of Clear And Present Danger?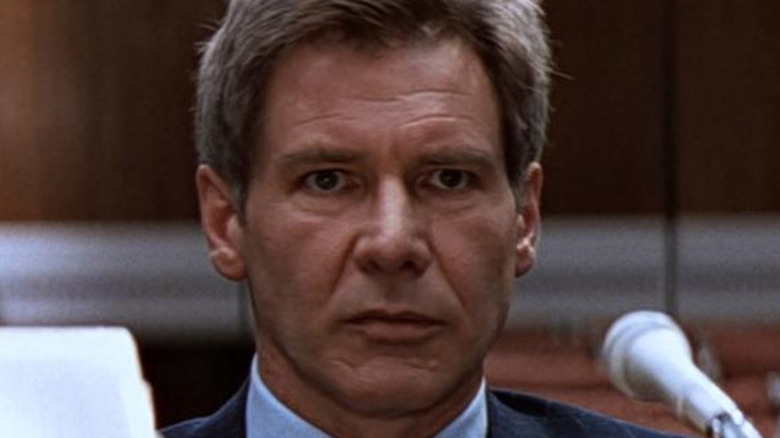 In 1994, "Clear and Present Danger" became the third Jack Ryan novel by celebrated author Tom Clancy to receive a big-screen adaptation; 1990's "The Hunt for Red October" introduced Jack Ryan to movie audiences — as played by Alec Baldwin — and 1992's "Patriot Games" saw the character brought to life by Harrison Ford. Ford reprised the role in "Clear and Present Danger," though he would not appear in further adaptations. Instead, Ben Affleck played Ryan in 2002's "The Sum of All Fears" and Chris Pine took on the role for 2014's "Jack Ryan: Shadow Recruit." On the small screen, John Krasinski brings the namesake character to life in Amazon Studios' "Jack Ryan" streaming series.
With all of the different actors playing the part, audiences naturally have their favorite Jack Ryan; it's like a smaller-scale version of who you think is the best James Bond or how you would rank the best James Bond movies. USA Today and CinemaBlend have identical rankings, except for the top spot; while both outlets agree Pine is their least favorite, with Affleck fourth-best and Krasinski in the middle, USA Today says the first version is the best, going with Baldwin. CinemaBlend posits that Ford brought a level of charm to the role that no other actor could have matched.
"Clear and Present Danger" was Ford's second and final turn as Jack Ryan and sees him getting his hands even dirtier than in "Patriot Games," taking on a drug cartel instead of IRA terrorists. Here's what the cast of "Clear and Present Danger" has been up to.
Harrison Ford played Jack Ryan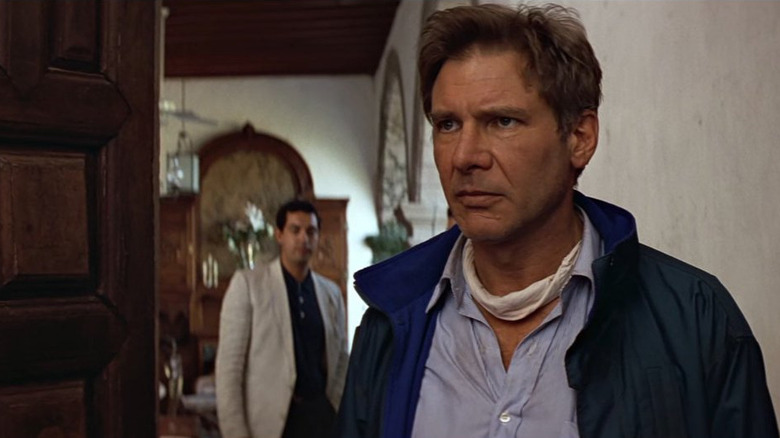 Paramount Pictures
Legendary actor Harrison Ford took on the role of Jack Ryan, now-acting CIA Deputy Director of Intelligence. He's not too happy to have been hoodwinked by Robert Ritter, the Deputy Director of Operations. Ritter and National Security Advisor James Cutter are running a black-ops war against the Cali cartel in South America on behalf of the president, using funds Ryan requested from Congress without his knowledge. He's even less happy to learn that when the operation is terminated, American troops have been left hanging.
Ford has kept plenty busy since taking his final bow as Jack Ryan in "Clear and Present Danger." The very next year he played wealthy businessman Linus Larabee in "Sabrina," unintentionally falling in love with the title character while trying to distract her from his playboy brother. In 1997's "Air Force One," he played President James Marshall, the war-veteran commander-in-chief who doesn't take the hijacking of the titular aircraft lying down. For the 2000 thriller "What Lies Beneath," Ford took on the role of Dr. Norman Spencer, professor whose wife becomes possessed by his former lover, whom he killed.
Over the past decade or so, Ford has revisited some of the roles that made him famous. In 2008, he donned his trademark fedora and grabbed his bullwhip to reprise his role as the title character in "Indiana Jones and the Kingdom of the Crystal Skull." For 2015's ""Star Wars: The Force Awakens," he once again took on the mantle of Han Solo. Ford reprised the role of Rick Deckard in the long-awaited sequel, "Blade Runner 2049" in 2017. He's slated to appear in an as-yet-untitled fifth Indiana Jones film in 2022.
WIllem Dafoe played John Clark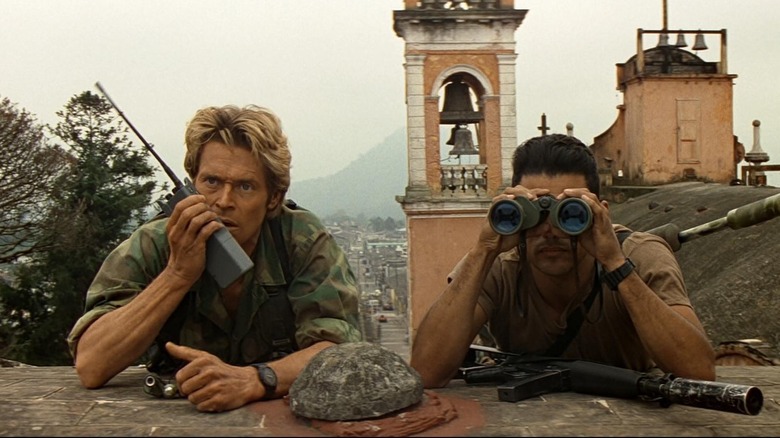 Paramount Pictures
Willem Dafoe brought to life the cranky mercenary John Clark in "Clear and Present Danger," a character who, much like Jack Ryan, has been played by a handful of actors on the big screen. Liev Schreiber played Clark in "The Sum of All Fears," opposite Ben Affleck, and he was brought to life in the 2021 origin story "Without Remorse" by Michael B. Jordan. Dafoe's Clark isn't a bad guy, though he fully intends to kill Ryan when meeting up with him in Bogota, Colombia, owing to some manipulation from James Cutter and Robert Ritter. Fortunately it doesn't come to that.
Dafoe has seen plenty of action on the big screen following his turn as John Clark. He took his career to the high seas in 1997's "Speed 2: Cruise Control," playing the villainous John Geiger, who's intent on crashing the Seabourn Legend as revenge on the cruise ship company. In 1999, he played flamboyant FBI agent Paul Smecker, who tracks and eventually helps the titular vigilantes in "The Boondock Saints". For 2000's unnerving "American Psycho," Dafoe played private detective Donald Kimball, whose investigation into the disappearance of Paul Allen (Jared Leto) puts him in touch with deranged serial killer Patrick Bateman (Christian Bale).
In 2002, Dafoe jumped on the popular comic-book movie train, playing "Spider-Man" antagonist Norman Osborn, aka the Green Goblin, in Sony Pictures' pre-Marvel Cinematic films by Sam Raimi. In 2018 he joined the DC Extended Universe as Nuidis Vulko, mentor to the titular hero in "Aquaman." Dafoe is set to reprise his role as Norman Osborn-slash-Green Goblin in 2021's multiversal "Spider-Man: No Way Home."
Anne Archer played Cathy Ryan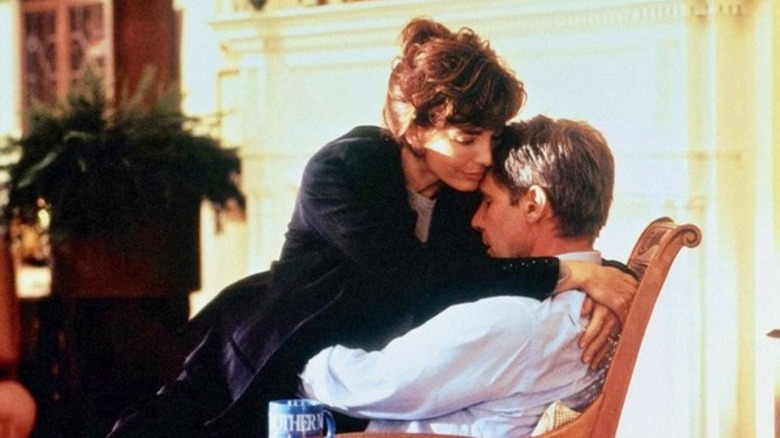 Paramount Pictures
Having taken on the part of Cathy Ryan in 1992's "Patriot Games," Anne Archer reprised the role in "Clear and Present Danger." Fortunately this time, she's not in the actual danger, just her husband Jack Ryan, whose peril always seems to come about from his own actions. This time around, she just gets to be a loving and supportive wife.
Archer was right back in the line of fire for 2000's "Rules of Engagement." She played the wife of the U.S. Ambassador to Yemen, a character who knows the truth about what went down during an attack on the embassy but tells Colonel Hayes Lawrence Hodges (Tommy Lee Jones) she won't testify; doing so would exonerate Colonel Terry L. Childers (Samuel L. Jackson) but implicate her husband of perjury. Archer then transitioned from a witness to violence to the role of puppeteer, pulling the strings behind the scenes of the 2000 Wesley Snipes vehicle "The Art of War" as the villainous and manipulative Eleanor Hooks.
In 2005, Archer reunited with Jones for "Man of the House." Jones took on the role of Texas Ranger Roland Sharp and she plays Professor Molly McCarthy, his love interest who teaches at the college to which his undercover assignment — protecting a group of cheerleader murder witnesses — takes him. For 2008's prison movie "Felon," Archer took on the role of Maggie, disapproving mother to Laura (Marisol Nichols), the eventual ex of lead character Wade Porter (Stephen Dorff). She is expected to portray socialite Charlotte Shultz, the wife of U.S. Secretary of State George Shultz, in the upcoming Hulu miniseries "The Dropout."
Henry Czerny played CIA Deputy Director Robert Ritter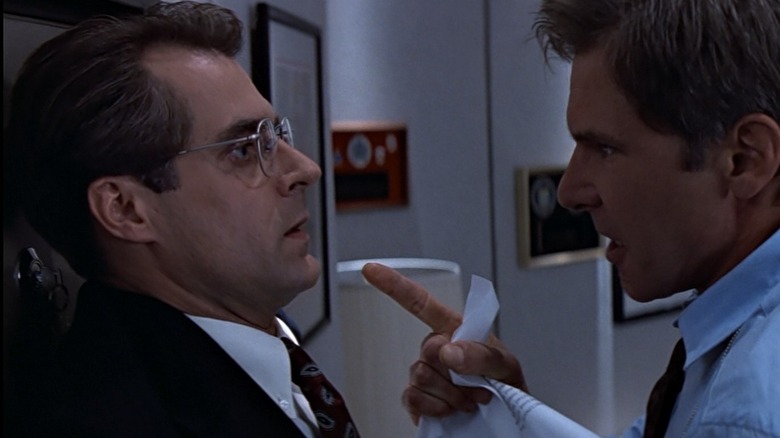 Paramount Pictures
"Clear and Present Danger" featured actor Henry Czerny in the role of CIA Deputy Director of Operations Robert Ritter. Having gotten a presidential get-out-of-jail-free card for his activities on Operation Reciprocity, he's free to wage a dark war on the cartel, with Jack Ryan positioned to take the fall. He even smugly gives him some sarcastic advice on what to say during the potential Congressional hearing, namely "I have no recollection of that" and all sorts of plausible deniability.
Czerny kept that same character archetype in the works for his turn as IMF director Eugene Kittridge in 1996's franchise-launching "Mission: Impossible," a character who's just as dislikable as Ritter but at least willing to admit when he's wrong when Tom Cruise's Ethan Hunt turns out to be innocent. In 2005, Czerny's career took a dark turn to the supernatural with his appearance in "The Exorcism of Emily Rose" as Dr. Jared Briggs, a defense witness in the trial of Father Richard Moore (Tom Wilkinson) for the negligent homicide of the title character. 
For 2010's "The A-Team," Czerny once again put on his dislikable military intelligence middle management hat, appearing as Director McCready, who insists Lieutenant Sosa (Jessica Biel) let the titular squad take the fall in order to get a win out of a bad situation. In 2018, he took on the role of Alan Crellin, the dislikable stepfather to Camille Preaker (Amy Adams) who blames her for everything in HBO's "Sharp Objects" miniseries.
Donald Moffat played President Bennett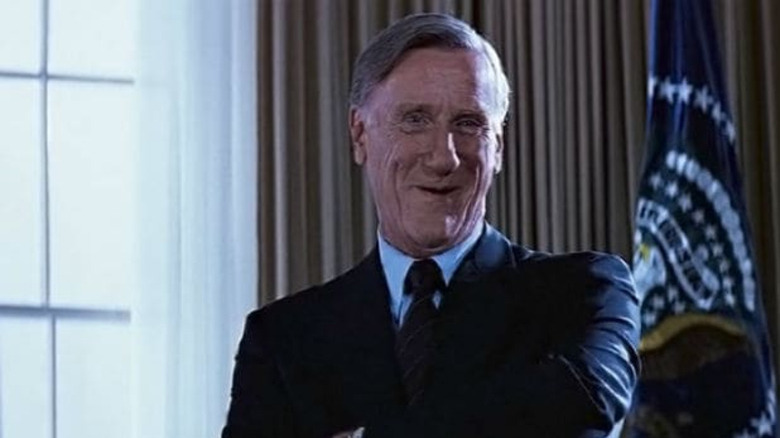 Paramount Pictures
Actor Donald Moffat brought President Bennett to life in "Clear and Present Danger." When a close personal friend of his is found dead on a boat, having been killed by the Cali cartel after embezzling hundreds of millions of dollars from them, the president decides that he needs to use his considerable power to take those cartel jerks down. As such, he authorizes Operation Reciprocity and gives Robert Ritter and James Cutter advance pardons for the dirty deeds they're about to commit. It all leads up to a tense confrontation with Jack Ryan and an angry exchange of "How dare you?" in the Oval Office.
The same year "Clear and Present Danger came out, Moffat played Clifford Anderson in the crime comedy "Trapped in Paradise." He brought to life the president of the bank in small-town Paradise, Pennsylvania, which three idiot brothers attempt to rob during the holiday season. For the 1999 comedy "Cookie's Fortune," Moffat played small-town lawyer Jack Palmer, who's a friend of Willis Richland (Charles S. Dutton), a murder suspect in a death that was actually a suicide.
Moffat had a recurring role in the TNT series "Bull" in 2000 playing Robert Roberts I, grandfather to Robert Roberts III (George Newbern) and founder of the company the lead cast — all investment bankers — leave in order to start their own firm. Donald Moffat died at the age of 88 on December 20, 2018, as reported by the New York Times. The outlet cited a statement from his daughter, Lynn Moffat, who said the actor died from complications resulting from a recent stroke.
Harris Yulin played National Security Advisor James Cutter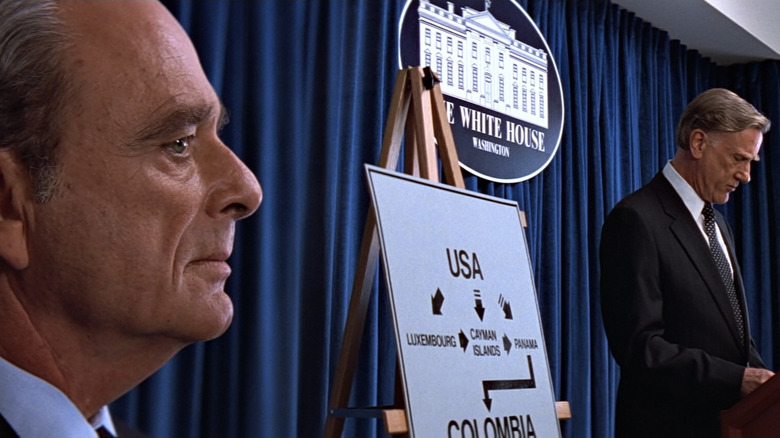 Paramount Pictures
Brought to life by Harris Yulin, James Cutter is a sneak, though it's fair to say he's simply following orders given to him by the president of the United States in setting up Operation Reciprocity. When it comes to making a back-alley deal with Felix Cortez after the military strike failed and ultimately selling out the team running the op in the jungles of Colombia, that's just downright dirty. But if there's no one left alive, there's no one to complain, and Cutter hopes it all gets wrapped up neatly. Then again, since he has a preemptive presidential pardon, maybe he doesn't care how it shakes out.
A year after "Clear and Present Danger" came out, Yulin appeared as the title character's alcoholic father in "Stuart Saves His Family Dad," a feature-film adaptation of the Stuart Smalley sketches on "Saturday Night Live" featuring Al Franken. Later in 1995, he took on the role of "Black Harry" Adams, father to Geena Davis' protagonist Morgan Adams in the swashbuckling adventure "Cutthroat Island." The following year he played Dr. Leeds in "Multiplicity," a brilliant and well intentioned scientist who's perhaps a bit naive, cloning lead character Doug Kinney (Michael Keaton) a few times in order to help the construction contractor, who's stretched too thin by work.
Yulin had a small role in 2001's gritty crime drama "Training Day," playing Detective Doug Roselli, one of the "Three Wise Men" Alonzo Harris (Denzel Washington) consults; he's the one with the peanut butter story. More recently, he played Buddy Dieker, the basement-dwelling nudist in the first season of Netflix's hit crime drama "Ozark."
James Earl Jones played Admiral James Greer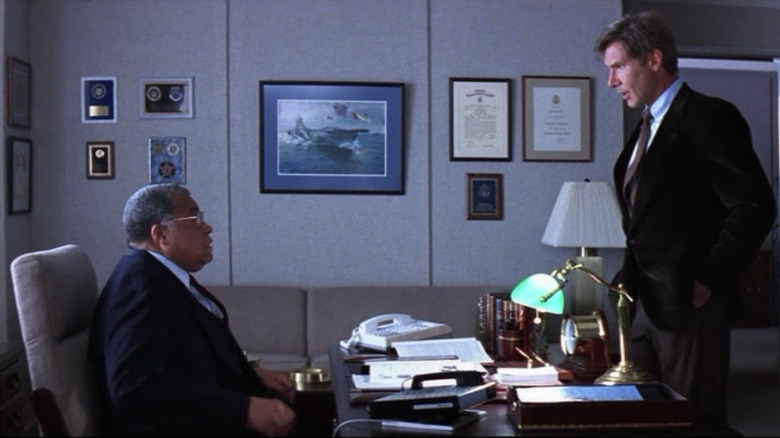 Paramount Pictures
In "Clear and Present Danger," Jack Ryan is serving as acting Deputy Director of Intelligence for the CIA because Admiral James Greer (James Earl Jones) is dying of pancreatic cancer. It was Jones third and final outing with the character, having played Greer in both "Hunt for Red October" and "Patriot Games." Actor Wendell Pierce plays the role in Amazon's "Jack Ryan" series.
Earlier in 1994, prior to the release of "Clear and Present Danger," Jones provided the fatherly voice of Mufasa in Disney's animated classic "The Lion King." Two years later, he appeared in "A Family Thing" as Ray Murdock, the half brother to Robert Duvall's Earl Pilcher, Jr., a cranky businessman who recently learned his birth mother was a Black woman. Jones' next few projects included some voice acting cameos, the first of which came in reprising the voice role of Darth Vader in the final prequel installment, 2005's "Star Wars Episode III: Revenge of the Sith." He then served as the narrator for "Click" and "Scary Movie 4" in 2006.
Jones returned to live action with 2008's family comedy "Welcome Home Roscoe Jenkins," appearing as Roscoe Jenkins Sr., the estranged father of Martin Lawrence's Roscoe Jenkins Jr., who is coming home to his small, Southern home town for his parents' 50th wedding anniversary. In 2016, he once again voiced Darth Vader in "Rogue One" and did so again in a cameo during 2019's "Star Wars: The Rise of Skywalker." The same year, he reprised his role as the voice of Mufasa in the "Lion King" live-action remake.
Joaquim de Almeida played Felix Cortez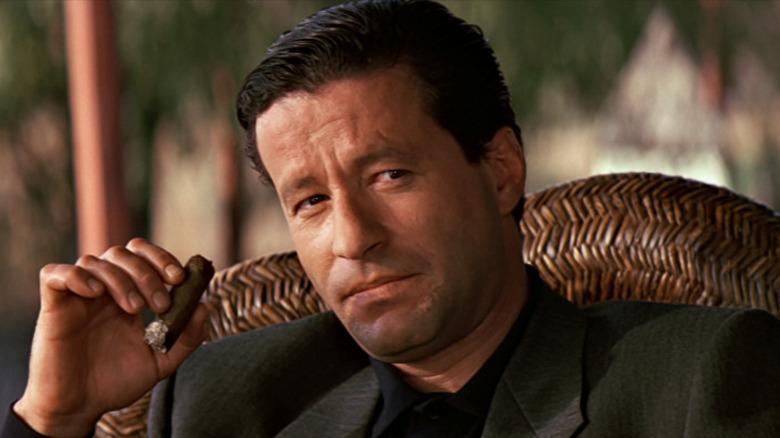 Paramount Pictures
Drug cartel thugs are a dime a dozen, but how many can lay claim to being described as a "Latin Jack Ryan"? Only one, and that's Colonel Felix Cortez, as played by Joaquim de Almeida in "Clear and Present Danger." He charms his way into the life of poor Moira Wolfson and is thus able to have the cartel soldiers ambush Jack Ryan's convoy when he travels to Colombia early in the film, an attack that leaves Moira's boss, FBI Director Emil Jacobs (Tom Tammi) dead.
In 1995, Almeida played Bucho, the primary antagonist in "Desperado," the second installment of Robert Rodriguez's "Mexico Trilogy." At the film's climax, Bucho is revealed to be Cesar, the brother of protagonist El Mariachi (Antonio Banderas). In 2001 Almeida took on the role of contemptible NATO Admiral Juan Miguel Piquet in "Behind Enemy Lines," who callously hamstrings the efforts of Admiral Leslie Reigart (Gene Hackman) to recover his downed fighter pilot, Chris Burnett (Owen Wilson).
Almeida found success on the small screen in the pulse-pounding action series "24," typecast in the role of cartel king Ramon Salazar for the show's third season. He was cast in "Fast Five" as drug lord and primary antagonist Hernan Reyes, who has Dominic Toretto (Vin Diesel) and Brian O'Connor (Paul Walker) captured early on in search of a certain computer chip. According to the film's production notes, he was hesitant to take the role — owing to its similarity to past parts — until speaking with director Justin Lim (via archive.org).
Ann Magnuson played Moira Wolfson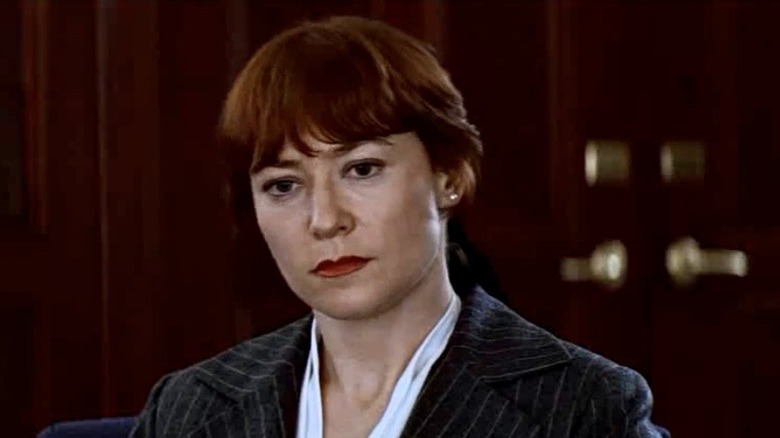 Paramount Pictures
Sigh, poor Moira Wolfson. The charming and sweet secretary to FBI Director Emil Jacobs is brought to life in all her naive glory by actor Ann Magnuson. Moira is lovesick for cartel scumbag Colonel Felix Cortez, who seduces her in order to get intel on her boss' trip to meet with the Colombian attorney general — a trip that, thanks to her, ends poorly. 
In 1998, Magnuson appeared in "Small Soldiers" as Irene Abernathy, the mother to lead character, the delinquent Alan Abernathy (Gregory Smith) and wife to his father, toy store owner Stuart Abernathy (Kevin Dunn). For 2000's romantic dramedy "Love & Sex," she took on the role of Monique Steinbacher, the demanding magazine editor who tells journalist Kate Welles (Famke Janssen) that she needs an article about relationships on her desk by the end of the day or she'll be out of a job, prompting a stroll down her personal romantic memory lane. Magnuson played grieving mother Karen Pollard in the 2003 drama" The United States of Leland," in which the title character has senselessly killed her intellectually disabled son Bryan.
Magnuson's work on small screen projects includes a recurring part in Amazon Studios' "The Man in the High Castle" as Caroline Abendsen, wife to the character referenced in the show's title, antifascist legend Hawthorne Abendsen, the creator of "The Grasshopper Lies Heavy" film series. In 2020, she appeared in two episodes of "Star Trek: Picard" as Fleet Admiral Kirsten Clancy, the commander-in-chief of Starfleet who has a troubled history with the title character.
Raymond Cruz played Domingo Chavez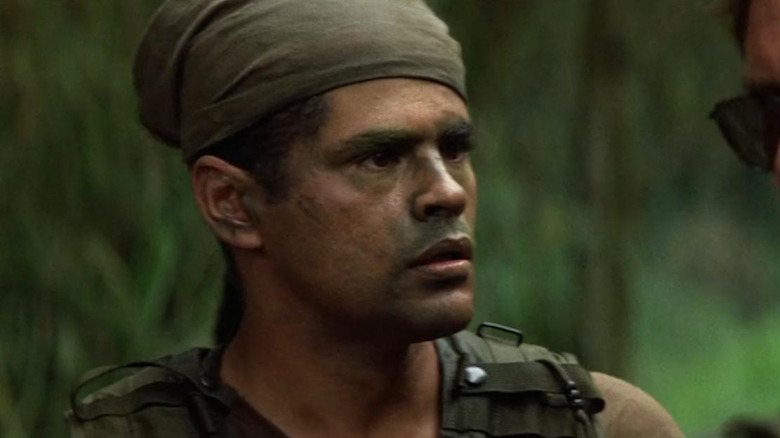 Paramount Pictures
Actor Raymond Cruz brings sniper Domingo Chavez to life in "Clear and Present Danger," the sole member of Operation Reciprocity to avoid capture. Needless to say, he's pretty pissed off that operational support was cut off, leaving his unit to be captured by the cartel. It's a wonder he doesn't kill John Clark, which is only forestalled when Jack Ryan admits it was his fault the team was stranded — for which Chavez thankfully doesn't kill Ryan instead.
"Clear and Present Danger" is one of many in a long line of law enforcement or military roles for Cruz, though he mixes in some criminal characters to keep things interesting. In 1995 he played Staff Sergeant Adams in the silly "Operation Dumbo Drop" and made an uncredited appearance in Michael Bay's 1996 action thriller "The Rock," playing Sergeant Rojas, one of the mutinous Marines under the command of General Frank Hummel (Ed Harris). For "Alien Resurrection," he portrayed Private Vincent DiStephano, a Marine stationed on the Auriga space vessel, where franchise lead character Ellen Ripley (Sigourney Weaver) is cloned.
Like Harris Yulin, Cruz was a part of the cast of "Training Day," taking on the role of Sniper, one of three gang members Alonzo Harris (Denzel Washington) hires to kill Jake Hoyt (Ethan Hawke). In 2005, he moved back into the world of law and order, playing hot-headed Detective Julio Sanchez on popular procedural "The Closer." Cruz continued the role in the spinoff series "Major Crimes" for six seasons. During that period, he also took on the role of vicious drug dealer Tuco Salamanca on AMC's "Breaking Bad," a character he also went on to play in its spinoff, "Better Call Saul."
Benjamin Bratt played Captain Ramírez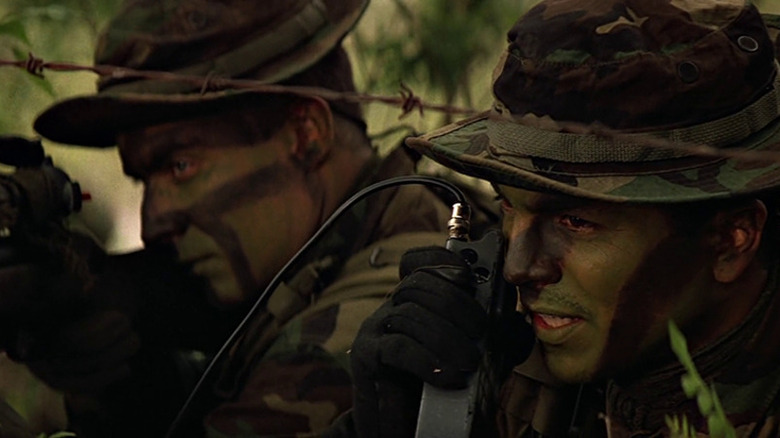 Paramount Pictures
The intrepid Captain Ramirez, leader of the team on Operation Reciprocity, is brought to life by Benjamin Bratt. The soldier is one of the surviving members captured by the cartel's forces, which means it's up to Jack Ryan, John Clark, and Domingo Chavez to rescue him.
Shortly after "Clear and Present Danger" came out in 1994, Bratt appeared as Ranger Johnny in "The River Wild," an old acquaintance of Gail Hartman (Meryl Streep) who senses something's not quite right with her party and is shot for his trouble. A year later, he began a long run as Detective Rey Curtis, the partner to Jerry Orbach's Lennie Briscoe on "Law & Order." He took on the role of partner-slash-love interest FBI Agent Eric Matthews in 2000's "Miss Congeniality," as he and Grace Hart (Sandra Bullock) try to take down a terrorist threatening to blow up the Miss USA beauty pageant.
In 2004's "Catwoman," Bratt once again played the love interest of a strong woman in the role of Detective Tom Lone. Back on the small screen, he took on the title role in "The Cleaner" starting in 2008, playing William Banks, a recovering addict who turns vigilante in his quest to help to get others struggling with addiction get clean. Bratt played a small but important role in the Marvel Cinematic Universe's "Doctor Strange" as Jonathan Pangborn, the former paraplegic who learned to channel dimensional energy in order to walk again, in turn telling Stephen Strange he'll find what he seeks at Kamar-Taj.