Here's What Julia Garner Expects From Ruth In Ozark Season 4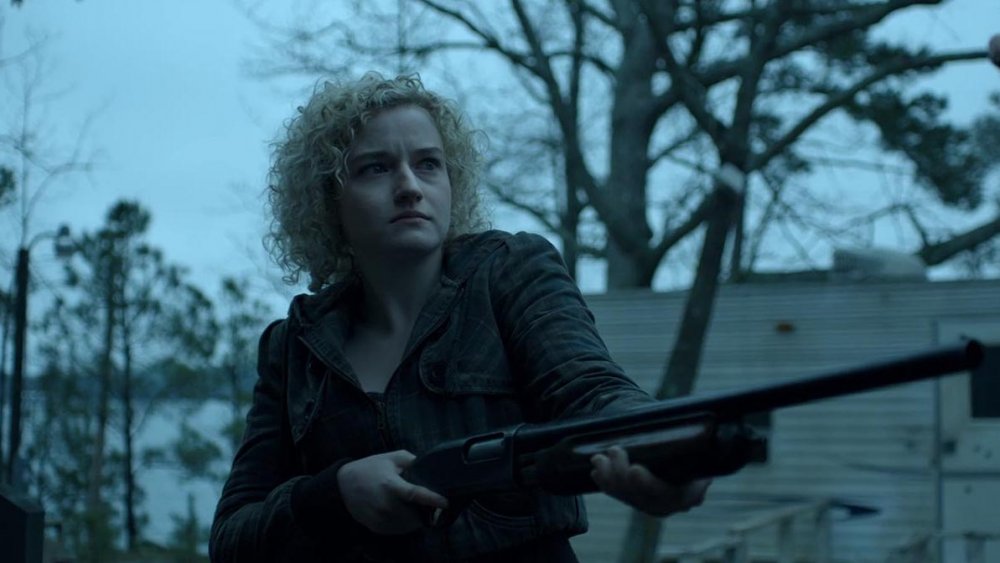 Netflix
Three season into its run on Netflix, Jason Bateman's pitch-black crime drama, Ozark, has become one of the best-loved series the streaming giant has yet produced. It's also become a series that excels at finding new ways complicate the lives of the characters trapped within its relentlessly bleak narrative. As we wait to see what ultimately becomes of Marty (Bateman), Wendy (Laura Linney), and the rest of the folks who've found themselves trapped in the increasingly perilous orbit of the Byrde family, the only thing we really know is that life on Lake Ozark is only going to get worse in the coming season.  
If you've already completed your binge of Ozark's torturous third season, you know the life of Ruth Langmore (Julia Garner), in particular, saw unexpected highs and unfathomable lows, as her love affair with Wendy's brother, Ben (Tom Pelphrey), proved shorter and more tumultuous than expected. She was also the recipient of a brutal beatdown from KC mobster Frank Cosgrove Jr. (Joseph Sikora), an act Ruth deemed worthy of more action than her employers took. You also Ruth know eventually threw her lot in with a whole different kind of crazy in the guise of Ozark's heroine empress Darlene Snell (Lisa Emery) at season's end. 
As such, big changes are clearly ahead for Ozark's Ruth Langmore moving forward. Julia Garner is patently aware of both the seismic shift in her character's allegiance and, of course, the potential consequences of that shift. The actor recently spoke to the folks at IndieWire about what she's expecting from her tough-as-nails character in Ozark's as yet unannounced fourth season. 
Per that interview, Garner believes Ruth is specifically bent on getting back to her deeply autonomous roots in season 4 of Ozark, "She wants that independence back that she had before the Byrdes came in."
You can probably expect Ruth to take on the Byrdes in Ozark's fourth season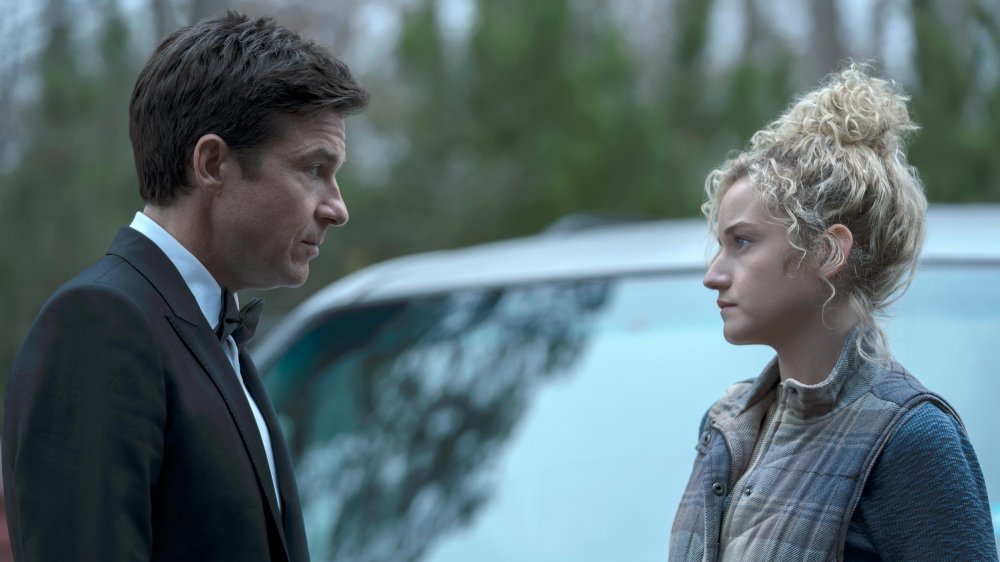 Netflix
For fans who've been with Ozark from the beginning, there's little question Ruth's staunch independence was a big part of what made the character such a feisty presence in the series, not to mention, a certifiably unpredictable commodity capable of swaying the Byrdes' fortunes one way or another. Over the course of Ozark's second season, Ruth continued to align her cause with Marty and Wendy, even as that alliance ended up costing her almost everyone she cared about. Per Garner, after the loss of Ben, Ruth has finally had enough of being in business with the Byrdes.
"Ruth has a really good intuition, a gut feeling, always, like she was always right, and Marty and the Byrdes kind of took over that and she stopped listening to that, and at Season 3, she made the mistake again [of] not listening to her gut, going with the Byrdes, doing all this stuff for the Byrdes, and she's done with it," Garner said. "She realized she was more independent and stronger without the Byrdes. She thought she was going to be stronger with the Byrdes, but in reality that wasn't the case. She's realizing that, and that's what season 4 is going to be."  
Given where Ruth is at the end of Ozark's third season, you can likely expect a ferocious showdown between Team Byrde and Team Langmore-Snell in season 4. That showdown promises more bloodshed in the Ozarks than the series has ever seen. It'll just as certainly give Garner (who recently nabbed an Emmy for her work on the show) a chance to bring a fresh wave of combustible energy to one of the more fiery femmes in TV land, and we cannot wait to watch her burn in season 4 of Ozark.