In Ed Asner's Acting Career, One Role Stands Above The Rest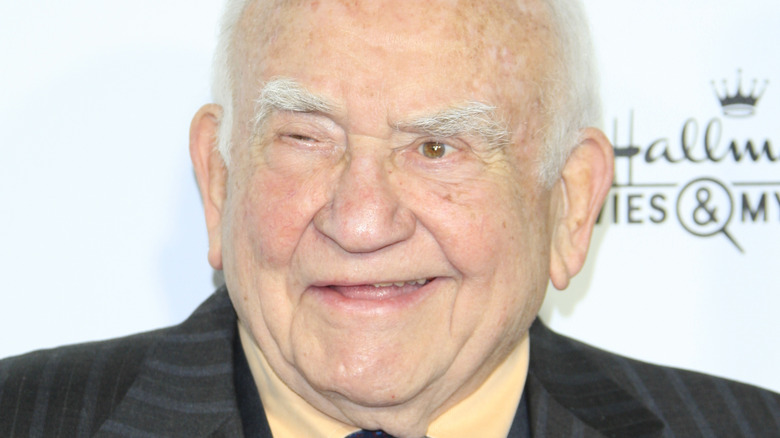 Phil Stafford/Shutterstock
Ed Asner, who passed today at 91, is, to put it simply, one of the greatest television icons of all time. The most decorated male performer in Emmy Award history (via Business Insider), he could consistently be relied upon throughout his career to bring any part to life in the most indelible way possible, whether it was a compassionate inner-city school principal on "The Bronx Zoo," a hot-tempered immigrant father on "Rich Man, Poor Man," a slave ship captain on "Roots," a larger-than-life elderly supervillainess on "Superman: The Animated Series," or J. Jonah Jameson on the 1990s "Spider-Man" toon.
His movie roles weren't too shabby, either. In addition to the villain of the classic Howard Hawks western "El Dorado," he played Santa Claus in "Elf," and everyone's favorite grumpy old man, Carl Fredricksen, in Disney-Pixar's "Up" — two roles for which he harbored particular affection. And, just recently, Asner returned to TV screens in style with memorable appearances on "Dead to Me," playing Judy (Linda Cardellini)'s sweet retirement home friend Abe Rifkin, and "Cobra Kai," playing Johnny (William Zabka)'s ignoble stepfather Sid Weinberg.
Amidst all those memorable roles, however, there's one Ed Asner character that inarguably stands tall as his crowning acting achievement. As we look back on the career of this screen legend, special attention must be paid to his 12-year performance as Lou Grant.
As Lou Grant, Ed Asner changed the face of TV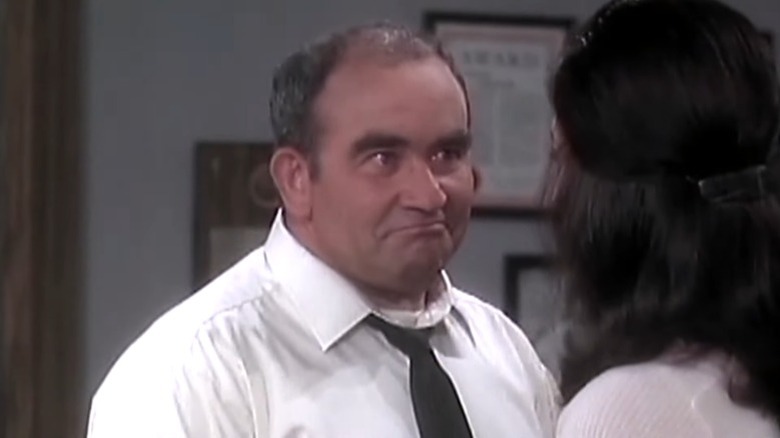 CBS
When Ed Asner auditioned for a role on "The Mary Tyler Moore Show," he wasn't exactly known for his comedic genius. According to a 1973 New York Times interview, Asner had "deliberately stayed away from comedy parts" for the first 15 years of his career, until "Mary Tyler Moore" producer Grant Tinker was captivated by his performance in a 1969 television film, and asked him to read for the role of the protagonist's boss, Lou Grant. The audition process was bumpy, per Biography.com – at first, Moore herself wasn't sure if Asner was the right man for the part.
However, the producers vouched for him, and so began one of the most iconic acting partnerships in the history of TV. The grouchy, demanding, yet loving news director at WJM-TV, Lou Grant was a brilliant creation on both comedic and narrative fronts, and his mentorship of Mary became the show's emotional anchor throughout all of its seven-year run. In fact, Asner's performance as Lou was so beloved that, when "Mary Tyler Moore" wrapped, creators James L. Brooks and Allan Burns wrote a whole new show centered around it.
In a vanishingly rare example of a sitcom spawning a "serious" spin-off, "Lou Grant" was a one-hour drama focused on the nitty-gritty of Lou's city editor job at the Los Angeles Tribune. Brooks and Burns' gamble was enormously successful: "Lou Grant" redefined the newsroom drama genre, and Asner broke ground by winning Emmys in both Comedy and Drama for the same role (via The Hollywood Reporter).