HBO Has The Script For A Deadwood Revival, Says Ian McShane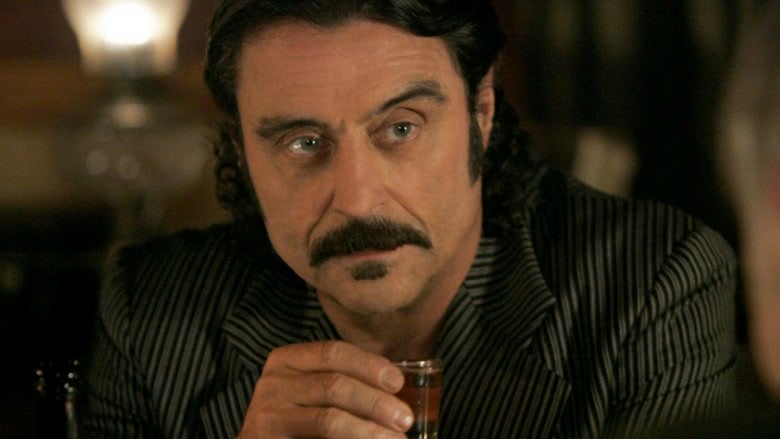 If we don't see a Deadwood revival, HBO is to blame, according to series star Ian McShane.
The actor who is currently doing press rounds for his upcoming role as Mr. Wednesday in the Starz series American Gods, told TVLine that series creator David Milch has given the network a two-hour movie script. "If they don't deliver, blame them," he joked.
The popular TV western aired for three seasons in the early 2000s before being canceled, despite earning widespread critical acclaim and being a perennial awards show favorite. The drama has since achieved cult status, and fans have been clamoring for a continuation, something which HBO also insists they are actively pursuing.
The network previously promised in January of 2016 that the revival would happen, with HBO programming president Michael Lombardo telling TVLine that Milch "has our commitment" with the show going forward. The network's top programming executive Casey Bloys gave an update to TVLine on the show this January, saying that, while she hadn't read the script yet, she knew Milch was actively working on it.
McShane's comments indicate that the script (or at least a draft of it) is now complete, meaning that the movie could be on the way sooner than many thought. The star said he has spoken to Milch "about some of" the script, adding, "I'll be seeing him for lunch [soon]. We'd all love to do it... it would be nice to see all of the old gang again."
Milch has a full slate at the moment, though, with the writer reportedly attached to help Nic Pizzolatto develop a third season of HBO's hit True Detective. Many of the actors from the original show, including Timothy Olyphant, Kim Dickens, and Titus Welliver, are also locked up on other projects, although many of the cast members have previously expressed enthusiasm about the potential of returning to the project and would likely try to find a way to fit the return into their busy schedules.
Now is the age of TV revivals, with everything from The X-Files to Gilmore Girls to Invader Zim getting the chance to live again years after cancelation. With the cast, the crew, and the network behind a Deadwood revival, it will (hopefully) be only a matter of time before we get to see more from the show. While we wait, check out some other canceled TV shows that ended with frustrating cliffhangers.