Here's Where You Can Watch Spider-Man: Far From Home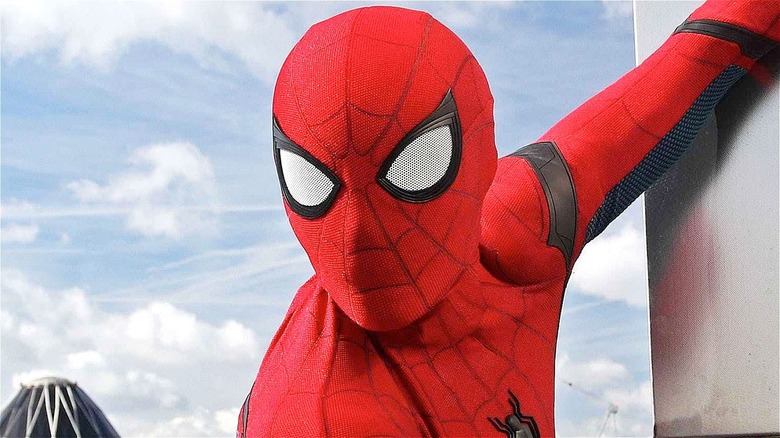 Marvel Studios/Sony Pictures
We may receive a commission on purchases made from links.
With the recent trailer for "Spider-Man: No Way Home" taking the internet by storm, hardcore Marvel Cinematic Universe fans and casual moviegoers alike are looking to brush up on the series and satisfy their need for a quick Spidey fix before the third installment in the Tom Holland-led film franchise arrives in theaters this December. Naturally, that means taking a fresh look at the web slinger's most recent solo outing, 2019's "Spider-Man: Far From Home," which ended with a huge mid-credits cliffhanger that left fans wondering: What happens after the public learns who Spider-Man is?
The outing of Peter Parker's identity as Spider-Man will clearly have a major impact on the upcoming Marvel sequel, as anyone who has watched the "No Way Home" trailer can already tell you. But before he even thought of going to Doctor Strange (Benedict Cumberbatch) for help in erasing a part of the past, a still anonymous Peter Parker first took on Mysterio (Jake Gyllenhaal), grappled with Iron Man's (Robert Downey Jr.) legacy, and finally revealed his true self to MJ (Zendaya) in the crowd-pleasing "Far From Home," which took in over $1 billion at the worldwide box office (via BoxOfficeMojo).
Given that it was such a massive hit and only came out two years ago, "Spider-Man: Far From Home" should be pretty easy to stream, right? Actually, it turns out the answer is a little more complicated than fans might think.
Spider-Man: Far From Home is still far from its potential home on Disney+
While it's available for purchase or rental on a handful of online platforms, "Spider-Man: Far From Home" does not currently have a home on any of the major streaming services.
So where can you watch the film? Well, "Far From Home" is currently available to rent for $3.99 on a number of streaming services, including Amazon Prime, Apple TV, Google Play, YouTube, Microsoft, and Redbox. If you'd prefer to own a digital copy of the movie, those same platforms also allow you to purchase the film, but you'll have to shell out another $10 or so (prices vary depending on where you buy). Alternatively, you could always go old school and pick up a physical DVD or Blu-ray of the film to display handsomely in your home.
Fortunately, there is hope for the fans out there who dream of "Spider-Man: Far From Home" coming to a streaming service one day. As most MCU followers know, all the "Spider-Man" films (including those starring Tobey Maguire and Andrew Garfield) have been caught over the years in a complex legal web between Sony and Disney. However, that issue appears to have been partly resolved, thanks to a recently struck deal between the two studios that opens the door for Sony's "Spider-Man" movies — including "Far From Home" — to swing onto Disney+ at some point. The studios have so far been vague about when the films might actually arrive on the platform, but here's to hoping that "Spider-Man: Far From Home" isn't too far away from finally landing on Disney+.