Sony's New Deal With Disney Has Everyone Talking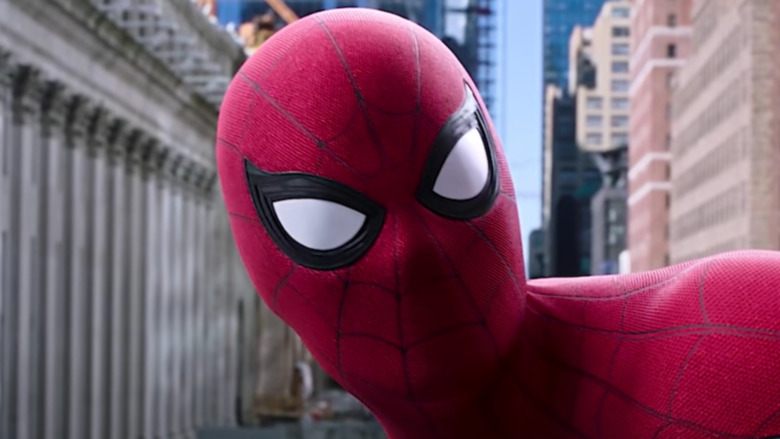 Marvel Studios/Sony Pictures
As the entertainment landscape continues to shift and change, major studios and streaming services alike are taking notice. This has led to unprecedented working relationships between the two that will forever change how the masses consume media. For instance, mere weeks after signing an agreement with Netflix, Sony has struck up a deal with Disney that'll see its upcoming movie releases, and much of its preexisting content library hit Disney's streaming and television outlets very soon.
Per a press release concerning their landmark pact, Sony's 2022-2026 film lineup will fall into Disney's hands following the completion of their Pay 1 TV window. This means that titles such as "Morbius," "Uncharted," and more will inevitably arrive on Disney+ and Hulu in addition to cable channels including ABC, the Disney Channels, Freeform, FX, and National Geographic. Not to mention, the likes of the "Jumanji" and "Hotel Transylvania" series, as well as Sony's wide array of Spider-Man flicks, are fair game too, with many of these library titles arriving on Hulu as early as June 2021.
Chuck Saftler, the head of business operations for ABC, Freeform, FX Networks and Acquisitions in DMED's Networks division, and a key figure in the negotiations, called the deal "a win for fans, who will benefit from the ability to access the very best content from two of Hollywood's most prolific studios across a multitude of viewing platforms and experiences." 
The president of worldwide distribution and networks for Sony Pictures Entertainment, Keith Le Goy, said that the deal "reconfirms the unique and enduring value of our movies to film lovers and the platforms and networks that serve them," and that Sony is "thrilled to team up with Disney on delivering our titles to their viewers and subscribers."
That's a lot of information to take in, but how is everyone reacting to it? Suffice to say, the internet has some strong opinions on Sony and Disney's joint venture.
The internet is pretty excited over Sony and Disney's deal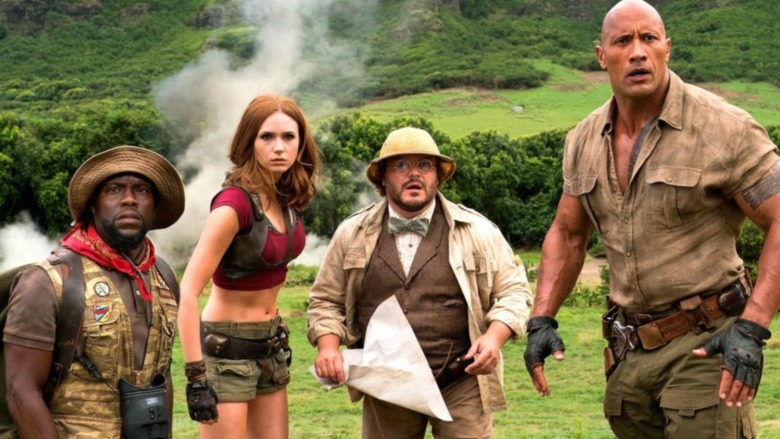 Sony Pictures
As one would expect, the news of Sony and Disney's latest agreement has elicited some major chatter in the social media world. For the most part, it seems as though people are excited over the announcement.
"Most of the Marvel content in one place sounds really good to me!" wrote @chewiedanvers2 on Twitter, delighted at the thought of Disney+ becoming a one-stop-shop for the bulk of Marvel media.
Speaking from a business standpoint, @tooturntchriss tweeted "this is smart on both ends and i'm happy it's happening." 
"You know, it wouldn't even surprised if Disney LITERALLY bought Sony." wrote user @Aaron_In_Style, joking about Disney's incredibly deep pockets and its penchant for content collection.
@SamuelChurch14 took this news a step further, saying "Now if they'd just get the legal mumbo jumbo sorted out with The Incredible Hulk we'd have the entire MCU in one place." This is in reference to the fact that Universal owns the rights to the Hulk character and 2008's "The Incredible Hulk," hence why it's not currently on Disney+ with most other Marvel Cinematic Universe entries.
"I like to see that Disney and Sony seem to have good relations as of RN. My hope is it means that MCU Spider-Man will be around for a while" posted @LiamB9L, who's happy that both parties are working collaboratively and what that could mean for the future of Tom Holland's Spider-Man in the MCU.
Though this is just a small sample size of the moviegoing population, it's clear that the overwhelming majority of people are satisfied with Sony and Disney's deal, indicating their working relationship will continue to pay off for years to come.