Hidden Gems On Disney+ Everyone Should Watch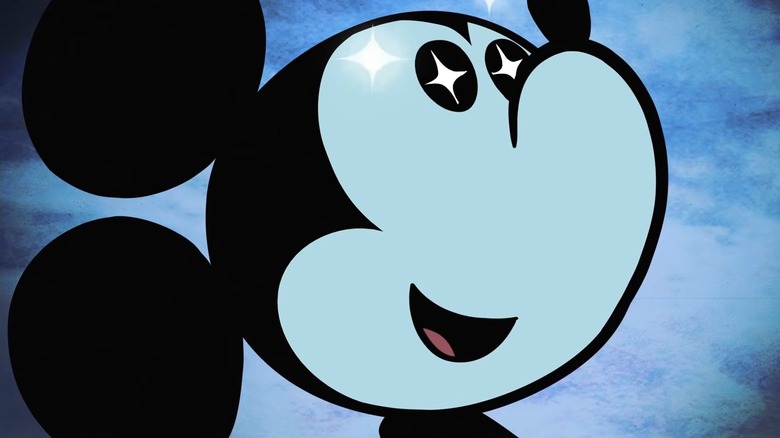 Disney Channel
Today, Disney is one of the biggest media companies on the planet. Yet despite all its awesome might and vast creative resources, the Mouse Empire seems to be mostly in the news for remakes of their own animated films and endless installments in the Marvel Cinematic Universe. But it wasn't always like this. 
There was a time when Disney was renowned for being at the forefront of storytelling creativity. From inventing many of the animation techniques that are still used today to making movies and shows that enthralled children and adults alike, Disney has had a long history of putting out memorable content that redefined the entertainment industry. But over time, some of these projects — even modern-day ones — have fallen through the pop culture cracks. So where can you find these hidden gems?
Well, Disney+ was quickly able to build a massive subscriber base thanks to the company's years worth of homegrown content and the stuff they acquired from other studios. With the launch of Disney+, it's easier than ever to dip into the back vaults of the Disney catalog to discover movies, shows, and documentaries that fans might not be aware of. Here are several options to choose from the next time you're looking for something to watch on Disney+.  
Aliens of the Deep
James Cameron may be known as one of the most popular filmmakers in cinematic history, but for a long time now, his chief passion has been deep-sea diving. The 2005 documentary film "Aliens of the Deep" — directed by Cameron alongside Steven Quale — is a celebration of that passion and a hypnotic exploration of the world beneath the waves that most will never get to personally witness.
The documentary follows Cameron aboard a Russian research vessel, alongside a group of NASA scientists. The team uses cutting-edge underwater exploration machines to investigate hydrothermal vents that exist in the Atlantic and Pacific oceans, with each vent acting as a self-contained ecosystem for all manners of fascinating sea creatures. The fact that these beings don't require sunlight and can survive in superheated environments opens up interesting speculations regarding whether life on other planets might take on similar forms, hence the title of the documentary.    
Critics have praised the docu-film for making good use of Cameron's filmmaker sensibilities and IMAX 3-D cameras to make the proceedings cinematic and compelling to watch. As Trevor Johnston notes for Time Out, "That IMAX 3-D cameras have plunged so deep to record an often bizarre array of sea creatures undoubtedly delivers a certain 'wow' factor."
Bluey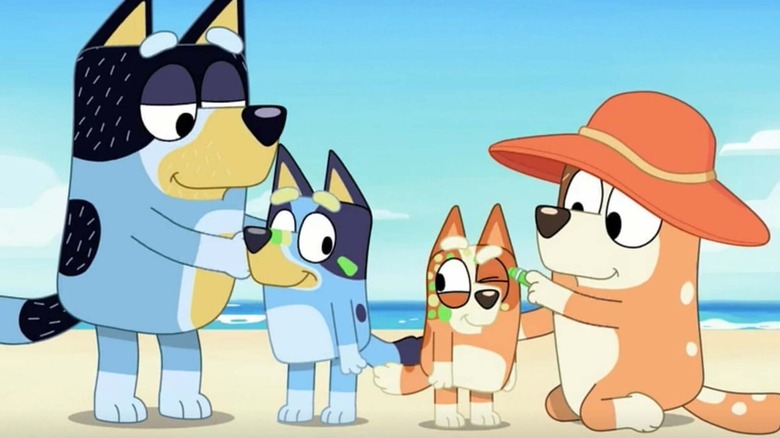 ABC Kids
An Australian animated TV series for preschoolers, "Bluey" follows the imaginative adventures of an anthropomorphic, 6-year-old Blue Heeler puppy named — you guessed it — Bluey. The little pup lives with her parents (Bandit and Chilli) and younger sister (Bingo), and together, the family embarks on a series of playful adventures to satisfy Bluey's abundance of energy and curiosity. Through its episodes, "Bluey" explores childhood themes of growing up, dealing with family issues, and celebrating the world we live in. The show was met with great success upon its release, and it was awarded the Logie Award for Most Outstanding Children's Program in 2019, as well as an International Emmy Kids Award.   
The main charm of the series lies in the empathetic characterization of Bluey's family and supporting characters. Rather than trying to force lessons on its young audience, the creator of the show, Joe Brumm, explained in a 2019 interview with PerthNow that his aim was to encourage learning through play. "There's no counting in Bluey, there's no learning this or that ... just show [children] playing," stated Brumm. "It's to show parents that the kids aren't just mucking around. They're learning to play, learning to share ... and generally you can just put your feet up and let 'em do it."
Mickey Mouse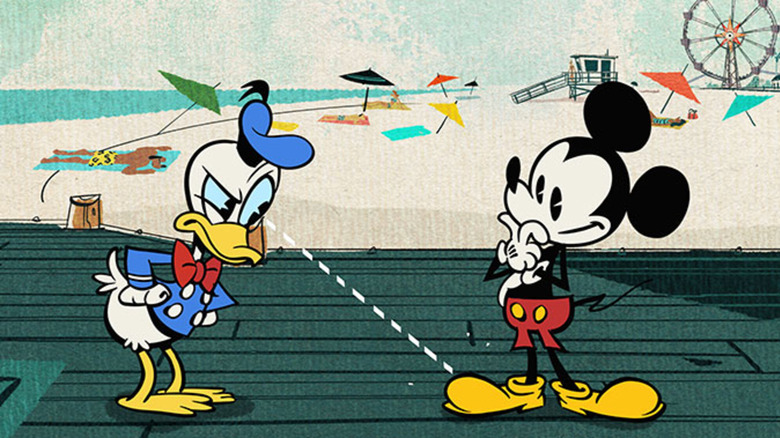 Disney Channel
Even though Mickey Mouse is the official mascot of Disney, the anthropomorphic rodent has fallen out of the public's consciousness to a certain extent. After all, these days, the House of Mouse focuses more on Wanda Maximoff than Mickey. Still, Disney has never given up on their flagship character who started the whole thing. In fact, Mickey even got his own new series of shorts that ran from 2013 to 2019. 
Developed by artist Paul Rudish, "Mickey Mouse" is a throwback to the earliest Disney cartoons that began in 1928 with "Steamboat Willie," which introduced the world to Mickey, Donald Duck, Pluto, Goofy and the rest of the gang. Updated for modern times, this new series mixes a similar style of slapstick comedy and funny situations, which Mickey and his pals attempt to navigate. For younger viewers, there's a lot of silly fun to be had in the energetic animation style and watching Mickey traverse the globe on one hare-brained adventure after another. For older viewers, there's nostalgic value in seeing the cartoons of their childhoods brought so joyfully back to life.   
Lizzie Maguire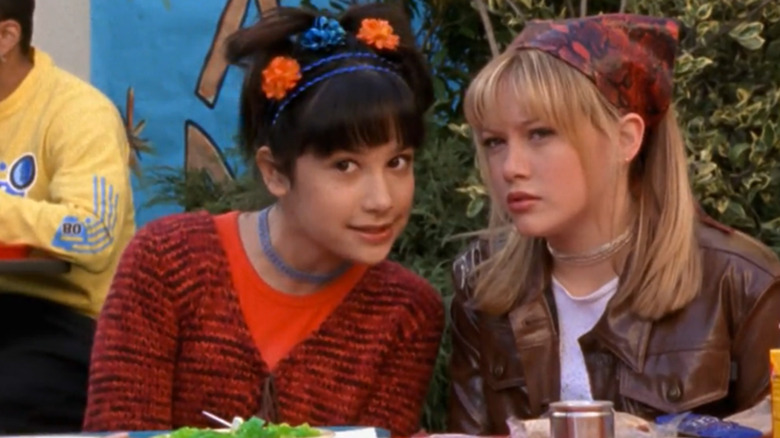 Disney Channel
Created by Terri Minsky, "Lizzie Maguire" is one of the most iconic children's shows to ever grace the small screen. It also made stars out of its main cast, particularly Hilary Duff in the lead role of Lizzie, a 13-year-old girl who faces the personal and social challenges of school life alongside her peers. 
"Lizzie Maguire" followed in a long line of shows narrated by the main characters, from "The Wonder Years" to "Malcolm in the Middle." In the case of "Lizzie Maguire," the titular character's inner thoughts and emotions are expressed in the form of an animated Lizzie who frequently breaks the fourth wall to make comments to the audience regarding situations that the character is dealing with. As a result, most live-action kids shows of the 2000s owe some part of their style and format to the success of "Lizzie Maguire." That same success led to plans of reviving the series with a grown-up Lizzie played by Duff. Unfortunately, those plans got nixed, but fans can still enjoy the original show on Disney+. 
Gravity Falls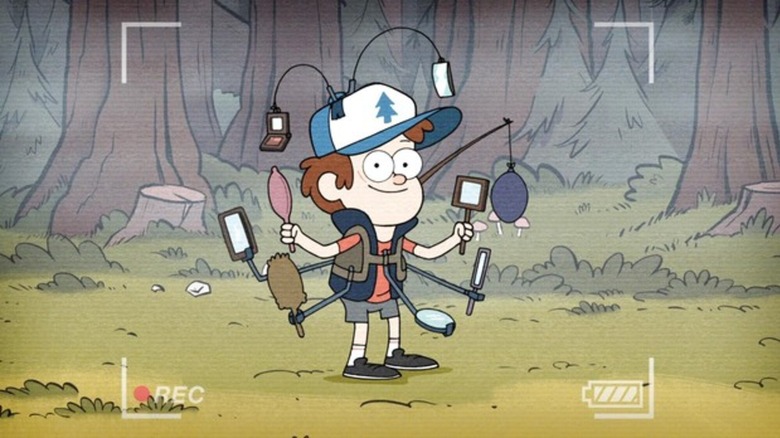 Disney Television Animation
"Gravity Falls" was created by Alex Hirsch and debuted on the Disney channel in June 2012. The series featured Dipper and Mabel Pines, 12-year-old twin siblings sent to spend their summer vacation with their Uncle Stanley in Piedmont, California, in the fictitious town of Gravity Falls. But things quickly take a turn for the weird when Dipper discovers a mysterious journal written by an unknown author.
Using the journal as reference, Dipper embarks on a series of adventures to uncover the paranormal occurrences that seem to happen in Gravity Falls all the time. Dipper is joined in his adventures by his sister, his uncle, and the employees at Stan's "Mystery Shack" shop. Over two seasons, the supernatural phenomena affecting Gravity Falls slowly coalesces into a central mystery regarding the author of the journal and the strange dream demon known as Bill Cipher. So yeah, it's "Twin Peaks" for kids.
"Gravity Falls" is a rare example of a television series that didn't run on for too many seasons or end on an unsatisfying cliffhanger. The two seasons of the show tell one complete story filled with intelligent writing and genuinely warm moments, all wrapped up in the compelling mythology of Gravity Falls. The show also has some of the best developed characters ever seen in animation and a diverse fan base that stretches all the way from Disney viewers to the creators of "Rick and Morty." 
Flight of the Navigator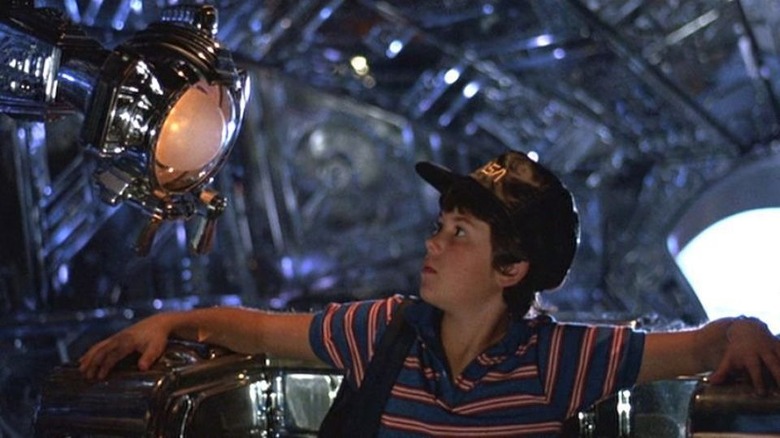 Buena Vista Pictures
Released in 1986, "Flight of the Navigator" is a sci-fi adventure film that follows the story of 12-year-old David Freedman — a kid who's found himself in quite the predicament. One day, David decides to walk through the woods, only to fall into a ravine and get knocked unconscious. But when he wakes up, David discovers that eight years have passed, he's been declared missing, and he hasn't aged a day. And, oh yeah, his mind is filled with impossible information about faraway stars and alien civilizations.
David's case soon draws the attention of the U.S. government, but after he winds up locked in their facility, he encounters a extraterrestrial robot by the name of Trimaxion Drone Shop — aka Max. Together, the duo escape, David soon learns what exactly happened to him, and Max discovers what it means to be human. Entertainingly bizarre and filled with cutting-edge special effects for its time, "Flight of the Navigator" has become a cult classic and one of the best family-friendly sci-fi movies that Hollywood has ever produced. 
Cadet Kelly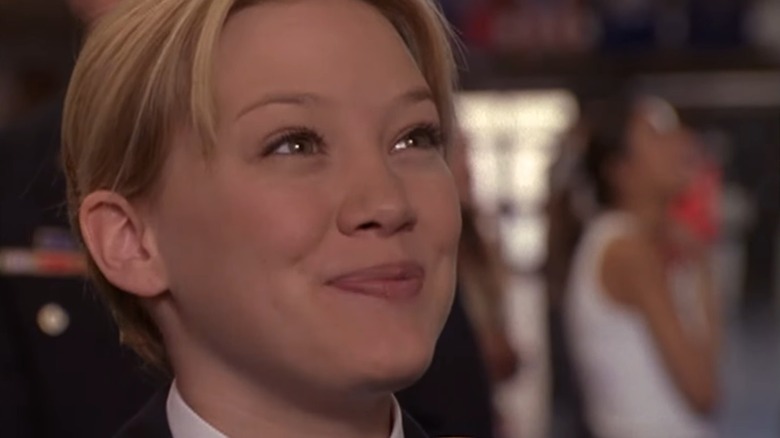 Disney Channel
At the height of her fame due to "Lizzie Maguire," Hillary Duff starred in the Disney Channel Original Movie "Cadet Kelly." Here, Duff plays Kelly Collins, a free-spirited high-schooler and art student whose life turns upside down when she's forced to move upstate and enroll in a military school run by Kelly's stepfather, Brigadier General Joe "Sir" Maxwell (Gary Cole).
Naturally, the tightly controlled environment of her new school doesn't really click with Kelly's free-wheeling nature. Even more naturally, Kelly is drawn to hunky fellow student Cadet Major Brad Rigby (Shawn Ashmore) and forms a rivalry for his affections with yet another student cadet, Captain Jennifer Stone (Christy Carlson Romano). Kelly soon finds that Jennifer is hell-bent on making her life as difficult as possible, and her new stepfather isn't helping matters by refusing to consider her side of the feud. 
Eventually, Kelly joins the school's drill team, and they come up with a new routine that takes them to the regional championship. But Kelly's duties towards her family threaten to take her away from her team on the day of the main competition. Fun, fast-paced, and buoyed by a charming central performance by Duff, "Cadet Kelly" is an entertaining bit of fluff that plays to Disney's strengths in the school movie genre.     
The Rocketeer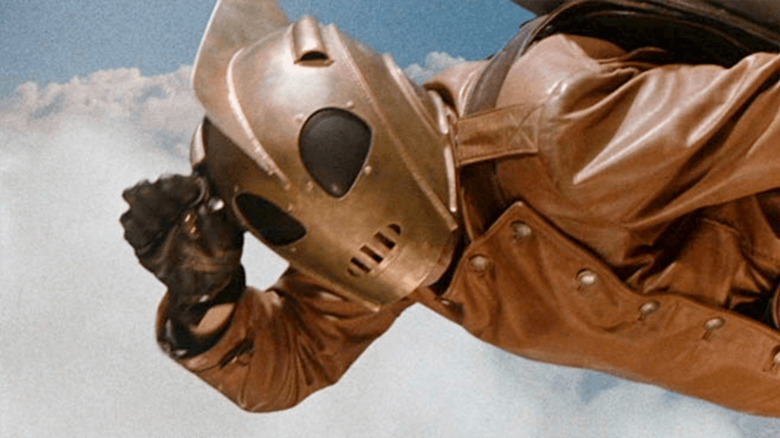 Buena Vista Pictures Distribution
Before there was the MCU, Disney tried its hand at the superhero genre with "The Rocketeer," based on the comic series of the same name from Pacific Comics. Billy Campbell stars as Cliff Secord, a stuntman who discovers a mysterious rocket pack designed by none other than Howard Hughes. Naturally, Cliff uses the pack to fight for good and save the day, and he's soon dubbed "the Rocketeer" by the media. But things quickly take a turn when the FBI gets on Cliff's tail along with a gang of mobsters and even Nazis. Running out of options, Cliff has no choice but to stand and fight while his opponents try to target his weakness by kidnapping his girlfriend, Jenny Blake (Jennifer Connelly). 
"The Rocketeer" was a throwback to the adventure movies and serials of the 1930s-1950s. As such, there's a certain quaint energy to the movie that feels particularly old-fashioned compared to most of the MCU. Still, "The Rocketeer" is helped along by sincere performances and an action-packed storyline that makes good use of its 108 minutes runtime. And there's one Marvel movie that does kinda feel like "The Rocketeer." If you enjoyed the charm of "Captain America: The First Avenger," both films are directed by the same guy — Joe Johnston.
Howard
While Disney is viewed as an overpowering conglomerate, the success of the company rests on the shoulders of the individual visionary artists who worked for the Mouse Empire at different times. Howard Ashman was one such artist, who wrote the lyrics for  "The Little Mermaid," "Beauty and the Beast," and "Aladdin."
The documentary "Howard" explores the legacy of Ashman's contributions to Disney before his untimely death in March 1991 at the age of 40. In addition to examining his professional works, the doc presents Ashman's entire life story by the people who knew him best, from composer Alan Menken to the voice of Ariel in "The Little Mermaid," Jodi Benson.
The critical reception for "Howard" was universally positive, with reviewers praising the documentary for showing all facets of Ashman's life instead of focusing only on his Disney career. Jennifer Green writing for Common Sense Media described "Howard" as a "moving documentary that offers both a behind-the-scenes look at the making of some modern-classic Disney animated films and the poignant life story of an exceptionally talented man." 
A Goofy Movie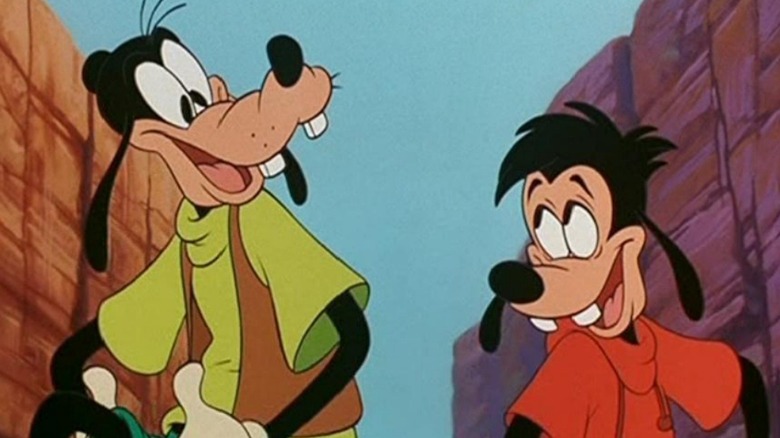 Walt Disney Pictures
Goofy has always been a bit of a wildcard for the Disney family, a character who needs a straight man like Mickey or Donald to truly shine in his appearances. But the 1990s television series "Goof Troop" placed Goofy in a new, less slapstick setting by giving him a son named Max to take care of. "A Goofy Movie" was the follow up to "Goof Troop," featuring the titular hero's struggles to relate to his growing son. 
Now 14 years old, Max dreams of becoming a musical artist, but he's afraid his father's genes will turn him into a clumsy oaf instead. Meanwhile, Goofy wants to take Max on a fishing trip, driving from their home state of Ohio to Lake Destiny, Idaho, a route that Goofy and his father took years ago in the 1960s. Max has no interest in the trip since he wants to take his long-time crush, Roxanne, to a concert instead. The father and son duo are thus trapped on the road with each other for days, during which they must learn to reconcile their contrasting personalities.
"A Goofy Movie" failed to make much of an impression during its initial box office run. But later, the film garnered a cult following after its home media release. The theme of different generations trying to come to an understanding with each other resonates deeply with the kids who grew up with the film, and its catchy soundtrack has grown in popularity in the last two decades.   
Treasure Planet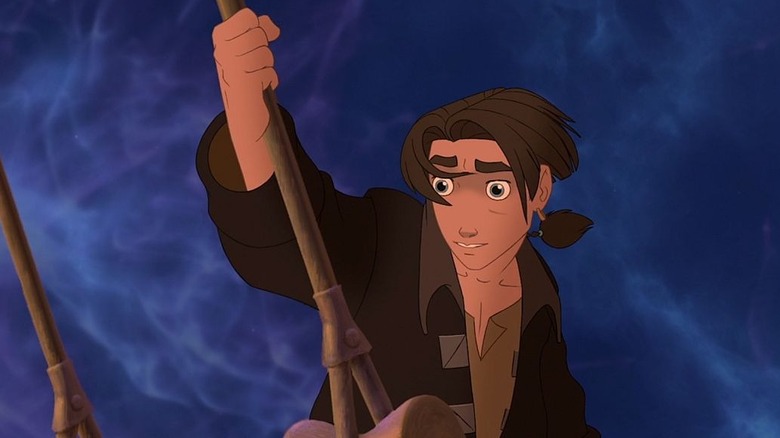 Walt Disney Pictures
"Treasure Island" is one of the most popular adventure stories of all time. Disney had already dipped their toes in that particular IP with 1950's "Treasure Island" and 1996's "Muppet Treasure Island." And the company made a third ambitious attempt to adapt the property with "Treasure Planet" in 2002.
But rather than sea-faring pirates, the movie introduces viewers to interplanetary buccaneers. Chief among them is the legendary Captain Nathaniel Flint, renowned for his skill at looting space vessels and stashing the riches on the fabled "Treasure Planet." A troubled young innkeeper named Jim Hawkins discovers a star map that claims to show the directions to this so-called "Treasure Planet," and with a motley crew of pirates that include the enigmatic John Silver, Jim embarks on a quest to discover Flint's mythical treasure with a trip beyond the stars. 
Although the movie bombed at the box office, it was praised for its ambitious creative process of blending different mediums of animation into one film. Disney combined some major techniques for "Treasure Planet," with 2-D character animation and CGI environments. This results in a highly distinct look and feel for the movie that in recent years has come in for some retrospective praise. 
Free Solo
Disney+ has some really impressive documentaries, and if you're into the wild world of rock climbing, then they definitely have the film for you. In "Free Solo," the directing duo of Elizabeth Chai Vasarhelyi and Jimmy Chin present rock climber Alex Honnold, who's on a quest to perform a free solo climb of El Capitan in Yosemite National Park.
This staggering feat isn't pulled off in a single attempt. We see Honnold partake in various test runs, like when he ascends the precipitous limestone cliffs in Taghia, Morocco. At every step of the journey, viewers witness Honnold's meticulous preparations for the ordeal ahead, as well as the almost superhuman feats of strength and agility the rock climber exhibits in pursuit of his goals.
"Free Solo" was met with overwhelming critical acclaim upon release, with reviewers praising not just Honnold's daredevil actions but also the pains that the documentary makers took to authentically depict the climb without getting in Honnold's way or pressuring him in any way to continue with the climb. "Free Solo" won the People's Choice Award in the Documentaries category at the 2018 Toronto International Film Festival, and it also won Best Documentary Feature at the 91st Academy Awards.
James and the Giant Peach
On paper, adapting a novel by one of the most beloved children's authors seems like a no-brainer for Disney. But what if the author happens to be Roald Dahl, a writer famed for his dark takes on children's fantasy stories? Fortunately, Disney's 1996 adaptation of Dahl's "James and the Giant Peach" novel was a successful experiment that honored the spirit of the original story while pushing the boundaries of animation. 
The movie tells the story of James, a young orphan who lives with his sadistic and domineering aunts. But a chance meeting with a mysterious old man results in a giant peach growing on a tree near James' house. As a result, James start snacking on a piece of fruit, only to discover a group of humanoid insects living in its core. Together, the insect family and James embark on a trip to New York City that has them facing a variety of obstacles, from a giant mechanical shark to undead skeletal pirates.
"James and the Giant Peach" was created using a combination of live-action and stop-motion animation. The movie was praised for its dynamic visuals and inventive storytelling which traveled far off the beaten track for a typical Disney production. As Janet Maslin wrote for The New York Times, the film is "a technological marvel, arch and innovative with a daringly offbeat visual conception" and "a strenuously artful film with a macabre edge."
Even Stevens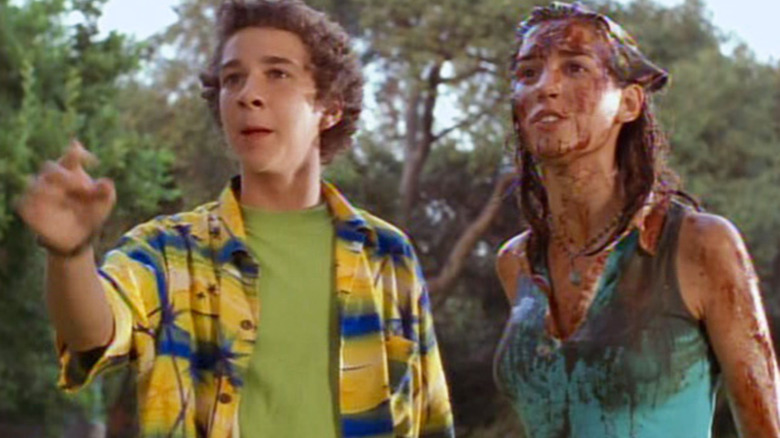 Disney Channel
After 2007's "Transformers," Shia LaBeouf established himself as a blockbuster Hollywood leading man, as well as a credible presence on the indie film circuit. With such impressive credentials, it can be difficult to remember he got his first big break in showbiz as a Disney child star in the series "Even Stevens." 
Here, LaBeouf played the lead role of Louis Anthony Stevens, alongside Louis' sister, Ren Stevens (Christy Carlson Romano). With Louis being the typical school slacker and Ren being the typical overachiever, much of the comedy of "Even Stevens" derives from the clash of personalities between the two siblings. Louis often concocts elaborate schemes to get out of trouble or to avoid work, leaving Ren to pick up the pieces when the schemes inevitably blow up in Louis' face. 
"Even Stevens" was popular enough to run for three seasons. A feature-length Disney Channel Original Movie simply named "The Even Stevens Movie" premiered in 2003 and served as a finale for the series. Of course, after its cancelation, the show continued to enjoy a cult following, even as the main cast moved on and found success in other projects.