Why Cameron From He's All That Looks So Familiar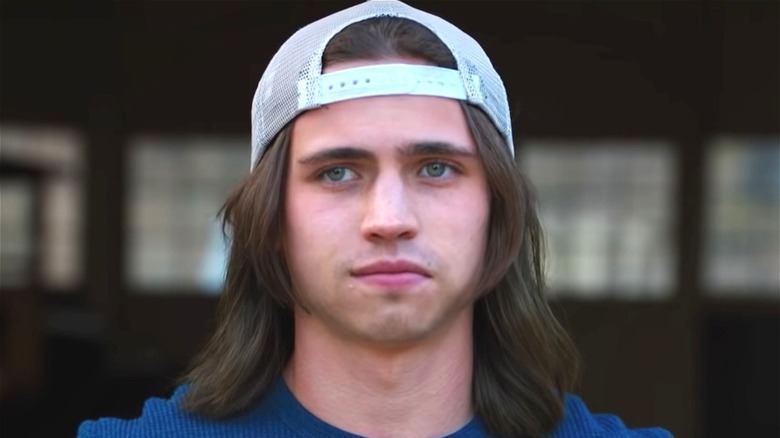 Netflix/Kevin Estrada
Remakes are all the rage these days. After all, why bother coming up with a new idea when you can just retread one that's had success in the past and cash in on the nostalgia factor as well as drawing in new audiences? Cynicism aside, there are plenty of spinoffs and reboots that are actually great, and since Netflix is getting in on the game, we're expecting even more content related to things we already like. After all, the "Karate Kid" spinoff "Cobra Kai" is amazing and we can't wait for Season 4 to arrive. Netflix is even starting to spin off its own intellectual property as well. After "Castlevania" Season 4 was announced as the final season, we learned that there's a potential spinoff on the table for the vampire-centric video game anime. And, of course, when the "Bridgeton" spinoff series was announced, fans of the period romance were ready to burst.
Netflix's "He's All That" is something a little bit different. It's a remake of a seminal '90s coming-of-age romantic comedy that starred Freddie Prinze Jr. as recently dumped campus king Zack Siler, whose boastful assertion that he can turn any girl into the prom queen becomes an asinine bet with his friend Dean (Paul Walker). The girl in question is Laney Boggs (Rachael Leigh Cook), a nerdy art student who keeps to herself. It's an admittedly cringey premise, one that served as the central conceit for the parodic spoof "Not Another Teen Movie." 
"He's All That" takes the same idea but swaps the genders; in this version, Padgett Sawyer (Addison Rae) vows to turn the least-popular guy, Cameron Kweller, into prom king in an attempt to rebound from her own failed relationship. Viewers should recognize the actor bringing her pet project to life as actor Tanner Buchanan; here's why Cameron from "He's All That" looks so familiar.
Buchanan guest starred as Evan Turner on The Goldbergs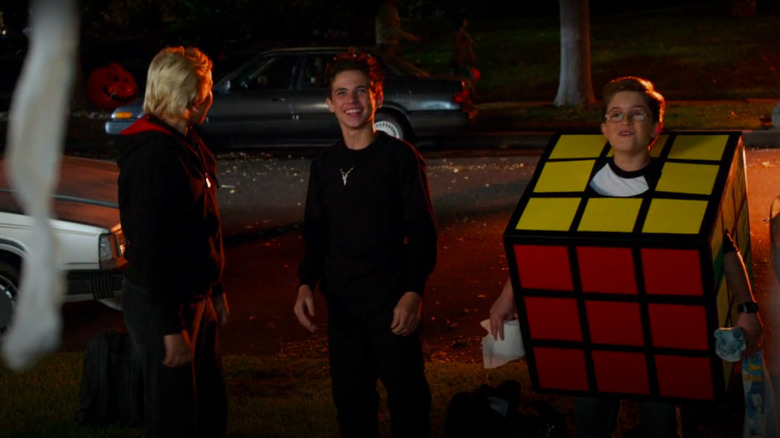 ABC
Fans of the popular period family sitcom "The Goldbergs" may recognize Tanner Buchanan from a couple of appearances he made in the show's first season, though he might not have been the best of influences for young Adam Goldberg (Sean Giambrone). In Episode 6, entitled "Who Are You Going to Telephone?" Adam engages in the time-honored tradition of costumed candy extortion known as trick or treating. Much to the dismay of Halloween-loving mom Beverly (Wendi McLendon-Covey), her kids want to do their own things this year. For Adam, that means traveling the neighborhood with an older kid by the name of Evan Turner (Buchanan) and his group of  friends. Much to the dismay of discipline-loving dad Murray (Jeff Garlin), the group vandalizes every house on the street, a rampage that includes Adam egging the Goldbergs' home while clad in his Rubik's cube costume. Special bonus: his egg hits his dad square in the face. As a result, Adam is grounded for three weeks.
Evan turns back up in the 17th episode of Season 1, cleverly entitled "Lame Gretzky," which features Adam's continued failure to impress as an ice hockey player — that is until his big brother Barry (Troy Gentile) gives him some pointers on how to play the hockey tough guy role known as an enforcer. If you think "hockey tough guy" and "Adam Goldberg" don't belong in the same sentence, you're correct. In fact, his poor showing in trying to drop the gloves may have been even more embarrassing than scoring a goal for the other team earlier in the episode. Needless to say, Adam's attempts to impress his dad on the ice go about as well as Murray's attempts to take an interest in his son's efforts at filmmaking.
Tanner Buchanan played Charlie Gardner on Girl Meets World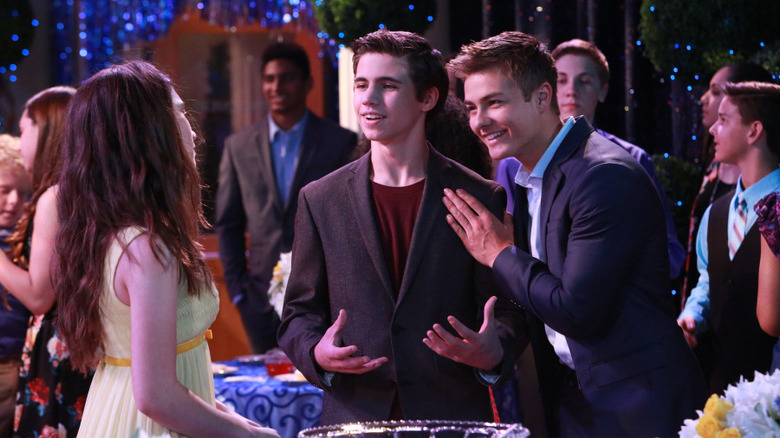 Disney Channel
On the topics of retreads, spinoffs, and remakes — oh my! — Tanner Buchanan also has a three-episode arc on "Girl Meets World." The show, which was an offshoot of the popular '90s family sitcom "Boy Meets World," follows the further adventures of the Matthews family, as "Boy Meets World" lead character Cory Matthews (Ben Savage) has married childhood crush Topanga (Danielle Fishel) and moved to New York. There they have a daughter named Riley Matthews (Rowan Blanchard), who serves as the titular girl, and a son named August Matthews (August Maturo) who's often called "Auggie."
In "Girl Meets World" Season 2, we meet Buchanan's character, a nice young man named Charlie Gardner who has a crush on Riley. He's a quiet kid who's also prone to big romantic gestures, as seen in the epic way he asked Riley to the Semi-Formal dance. The problem is, she was hoping to be asked by Lucas (Peyton Meyer), and unknowingly accepted Charlie's invite. Like Riley, he'd expected Lucas to have asked and only shot his shot because the other boy had failed to do so. Lucas, on the other hand, just naturally assumed he and Riley would go to the dance together, so he never bothered asking. 
It's not the last time Charlie tries to plead his case to Riley and at one point, she looks to be succumbing to his charms. In a less cringey interpretation in which women aren't meant to be worn down until they surrender, she genuinely considers Charlie to be a good match. In his final appearance, though, she has to let him down easily; having decided that she can't offer Charlie what he's looking for, she decides they need to remain just friends, a decision he takes with respect and grace.
He played Jack Downey on The Fosters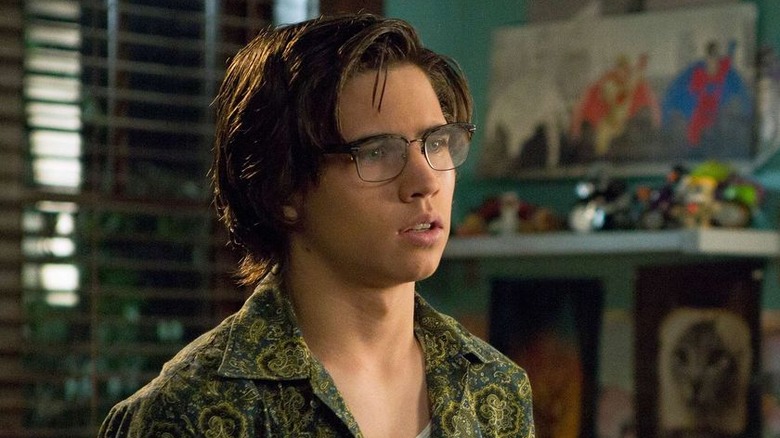 Freeform
In 2015, Tanner Buchanan had a recurring role on the ABC family drama "The Fosters." The show, which follows the suburban lives of the Adams-Foster family formed by a same-sex couple, aired on what would eventually become the Freeform network, formerly ABC Family. Stef Foster (Teri Polo) is a police officer and Lena Adams (Sherri Saum) is an educator and together they raise five children, one of whom is Stef's biological son Brandon (David Lambert) with her former partner Mike (Danny Nucci), and four of whom are adopted.
Buchanan's character Jack Downey befriends adopted son Jude Foster (Hayden Byerly) after they meet at an event for foster children at which Jude's sister, Callie Foster (Maia Mitchell), spoke. Jack is subject to physical abuse by his foster father Jim Pearson (Colby French) — who was Callie and Jude's former foster parent as well — and the other children at his home. Despite kissing Jude, Jack maintains he isn't gay, telling Callie he was only trying to comfort her brother after his breakup with boyfriend Connor Stevens (Gavin MacIntosh). In the heartbreaking penultimate episode of the third season of "The Fosters," entitled "The Show," Lena gets a call from work to investigate a domestic disturbance, only to find the suspect is Jim Pearson. After placing him under arrest, she searches the premises and finds Jack's lifeless body.
"Obviously Jack was a very important character for us this season because we got to explore the foster care system in a very different way, especially the more corporate side of the foster care system — which can be a very controversial thing," series creator Brad Bredeweg said in an interview with TV Guide.
If you or someone you know may be the victim of child abuse, please contact the Childhelp National Child Abuse Hotline at 1-800-4-A-Child (1-800-422-4453) or contact their live chat services.
He played Leo Kirkman on Designated Survivor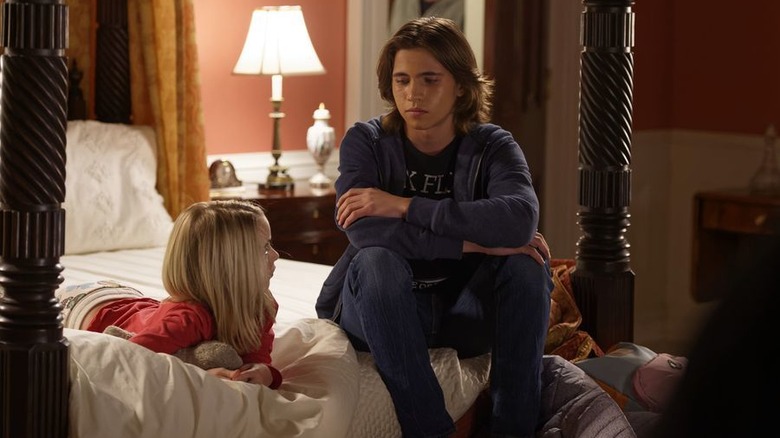 ABC
In 2016, Tanner Buchanan took on his second-longest recurring role to date, playing Leo Kirkman on "Designated Survivor." Many kids experience radical changes when their parents switch jobs, adjusting to a new home and new school. Leo's dad, Tom Kirkman (Kiefer Sutherland), is the Secretary of Housing and Urban Development who's elevated to the role of president of the United States when the sitting president and everyone else in the presidential line of succession are killed in a terrorist attack during the State of the Union address. Tom and his wife Alex (Natascha McElhone) are watching the speech from a secure location, as he's chosen as the designated survivor in order to preserve the continuity of government in the event of an attack just like the one that happened. So Tom's new job involves Leo getting uprooted to live in the White house son along with his younger sister Penny Kirkman (Mckenna Grace), whom he helps to cope with the massive changes their lives have undergone.
As his father attempts to get the United States and the American government back in working order following the deaths of so many elected officials, he leans hard on his wife for support. As such, the family relies on Leo to support Penny. Much of his character arc is based on having too much of a burden placed on such a young man — after all, he didn't sign up for this — though one of the show's central motifs is that in such times of crisis, everyone must bear unexpected and unfair burdens in order to survive together. With Alex's death in Season 2, the Kirkman children received less and less screen time, with Leo going to Stanford and the character not appearing in Season 3 of "Designated Survivor."
Buchanan plays Robby Keene, son of protagonist Johnny Lawrence, on Cobra Kai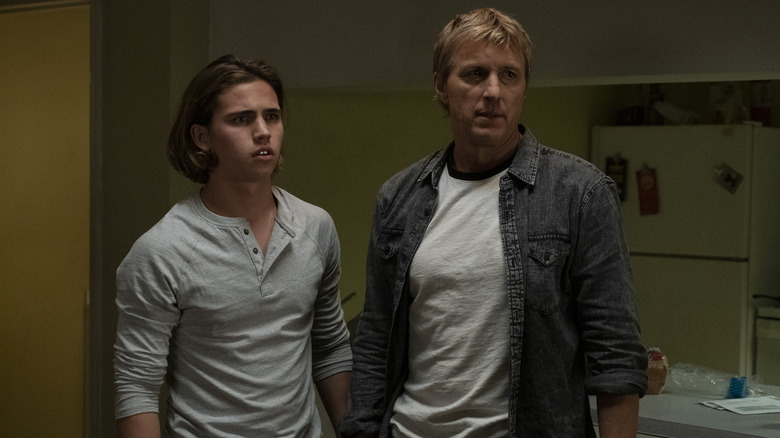 Netflix
Remember all the love we gave "Cobra Kai" in the intro? Well fans should already have recognized Tanner Buchanan as Robby Keene! Robby is the estranged son of the newly relaunched Cobra Kai's initial sensei, Johnny Lawrence (William Zabka) — and by estranged, we mean Johnny's pretty much let him down his entire life. And when Robby sees how strong the bond is between his father and Miguel Diaz (Xolo Maridueña), he decides to get revenge by taking a job working for Johnny's nemesis, the titular "Karate Kid" himself, Daniel LaRusso (Ralph Macchio), and eventually starts training under him.
Of course, Robby doesn't just serve as a point of contention between Daniel and Johnny. His friendship with Daniel's daughter, Samantha LaRusso (Mary Mauser), drives a wedge between her and love interest, Miguel, who goes pretty far to the dark side. She then becomes drawn to Robby, whose training with her father has him conveniently around all the time. Things boil over between Robby and Miguel during a big brawl at school, with the latter left comatose after taking a big fall.
Feeling abandoned by both Daniel and Johnny, Robby begins to train under the original Cobra Kai sensei, John Kreese (Martin Kove), who's managed to hoodwink Johnny and steal his dojo right out from under him. You know a guy is bad news when even the original "Karate Kid" antagonist doesn't want anything to do with him. At the end of "Cobra Kai" Season 3, things come to a head and Johnny's new Eagle Fang dojo is teaming up with Daniel's Miyagi-do stable to take on Kreese's Cobra Kai. Hopefully we'll find out who wins the battle for Robby's soul when the "Cobra Kai" Season 4 release date rolls around in December.