Why Alexandra From Snowpiercer Looks So Familiar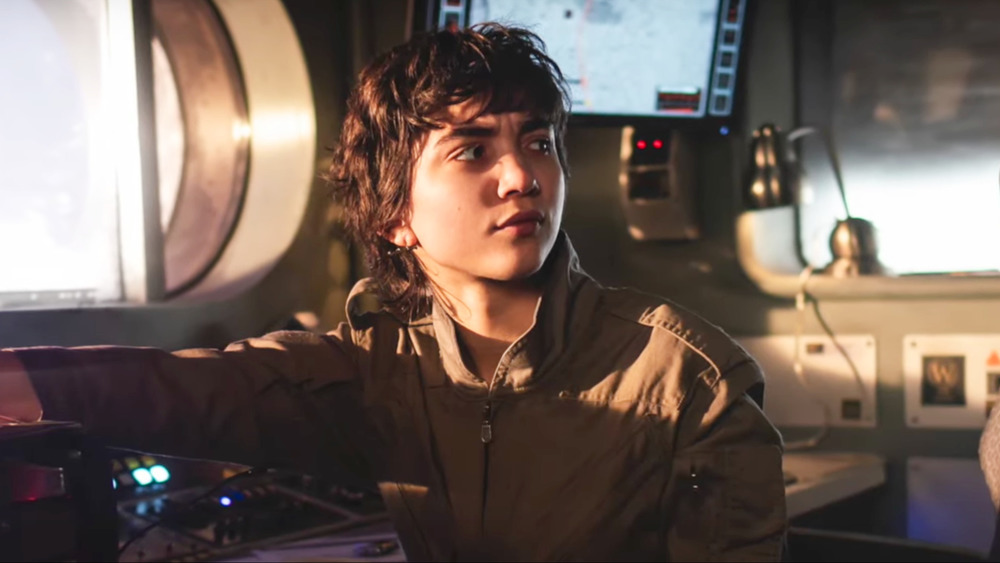 TNT
Contains spoilers for Snowpiercer season 1
Snowpiercer, TNT's TV adaptation of the 2013 Bong Joon-ho film starring Chris Evans, is finally returning for its highly anticipated second season. The series stars Jennifer Connelly, Daveed Diggs, Mickey Sumner, and Alison Wright, among others. Similar to the film version, Snowpiercer is set in a post-apocalyptic, iced-over world, with the only remaining humans traveling 24/7 on a train around the world to survive.
For season 2, there are a few significant additions to the already extensive cast. This includes Sean Bean from Game of Thrones and Lord of the Rings playing the infamous Mr. Wilford, who was originally portrayed by Ed Harris in the film version of Snowpiercer. The series diverts from the movie in quite a few ways, with one of the most notable elements being that Connelly's character, Melanie Cavill, has been pretending to be Wilford for years in order to maintain power and control on the train. But now, the real Wilford has arrived.
On top of Bean's introduction, Rowan Blanchard is also now a regular on Snowpiercer as Alexandra Cavill, the long-lost daughter of Melanie. Missing and presumed dead for seven years, Alexandra appears from Big Alice, another train like Snowpiercer, at the end of season 1. Melanie and the others previously thought that everyone who got on Big Alice years earlier had perished. 
For many, Blanchard's face will spark some memories of her past roles. If you can't place where you've seen the actress before, check out the biggest roles of her career so far.
Rowan Blanchard played Rebecca Wilson in Spy Kids 4-D: All the Time in the World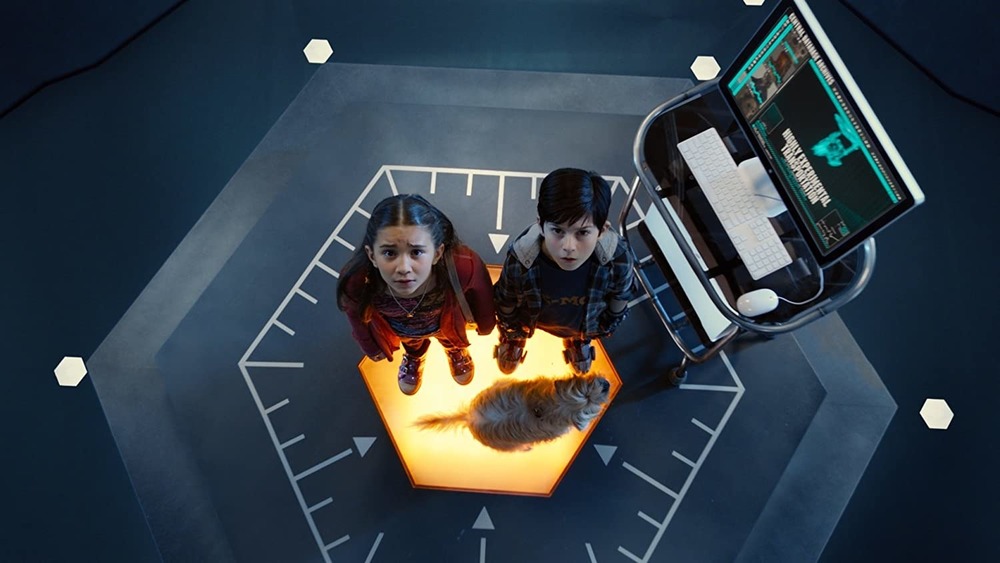 Miramax Films
In 2011, Blanchard got her first major role as Rebecca Wilson in Spy Kids 4-D: All the Time in the World. The movie is the fourth in the Spy Kids film series that debuted in 2001 with Spy Kids — starring Antonio Banderas, Cala Gugino, Alexa PenaVega, and Daryl Sabara. Eight years after the third film's release, Robert Rodriguez — the series' original director — returned to write and direct Spy Kids 4-D. 
Blanchard's character, Rebecca, is the daughter of a spy-hunting TV host, Wilbur Wilson (Joel McHale), and the stepdaughter of an OSS spy, Marissa Wilson (Jessica Alba). When a criminal named Time Keeper starts speeding up time and threatening lives, the OSS calls Marissa into work. As everything unravels, Rebecca and her family are pulled into the case, and so begins a fun and action-packed adventure as they race against time to stop Time Keeper and his goons. 
Rodriguez recently returned to his bright world of family-friendly spies and superheroes with the Netflix original movie We Can Be Heroes, a spinoff of sorts on 2005's The Adventures of Sharkboy and Lavagirl 3-D. The 2021 film stars several well-known actors, including Pedro Pascal, Priyanka Chopra, and Christian Slater.
Rowan Blanchard starred as Riley Matthews in Girl Meets World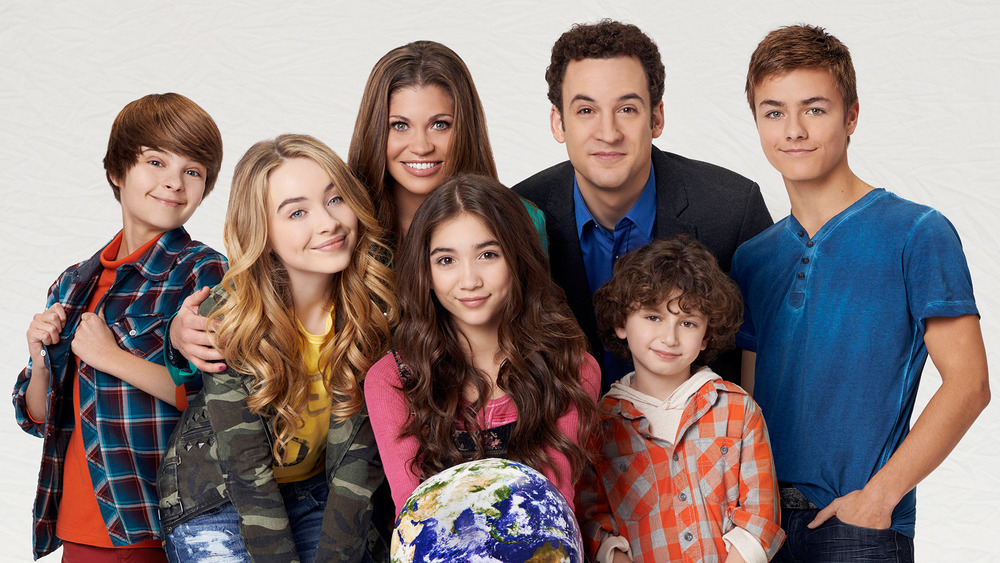 Disney Channel
Blanchard also starred in the Disney Channel original series, Girl Meets World — a reboot of the classic and beloved television series Boy Meets World. In the series, Blanchard plays Riley Matthews, the daughter of Cory (Ben Savage) and Topanga Matthews (Danielle Fishel). The series — with a cast that also included the likes of Sabrina Carpenter, Peyton Meyer, August Maturo, and Corey Fogelmanis — had the same unmatched spirit as its predecessor. Girl Meets World focuses on Riley's misadventures at school with her friends, along with the hilarious antics that arise at home with her family. Riley shares many characteristics with the young Cory of the original series, including his optimism and naive innocence.
Girl Meets World ran for three seasons from 2014 to 2017 and was relatively well-received. The show also featured the return of many of Boy Meets World's fan-favorite characters, including Eric Matthews (Will Friedle), Shawn Hunter (Rider Strong), Mr. Feeny (Will Daniels), and Stuart Minkus (Lee Norris), to name a few. The series was part of a wave of Disney reboots, such as Raven's Home and Ducktales.
Rowan Blanchard's Cleo has an experiment go terribly wrong in Invisible Sister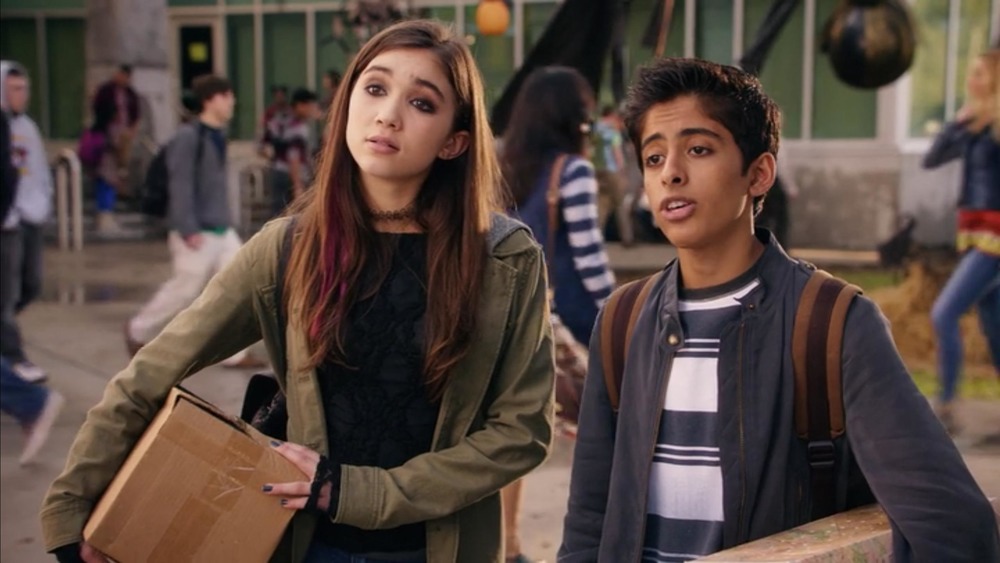 Disney Channel
In the middle of her Girl Meets World's run, Blanchard starred in the Disney Channel Original Movie Invisible Sister. Released in 2015, the film co-starred Paris Berelc and Karan Brar. In Invisible Sister, Blanchard plays an introverted girl named Cleo who hates living in the shadow of her older sister and notorious cool girl, Molly (Berelc). Through an experiment gone wrong, Cleo accidentally turns Molly invisible (quite literally ridding her of her sister's shadow), and in turn, Molly is forced to rely on her younger sister to fulfill her various roles at school.
Molly needs Cleo's help to turn visible again, and through their journey, the sisters end up learning more about each other's struggles and strengths. Eventually, the girls and their friends all come together to recreate the experiment and turn Molly back to normal. Not only does Cleo's scientific discovery garner her more recognition from her teacher and peers, it also guides her to develop a better relationship with her older sister.
Rowan Blanchard joined two seasons of The Goldbergs as Jackie Geary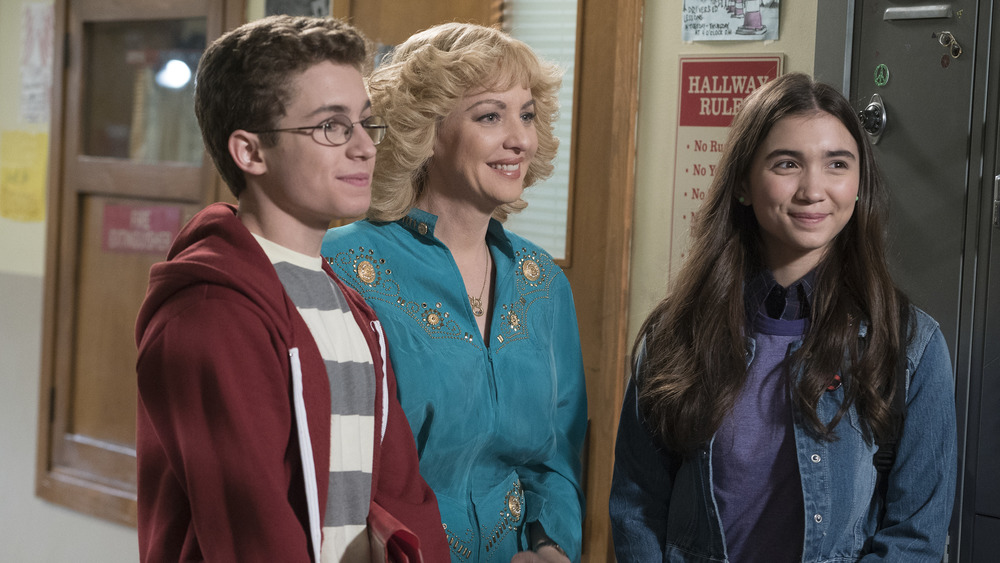 ABC
In her first TV series appearance since Girl Meets World, Blanchard joined seasons 4 and 5 of The Goldbergs on ABC as Jackie Geary, a classmate of Adam Goldberg (Sean Giambrone). The series is set in the 1980s, and stars Wendi McLendon-Covey, Jeff Garlin, Troy Gentile, Hayley Orrantia, George Segal, and Giambrone as the Goldberg family.
Blanchard's character, Jackie, goes to high school with Adam. Their friendship quickly evolves as they learn more about one another's mutual interests, and eventually, their relationship develops into something more. After playing the character for two seasons, Blanchard opted out of returning for future seasons, leading the team behind The Goldbergs to recast the role with Alexis G. Zall. The show's creator, Adam F. Goldberg — whose childhood the series is based on — clarified Blanchard's choice to leave on his Twitter.
The half-hour comedy premiered in 2013 and focuses on the everyday troubles of the Goldberg family in the '80s. The Goldbergs has been super successful for ABC and is currently in the middle of airing its eighth season.
Rowan Blanchard played bully Veronica Kiley in Ava Duvernay's A Wrinkle in Time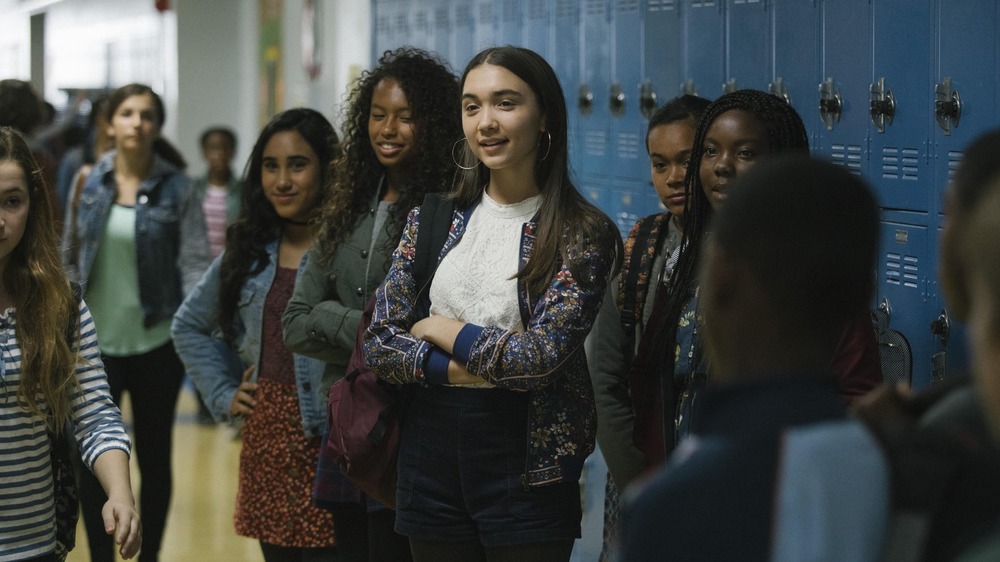 Disney
Ahead of her appearance in Snowpiercer, Blanchard pushed for a role in the big adaptation of A Wrinkle in Time, directed by auteur filmmaker Ava Duvernay (When They See Us, Selma). The movie is based on the 1962 novel of the same name by author Madeleine L'Engle, which won an array of awards including the Newbery Medal. A Wrinkle in Time tells the story of a young girl named Meg, played by Storm Reid, who travels through different realms in search of her missing father (Chris Pine). Blanchard plays a girl named Veronica Kiley, who bullies Meg in school. The movie also stars Oprah Winfrey, Monday Kaling, Reese Witherspoon, and plenty of other recognizable names.
According to The Los Angeles Times, the Oscar-nominated director became "the first woman of color to direct a live-action film with a production budget over $100 million" with the Disney film — a long-overdue milestone for Hollywood. Duvernay has been a highly-sought after creator for the past few years, so it should come as no surprise to learn that Blanchard is also a fan and pushed to be a part of the project.
In an interview with Who What Wear, Blanchard said, "I had been following her on Twitter for a while, had been reaching out to her, and she followed me back and we started talking a little bit. I sort of put it out into the universe that I want to be a part of A Wrinkle in Time in whatever capacity, and I got this call to go in for this part that wasn't in the book. I went in and I got it." The character of Veronica is new to the movie, and was added to give more depth to Meg and her everyday struggles.