Zoe Saldana Says We May See Gamora's Softer Side In Guardians Of The Galaxy Vol. 2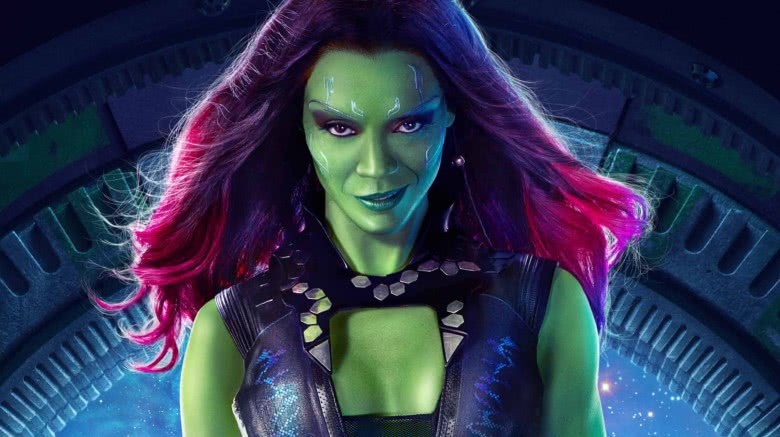 The headstrong Gamora may soften up in the Guardians of the Galaxy sequel.
Zoe Saldana, who plays the green-skinned, galaxy-saving heroine, recently spoke with ScreenRant to talk all things Guardians of the Galaxy Vol. 2. Though Gamora is known for her dark demeanor and take-no-prisoners attitude, she could show a more sympathetic side in the upcoming film. And despite her "volatile" relationship with adopted sister Nebula (Karen Gillan) and her connection to her father, Thanos (Josh Brolin), she's wants to "turn a new leaf."
Saldana said she's not sure "how much darker Gamora can go," and  explained that her character's involvement with the other Guardians pushes her to abandon her bad habits and break down some of her rigid exterior.
"When you started with her in the first film, she's like full-blown assassin," Saldana said. "The friendship that she initiates with the Guardians, like it just, it compels her to sort of turn a new leaf... so in this movie, I don't know about her being a total b***. I think there are some sympathetic values to her character that she's going to try to sort of incorporate."
Saldana then discussed how Gamora will develop in Guardians of the Galaxy Vol. 2, mentioning that director James Gunn gave the cast "a lot more freedom" to improvise. According to Saldana, Gunn and the minds behind the movie had a ton of fun "experimenting" with Gamora this time around, approaching the character from new angles.
"Obviously Gamora is not known to have a sense of humor," Saldana said. "So that's been a challenge for us. But we've been enjoying [it] and seeing what [Gunn's] going to be able to keep in the editing room. It's always a treat."
Whether or not we'll see Gamora crack a joke or hug someone in the upcoming movie, it certainly seems the green goddess will reveal a lighter side of her personality when the film hits theaters on May 5. In the meantime, check out the facts about the Guardians you may not know.