Bryce Dallas Howard Interested In Playing Poison Ivy In Gotham City Sirens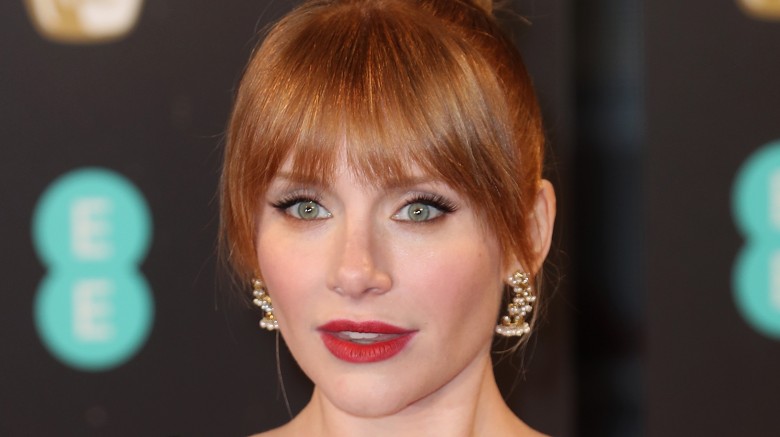 Getty Images
It looks like Bryce Dallas Howard may become green with envy if she isn't cast as Poison Ivy in Gotham City Sirens, as the actress expressed interest in playing the fire-haired antihero in the upcoming DCEU film.
On Howard's Twitter account, one fan asked if she would be willing to play Poison Ivy? Ever the social media aficionado, Howard kept her response simple but effective. "She's pretty badass," the actress stated, tacking on the muscle-flexing emoji to punctuate her enthusiasm. She added a GIF of Uma Thurman as Poison Ivy in 1997's Batman & Robin. Thurman is seen in the signature red wig, off-the-shoulder costume, and leafy green mask, sporting a devilish smirk as she winks at the titular superhero-sidekick duo played by George Clooney and Chris O'Donnell.If Howard is truly serious about portraying the villainess, there are multiple factors that could work in her favor. Burgeoning excitement for Wonder Woman coming in June and Zack Snyder's Justice League coming in November has Hollywood glued to the happenings of the DC cinematic universe. This, of course, includes casting speculation and even off-the-cuff signs of interest from actors—Howard included. Perhaps her tweet could gain enough traction and reach the head honchos at DC Entertainment, putting her in consideration for Poison Ivy.
Howard is currently busy at work on Jurassic World 2, set for release in June 2018. Gotham City Sirens is still in development.
However, she may be up against some genuine competition in the form of Jessica Chastain. The pair who often get mistaken for one another seem to be gunning for the same role. Speaking with CinemaBlend, Chastain was open to the idea of playing Poison Ivy, so long as she's multi-faceted and holds her own.
"I'm interested in all things where the characters are strong and dynamic, and not stereotypes or objects," she said. "I like female characters that are subjects, not objects. And so, if Poison Ivy happens to be that, sure. Throw my hat in the ring." Hopefully, Poison Ivy in Gotham City Sirens shapes up that way.
But the list of potentials doesn't stop there. Reportedly, both Megan Fox and Mr. Robot actress Stephanie Corneliussen have their eyes on the role. While the interest from Fox is speculative at this point, Corneliussen actually tweeted a photo of herself with Photoshopped red hair, accompanied by the caption "Can I be your Poison Ivy?"
Right now, it's anyone's guess who will end up playing Poison Ivy, but one thing we know for sure is that Margot Robbie will reprise her role as the fast-talking and feisty Harley Quinn in Gotham City Sirens. Not too shabby.
Fans can catch Howard in her next flick, Jurassic World 2, when it arrives in theaters on June 22, 2018. In the meantime, check out the other films we can't wait to see next year.