The Legend Of Conan Reportedly Won't Happen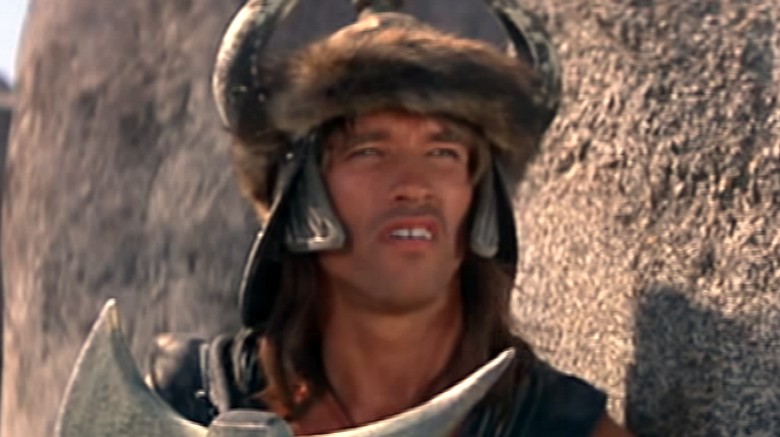 Sounds like The Legend of Conan will remain just that: a legend.
Although Arnold Schwarzenegger has been talking up a storm about his future projects, including a long-awaited return to the Conan the Barbarian franchise, screenwriter Chris Morgan (who was one of several different writers working on a sequel), told Entertainment Weekly that the project has stalled.
"At the end of the day, the studio decided that they weren't gonna make that," Morgan said. "I gotta say, it's honestly a heartbreak. I love that first movie so much, so much, it's one of my favorite movies."
Morgan said writer Will Beall (Gangster Squad) penned a draft that would've picked up the Conan story much later in the Barbarian's life. "[Beall] killed it. Our take was Conan, 30 years later, a story like the Clint Eastwood Unforgiven. It was so awesome.," he said. "Ultimately, the budget was big, the studio was not really sure of the title, and the relevance in the marketplace. They ended up letting it go."
Although a feature film might not be in the works, that doesn't mean it's the very last we'll hear from Conan. "I think they're gonna look to do a TV show or something with it," Morgan said. "But just to be associated with it, pitch it to Arnold, have him get so excited, there was a moment of magic for me, personally. You never know, down the road we may revisit."
Schwarzenegger recently said the Conan sequel is one of a few projects he's got coming down the line, along with another Terminator movie and a sequel to the 1988 comedy Twins. But with so much on his presumably large plate, it's possible he isn't up to date with all the backstage dealings. He does, however, have an explanation for why he won't be in the upcoming Predator reboot and why he won't return for The Celebrity Apprentice.