The Flash's Grant Gustin And Candice Patton Talk Barry And Iris' Relationship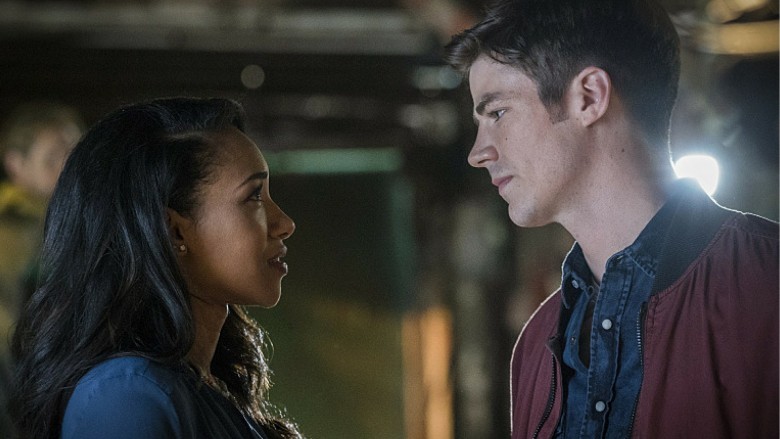 Spoilers for Tuesday night's The Flash episode "Duet"Barry and Iris are now engaged on The Flash, and it's definitely for real this time. After Barry's initial proposal was shot down when Iris realized he was just doing it to change the future and save her life from Savitar, the speedster proposed again on Tuesday night's musical Supergirl crossover, singing "Runnin' Home to You" (an original song from La La Land's Justin Paul and Benj Pasek) before he popped the question and got an enthusiastic yes. Unlike the last proposal, this one will be for good, at least according to actors Grant Gustin and Candice Patton.
"It's fair to say that they are firmly engaged and there are no more obstacles to deal with on that front," Patton told The Hollywood Reporter. Gustin reiterated her sentiments, saying that "Runnin' Home to You" could basically be "a theme song" for Barry and Iris' relationship. "There will always be hurdles to get over, but [the engagment] re-establishes the confidence that Barry has in their relationship and has always had," he added. "It was missing there for, like, an episode, so it's nice to know that no matter what's going to happen, Iris is the love of Barry's life. We'll see them have to dodge some obstacles, but he's going to let their love carry them through."
Of course, those obstacles that the two mentioned are going to be pretty big: the team is still actively fighting to stop Iris' death at the hands of Savitar, a storyline that was briefly set aside for the musical crossover, but one that will be a huge part of the rest of the season. With saving Iris at the forefront of everyone's minds, Patton said that we won't get to see her and Barry walk down the aisle this season; however, if Iris survives the encounter, we could maybe hear wedding bells in season 4.
The Flash airs on Tuesdays on The CW. If you're a fan of the show, check out how the characters should really look based on the comics.