Flash And Supergirl Musical Crossover Producer Talks Sequel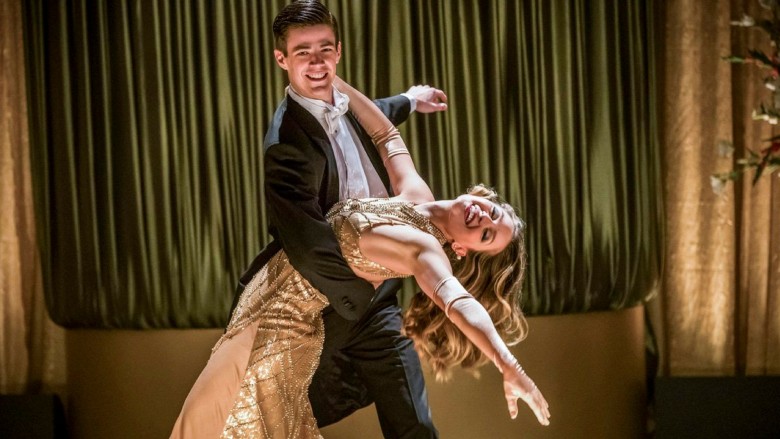 The Flash/Supergirl musical crossover hasn't even aired yet, but producers are already thinking about a follow-up. Executive producer Andrew Kreisberg told Entertainment Weekly that the episode, which is something they have talked about doing "from the very beginning," is something that they would love to repeat.
The two-way crossover will mark the reunion of former Glee stars Melissa Benoist and Grant Gustin with Darren Criss, who will take on the role of the villainous Music Meister, who whammies Barry and Kara and sends them into an alternate universe where life is a musical and all of their friends play a part. For Criss, the episode provided some long awaited comeuppance for the way that Gustin's Sebastian treated Criss' Blaine on Glee. "It is funny that the last time I worked with Grant, he was the bad guy and he was singing at me, and now I'm the bad guy singing at him," he said.
The Music Meister traps Barry and Kara in the golden age of musicals, something which worked well for Gustin, who has a background in tap. For Benoist, who describes herself as being born in the wrong era, it was also a treat, with the actress saying, "Not that I don't love the [Supergirl] suit, but it just feels good playing the same character in a completely different setting. I'm eating this up." The episode will also feature Jesse L. Martin's Joe, Victor Garber's Dr. Stein, and John Barrowman's Malcolm Merlyn as rival mob bosses in the fantasy land. Jeremy Jordan's Winn will be a club pianist, while Carlos Valdes' Cisco will be an aspiring artist, current busboy. The episode features original songs from La La Land's Benj Pasek and Justin Paul and Crazy Ex-Girlfriend's Rachel Bloom, as well as several covers of songs like Andy Williams' "Moon River" (from Benoist) and Jackie DeShannon's "Put a Little Love in Your Heart" (from Valdes, Barrowman, and Jordan).
The episode doesn't just mark a Glee reunion– for both Gustin and Criss, it marks a high school reunion as well. Gustin went to school with Supergirl's Chris Wood, while Criss was classmates with Valdes, Pasek, and Paul. "It's been a very sentimental crossover on so many levels," Criss said. "Every day, every scene my mind is being blown. I can't believe I'm here with Melissa Benoist and Carlos Valdes. 'How do you guys even know each other? Oh, that's right, you're both superheroes!'" Benoist returned the compliment by fangirling about Criss, saying, "I could not be happier that he's here. He's killing this role. He's bringing such a fun energy, the way he did on Glee as well."
"Darren so brings him to life," Kreisberg noted. "I'm not sure who we would have gotten to do it if Darren had said no, but it turned out to be one of those things where we wanted Darren and Darren actually wanted the part. It was very kismet." Should there be a sequel, which Kreisberg says he wants to do if the episode is successful, Criss would be happy to return and even pen some songs. "I want to come back, I'm not done— then I'll have my true payback!" he teased.
The crossover will start on the March 20 episode of Supergirl, although the bulk of the singing will take place on the next night's episode of The Flash. You can see more pics from the episode below, but first, see how the cast of The Flash should really look.