Here's What La La Land Won At Oscars 2017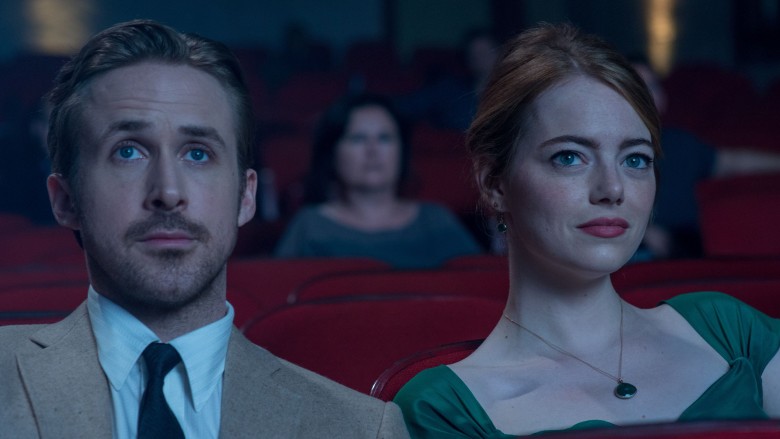 The city of stars really does shine for the cast and crew of La La Land, it seems. The glittering, nearly golden musical that took audiences by storm continued in expected fashion at the 89th Academy Awards, collecting Oscar after Oscar across the board.
With a constant and electric purr around the film, critics and everyday audiences alike were less than shocked to hear that La La Land had picked up a record-tying 14 Oscar nominations this year. These span from more detailed taps in sound editing, sound mixing, and production design to larger-scale accolades like Best Picture and Best Actor and Actress for the charming leads Emma Stone and Ryan Gosling.
In all, La La Land was nominated for the following:
Best Picture
Best Director (Damien Chazelle)
Best Actress (Emma Stone)
Best Actor (Ryan Gosling)
Best Original Screenplay
Best Cinematography
Best Production Design
Best Costume Design
Best Original Score
Best Original Song, for both "City of Stars" and "Audition (The Fools Who Dream)"
Best Film Editing
Best Sound Editing
Best Sound Mixing
The Damien Chazelle-helmed film took home Oscars for:
Best Cinematography
Best Production Design
Best Original Song with "City of Stars"
Best Original Score
Best Director (Damien Chazelle)
Best Actress (Emma Stone)
Not only is the film's win list noteworthy for its length and breadth, but also for its record breaking status. Chazelle's Best Director Oscar marks him as the youngest director in history to win the Academy Award, surpassing the previous placeholder who won in 1931.
Despite its laundry list of wins, La La Land was beat out by some tough competitors like Manchester by the Sea for Best Original Screenplay, Fantastic Beasts and Where to Find Them for Best Costume Design, and Hacksaw Ridge for Best Film Editing. Additionally, Ryan Gosling lost to Casey Affleck for Best Actor. And in an unprecedented upset, La La Land was incorrectly announced as the winner of Best Picture, an award actually received by Moonlight.
Countless creatives poured efforts into La La Land, dedication that undoubtedly helped push the film toward box office success, critical praise, filmgoer adoration, and a ton of Academy Awards. These include director Damien Chazelle; producers Fred Berger, Jordan Horowitz, Gary Gilbert, and Marc Platt; composer Justin Hurwitz; cinematographer Linus Sandgren; editor Tom Cross; and its five production companies: Summit Entertainment, Black Label Media, Impostor Pictures, Gilbert Films, and Marc Platt Productions. And, of course, the darling Emma Stone for her role as Mia Dolan.
Though the film has spurred what appears to be a new wave of musical coolness, it also drew in some naysayers who believed the film to be "overhyped." However, by the results of this year's Academy Awards, even with the last-minute mishap, it appears that the majority of film-watchers think La La Land is something quite special—and we'd agree.
Check out the complete list of 2017 Oscar winners.