The Suicide Squad's Mikaela Hoover Reveals What It Was Like Working With The Star-Studded Cast - Exclusive
Shutterstock
Actor Mikaela Hoover is a longtime friend and colleague of James Gunn, the best part of which is reuniting with him and working with new actors on his new films. Hoover, whose work with Gunn dates back to 2008, first appeared in the director's 2010 dark superhero comedy "Super," which also featured Gunn regular Michael Rooker — who, along with Hoover, also appeared in the MCU's "Guardians of the Galaxy" in 2013. From there, Hoover and Rooker both had roles in the 2016 horror thriller "The Belko Experiment" — written and produced by Gunn — which marked actor David Dastmalchian's introduction the filmmaker's orbit.
Unsurprisingly, Hoover got the call to be in Gunn's latest superhero opus, "The Suicide Squad," in which Rooker and Dastmalchian also appeared. "They are both amazing people. Rooker is one of my favorite humans on the planet, just because he's Rooker ... just one of a kind," Hoover told Looper in an exclusive interview. "David has the kindest heart of any human being. I mean, I got to meet David in Colombia, and we got to spend time together, and he is just such an incredible human. I mean, everybody that knows him says the same thing, same with Rooker. James has a way of also bringing people together that are really, really good humans. So, I'm very blessed for that as well."
And while she didn't share any scenes with him in "The Suicide Squad," Mikaela Hoover also met John Cena on the film's Atlanta set — where she was freaked out by his physique. "His arm is bigger than my entire body, which is kind of cool," Hoover quipped.
Hoover loved working with Alice Braga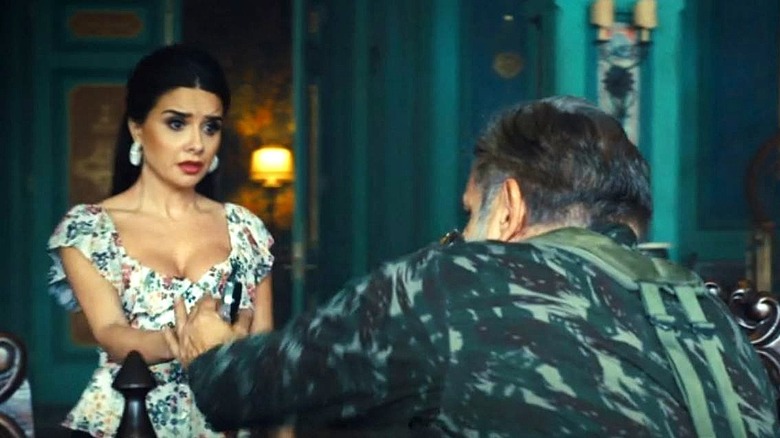 Warner Bros.
Playing in theaters and streaming exclusively on HBO Max, "The Suicide Squad" stars Margot Robbie, Idris Elba, Daniela Melchior, Cena, and Dastmalchian as a group of imprisoned supervillains who are offered reduced prison sentences for their work on Task Force X's covert missions. ARGUS head honcho Amanda Waller (Viola Davis) sends them to destroy the deadly experiment knowns as Project Starfish on the fictional island of Corto Maltese.
Mikaela Hoover plays Camila, assistant to Major General Mateo Suárez (Joaquín Cosío), a military dictator in the island nation. One of Hoover's scenes involves the bloody killing of a group of generals by Task Force X ally and Corto Maltese rebel Sol Soria (Alice Braga). "Alice is one of the most incredible women I've ever met. She made me feel so comfortable on set," Hoover said. "She is such an, if you want to say, like, 'A girl's girl,' cheering me on. At the premiere, she's like, 'Your scream. I keep thinking about your scream.' And that she's just so supportive and she goes above and beyond — and she's also a brilliant actress."
'The Suicide Squad' marks Hoover's seventh project with Gunn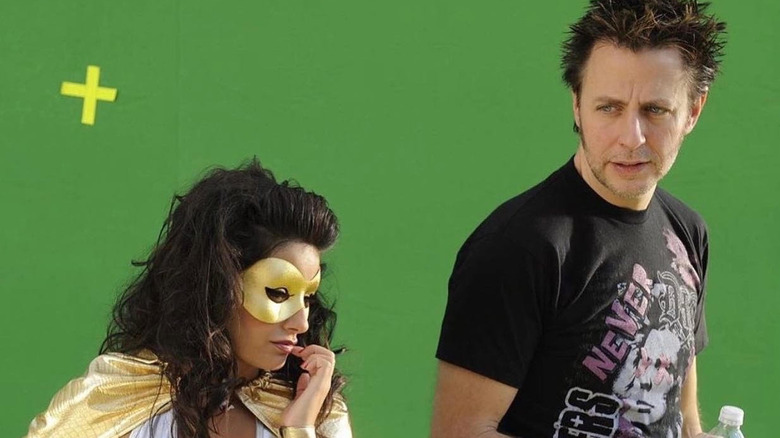 Courtesy of Mikaela Hoover
While Mikaela Hoover reveled in the company of so many talented actors in "The Suicide Squad," she also cherished the opportunity to reunite with Gunn for a seventh time. "James and I are very close in real life. I've been so blessed. I definitely feel that. I think on all of James' sets, everybody feels that. I auditioned for James for a show called 'Humanzee!' years and years ago [in 2008], which was an Xbox show," Hoover said. "I'd never met him before that, but I just knew. You know when you meet someone and you're right away, like, 'Oh, my gosh, I love this person, his humor!' He has a way with actors that I'm sure you've read, and everyone talks about."
A few months later, Hoover recalled, Gunn and his longtime producer Peter Safran called the actor with an offer she could hardly refuse: a superhero comedy show for Xbox with a part specifically written for the actor called "Sparky & Mikaela." "I didn't even know what it was about, but I was like, 'Yeah, I'm in!' Working with James again is always the dream," Hoover said. "Then after that, he continually brought me in for things, and just a friendship came after that from working together for so long. And James has a tight-knit, close group of friends, and I'm really grateful to be one of them."
"The Suicide Squad" is playing in theaters and is streaming exclusively on HBO Max.