Why Camila From The Suicide Squad Looks So Familiar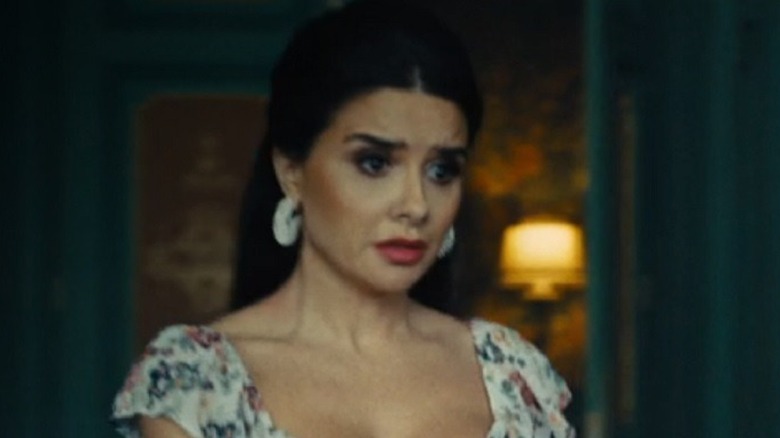 Warner Bros. Pictures/DC Films
The wait is finally over. James Gunn's "The Suicide Squad," a reboot of sorts for 2016's now-infamous "Suicide Squad," has hit theaters and HBO Max. In stark contrast to the first live-action outing for the unwilling team of villains turned special ops squad for the US government, critics have been loving the outrageously funny and violent film. And there's no doubt that the movie's superb ensemble is a big part of the reason why.
From the film's most substantial roles to the one-scene wonders and background players, Gunn has assembled a talented and cohesive cast to bring his vision to life. Of course, at the top of the bill, there's Oscar-winner Viola Davis as Amanda Waller, two-time Oscar nominee Margot Robbie as Harley Quinn, and superstar pro-wrestler John Cena as Peacemaker, among other high-wattage stars. But even as you go deep in the cast list, you'll find nothing but talented actors giving their all to the project.
A great example of this is the role of Camila. As an assistant to Corto Maltese's Major General Mateo Suárez (Joaquín Cosío), she is largely insignificant in the grand scheme of the film. However, actor Mikaela Hoover still manages to turn the tiny part into a noteworthy character. If you thought Hoover looked a bit familiar when you saw "The Suicide Squad," it's likely because she's been in the business since the 2000s and has been a frequent collaborator of Gunn's going back to the time before his Marvel Cinematic Universe (MCU) heyday.
Here's where else you've seen Mikaela Hoover aka Camila from "The Suicide Squad."
Mikaela Hoover's early James Gunn collaborations and sitcom work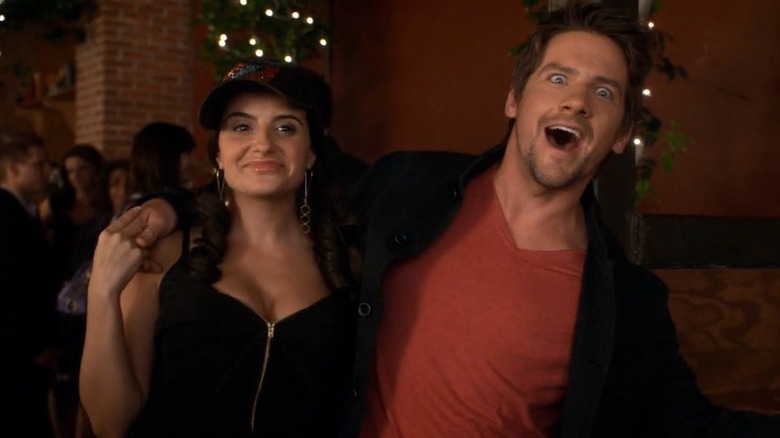 ABC
Hoover's career began with appearances on early webseries such as "SamHas7Friends" The WB's "Sorority Forever." One of these series also served as one of Hoover's earliest collaborations with Gunn. She had a role on the Spike.com webseries "James Gunn's PG Porn," a satire of the contrived setups common in adult films. It wasn't long before she was working with Gunn again. Hoover had a small role in 2010's "Super," about a hapless everyman who tries to reinvent himself as a superhero.
Outside of her work with Gunn, Hoover also made some notable guest-starring appearances on popular sitcoms of the early 2010s. She had small parts on episodes of "How I Met Your Mother" and "Two and a Half Men." On the cult classic "Happy Endings" she had a two-episode arc as Jackie, a woman who Dave (Zachary Knighton) rebounds with after being left at the altar by Alex (Elisha Cuthbert). And on "Anger Management" she appeared twice as Daytona.
Guardians of the Galaxy introduced Mikaela Hoover into the MCU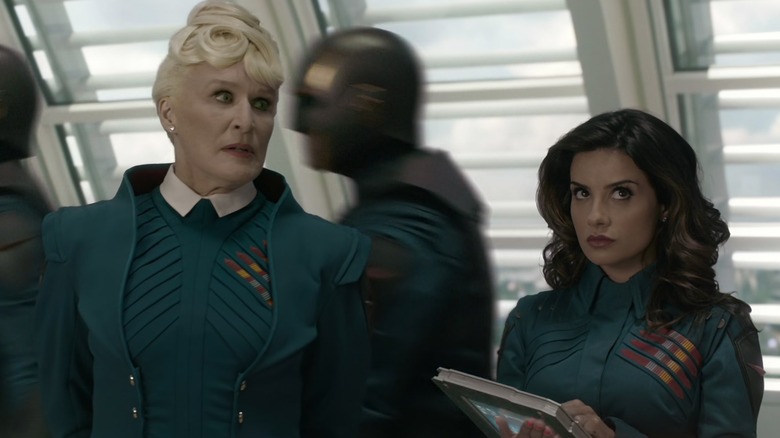 Disney/Marvel Studios
As we've most recently seen with "The Suicide Squad," Hoover has established herself as a regular go-to for Gunn. She started out in his smaller early projects and that relationship continued when he blew up in a big way thanks to the 2014 mega-hit MCU film "Guardians of the Galaxy."
In the first film of the series (and yes, the third installment is still on its way), Hoover played the ever-present assistant to Irani Rael (Glenn Close) who is rarely caught not furiously taking notes on her digital pad.
Around the same time, Hoover had a part in the workplace thriller "The Belko Experiment." The film was written and co-produced by Gunn and once again featured Hoover playing an assistant. The movie is about a group of employees at the fictional Belko Industries who are unwittingly recruited into a "Battle Royale" scenario where they must hunt and kill one another or face extermination by the mysterious powers that be. So, although Hoover's character Raziya Memarian is an assistant, her role is a bit juicier in this bloodbath of a movie.
Mikaela Hoover guest-starred on 2 Broke Girls and Lucifer
Although Hoover has worked extensively with Gunn throughout her career as an actor, his films are far from the only place you may have seen her in the past few years.
On Season 6 of CBS' hit sitcom "2 Broke Girls," Hoover played the ex-girlfriend of Bobby (Christopher Gorham), a contractor who Caroline (Beth Behrs) begins dating. Although Jessica only physically appears on the show a few times, most notably in the episode "And the Baby and Other Things" when Max (Kat Dennings) and Han (Matthew Moy) visit her bridal shop to get to the bottom of why she's still texting Bobby, her presence is felt throughout Caroline and Bobby's relationship storyline.
Hoover also played a prominent role in the "Lucifer" episode "Chloe Does Lucifer." During the social media-themed crime of the week, Hoover played Esther, the roommate of a murdered computer programmer.
And if you're a fan of escapist holiday-themed rom-coms, then you no doubt caught Hoover in Netflix's 2020 entry into the genre, "Holidate." She played Annie aka the quintessential drunk woman in the bathroom at the New Year's Eve party.
Whether you know Mikaela Hoover from her frequent James Gunn collaborations or one of her other roles, there's no doubt that "The Suicide Squad" isn't the first time she popped up on your screen.