Why Savant From The Suicide Squad Looks So Familiar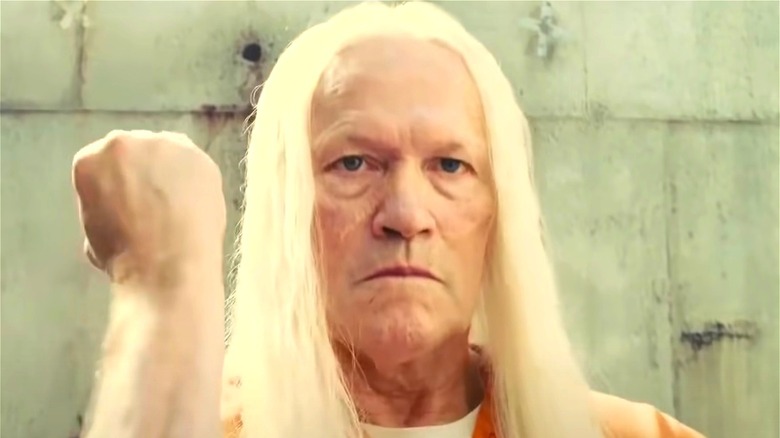 Warner Bros.
Like his "Guardians of the Galaxy" superhero movies for the MCU, writer-director James Gunn's DC supervillain extravaganza "The Suicide Squad" features a huge ensemble bursting with talent. And while the cast includes several new actors to the Gunn experience — including stars Margot Robbie, Idris Elba, and John Cena — some of the players have worked with the filmmaker previously on his MCU or independent films.
There's a reason that Gunn has employed a bevy of talent for "The Suicide Squad," because many of the stars — no matter how noteworthy they are as actors — have any guarantee that their characters will survive the Black Ops suicide mission they're sent on by Task Force X leader Amanda Waller (Viola Davis). In other words, everybody is expendable in Task Force X's directive to take down the dictatorship in the Latin American island of Corto Maltese — where the military is fostering the deadly Project Starfish experiment — before unleashing it is unleashed upon the world.
The first recruit for Task Force X in "The Suicide Squad" is Savant, aka Brian Durlin, a blond-maned computer hacker and vigilante whose killer demeanor shows from the get-go that he is not one to be messed with. Savant is played by veteran actor Michael Rooker, whose prolific career in film and television includes more than 125 roles since 1986. Here's why Savant in "The Suicide Squad" looks so familiar.
Henry, Portrait of a Serial Killer put Michael Rooker on the map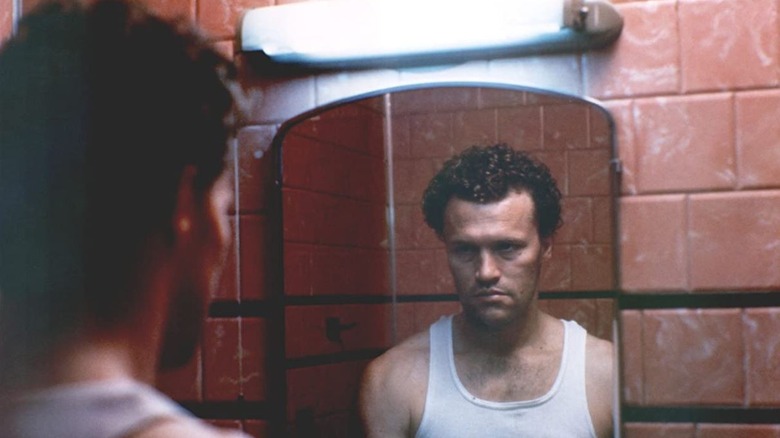 MPI Media Group
Following a bit part the same year in the pilot episode for the Dennis Farina series "Crime Story," Michael Rooker landed his first feature film role in 1986 in the acclaimed biographical crime drama "Henry, Portrait of a Serial Killer." Loosely based on the true story of serial killer Henry Lee Lucas, Rooker's plays the titular character of Henry, a drifter responsible for scores of murders of men, women, and children all over the U.S.
Unrated because of the film's graphic violence, "Henry, Portrait of a Serial Killer" earned critical accolades from the likes of Roger Ebert as well as awards recognition — including notices for Rooker's riveting portrayal of Henry. The film was nominated for six Independent Spirit Awards including Best Male Lead for Rooker, as well as Best Feature, Best Screenplay, and Best Director for John McNaughton. While Rooker didn't win the statuette, his chilling performance as Henry was potent enough for filmmakers to be requesting his services for decades to come.
James Gunn's indie horror thriller Slither starred Michael Rooker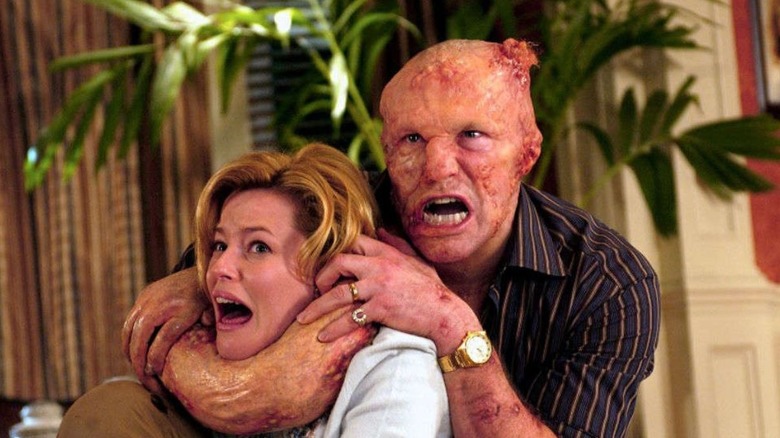 Universal Pictures
Rooker holds the unique distinction of appearing in every film James Gunn has directed. Among those is the filmmaker's 2010 black comedy "Super," starring Rainn Wilson as a superhero wannabe who takes matters with criminals into his own hands. Four years before "Super," though, Rooker starred in the horror-comedy "Slither," which marked Gunn's feature directorial debut.
"Slither" highlights Gunn's penchant for finding comedy in the absurd, where an extraterrestrial parasite emerges from a meteorite in Wheelsy, South Carolina, and infects wealthy town resident Grant (whose last name is also Grant), played by Rooker. Things don't end well for Grant, as the parasite takes over his brain and body and turns him into a slithering monster that wreaks havoc upon the town. "Slither" also stars Elizabeth Banks, as well as another Gunn favorite, Nathan Fillion, who plays Task Force X member T.D.K. in "The Suicide Squad."
He starred as Daryl Dixon's brother, Merle, in The Walking Dead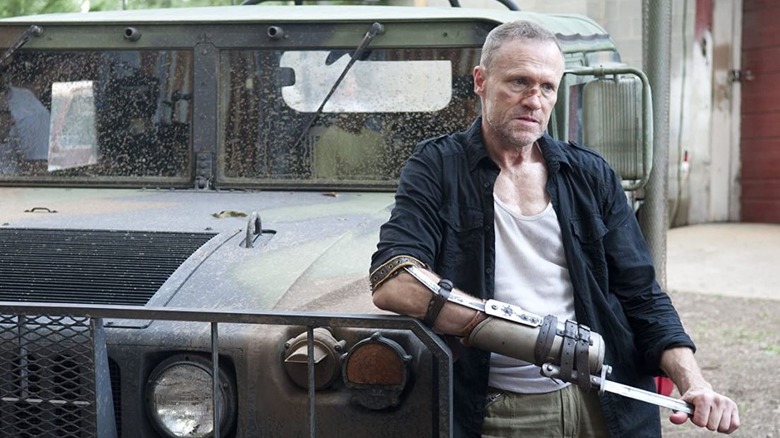 AMC
Michael Rooker has developed a reputation of bringing heart to characters that have rough exteriors, and his recurring role as Daryl Dixon's (Norman Reedus) outlaw brother, Merle, on the horror series "The Walking Dead" is one of his most memorable. Rooker played Merle on the series from 2010 to 2013, first as an antagonist whose life was spared by Rick Grimes (Andrew Lincoln) and his group of fellow survivors during the zombie apocalypse. The gesture by Rick's group, though, came with a hitch. Merle was left chained to a roofing structure, with a hacksaw nearby, and the only way he could escape certain death by zombie was to hack off his right hand.
Miraculously escaping the predicament, Merle, who creates a bladed contraption to replace his severed hand, becomes the right-hand man to the villainous Phillip "The Governor" Blake (David Morrisey). Eventually repairing his fractured relationship with Daryl and aligning himself with Rick's group, Merle pays the ultimate price and is slain by The Governor and comes back as a walker. In one of the series' most heartbreaking moments, Daryl forces to put Merle out of his misery by killing him for good.
Michael Rooker played Yondu in the Guardians of the Galaxy movies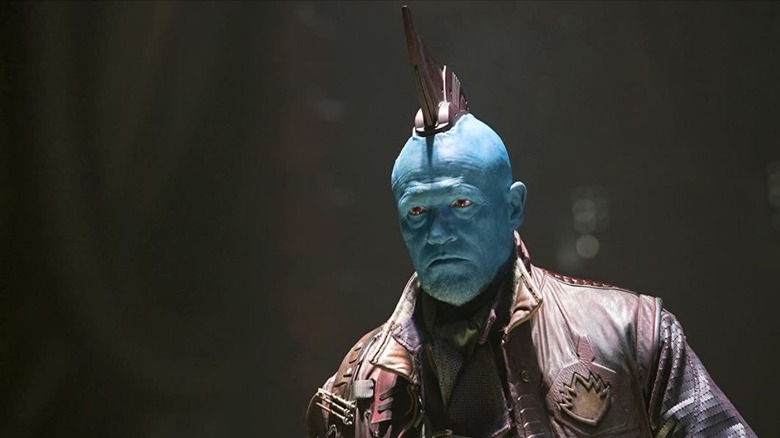 Disney/Marvel Studios
James Gunn has developed a fierce loyalty to many of the actors he's worked with over the years, and Rooker is just one of his many frequent go-to thespians. While he's covered in blue makeup with a fin attached to his head, Rooker is very recognizable as alien Ravager Yondu in both volumes of the "Guardians of the Galaxy" movies.
Playing the reluctant surrogate father of Peter Quill — also known as Star-Lord (Chris Pratt) — after he was kidnapped as a boy from Earth, Yondu is saddled with an antihero role in the "Guardians" movies, where his motivations aren't completely known. The goodness in Yondu's heart becomes clear by the end of "Guardians of the Galaxy, Vol. 2," when in Mary Poppins-like fashion, the gruff space pirate sacrifices himself so Star-Lord can live — providing the film with perhaps its most emotional moment.
Michael Rooker starred with David Dastmalchian in the James Gunn-penned thriller The Belko Experiment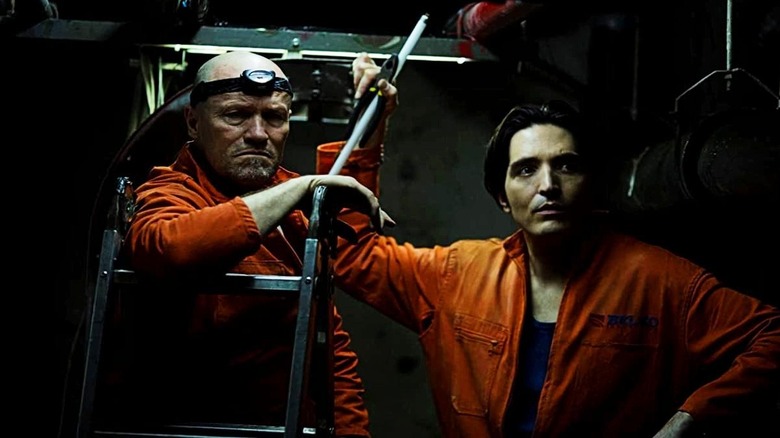 20th Century/Orion Pictures
Gunn has shown his talent in the film arena not only as a writer-director, but also as a scribe for projects directed by other filmmakers. One such project was the 2016 independent horror-thriller "The Belko Experiment," directed by Greg McLean ("Wolf Creek") and written by Gunn. In the film, 80 Americans are held captive in a high-rise in Bogota, Columbia, and are forced to participate in a kill-or-be-killed scenario in order to survive.
They might not have shared any scenes together in "The Suicide Squad," but Rooker starred alongside David Dastmalchian in "The Belko Experiment." While Dastmalchian knew Gunn from years prior, "The Belko Experiment" marked his first gig under the auspices of Gunn, opening the door to him playing Polka-Dot Man in "The Suicide Squad." Don't be surprised if both Rooker and Dastmalchian turn up again in a future Gunn project.