Who Is Cam Cole From Ted Lasso?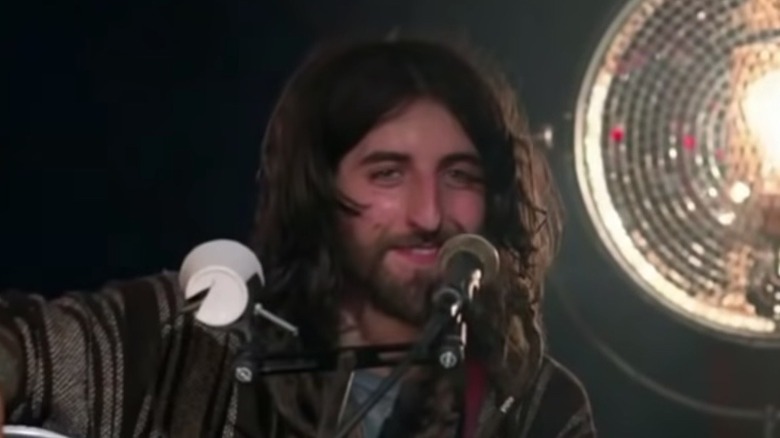 Apple TV+
Since making its debut last summer on Apple TV+, "Ted Lasso" has shocked the whole of Hollywood by becoming not just one of the biggest hits in the streaming realm of late, but a legit critical darling and a major small screen awards season player. The series has also raised awareness of star Jason Sudeikis, who first conjured the title character a few years back in a series of hilarious promos for NBC's Premiere League coverage (on YouTube).
Now early into its second season, the crowd-pleasing fish-out-of-water tale that is "Ted Lasso" continues to tickle the fancy of fans who revel in its savvy mix of aw-shucks comedic sensibilities and biting social commentary. They continue to revel as well in the series' cagey cast of characters that range from once-vengeful divorcees (Hannah Waddinham's Rebecca Welton) to football prima donnas (Phil Dunster's Jamie Tartt) to former champions struggling to adjust to life off the pitch (Brett Goldstein's Roy Kent).
There is one character from Season 1 of "Ted Lasso" who remains the very definition of enigmatic, however: The guitar whiz who set a stilted AFC Richmond charity event ablaze with bluesy sonic energy. Here's everything we know about Cam Cole from "Ted Lasso." 
Cam Cole is a busking, one-man band who indeed calls London home
It might come as a surprise, but the uber-talented street performer who inspired a full-tilt dance party in Season 1 of "Ted Lasso" is actually a real-life busker renowned for his rollicking, one-man shows. Yes, his name is actually Cam Cole. And yes, he generally calls the streets of London home.
If you've seen Cole's electrifying performance in the fourth episode of the inaugural season of "Ted Lasso," you know him to be a virtuoso performer whose songwriting skill and multi-instrument discipline is matched only by his infectious on-stage energy. Cole's real-life stage has historically been the streets of London, but per his website, the performer has played his vintage brand of blues rock in parking lots, public plazas, and back alleys across the globe.
On the strength of a well-received debut album, and a spot on "Ted Lasso" that no doubt grew his audience in ways he never could have imagined, Cole was primed to take his talents from the streets to the more proper stages of rock clubs all over Europe in 2020 — until 2020 happened, of course. As it was, Cole apparently spent the pandemic recording his sophomore album, and booking a new tour that'll see him playing more than a dozen shows in U.K. clubs this Fall. So count yourself lucky if Cam Cole is soon to be playing a club near you, because he clearly puts on a terrific show.