How Ted Lasso Just Made Emmys History
"Ted Lasso," aka the most charming comedy on Apple TV+, is back in the headlines this week after making TV history following the announcement of the 2021 Emmy Awards nominees. The Jason Sudeikis-starring comedy was one of the most nominated shows this year. Apple TV+'s best feel-good series racked up a staggering 20 nominations across a variety of categories.
Per Variety, those nominations include: Lead Actor in a Comedy Series for Jason Sudeikis; Outstanding Supporting Actress in a Comedy Series for both Hannah Waddingham and Juno Temple; Outstanding Supporting Actor in a Comedy Series for Brett Goldstein, Jeremy Swift, Nick Mohammed, and series co-creator Brendan Hunt; Outstanding Production Design for a Narrative Program (Half-Hour); Outstanding Casting for a Comedy Series; Outstanding Directing for a Comedy Series; Outstanding Single-Camera Picture Editing for a Comedy Series; Outstanding Original Main Title Theme Music; Outstanding Sound Editing for a Comedy or Drama Series (Half-Hour) and Animation; Outstanding Sound Mixing for a Comedy or Drama Series (Half-Hour) and Animation; and Outstanding Writing for a Comedy Series.
"Ted Lasso" may be the nascent streaming platform's top nom-getter, but it wasn't the only Apple TV+ show to be recognized by Emmy voters. Among the movies and TV series released on the streamer that will also be competing at the 2021 Emmys are the documentary "Billie Eilish: The World's a Little Blurry," the comedy series "Mythic Quest," animated comedy "Central Park," the M. Night Shyamalan-produced thriller "Servant," and "Mariah Carey's Magical Christmas Special."
Ted Lasso has officially made TV history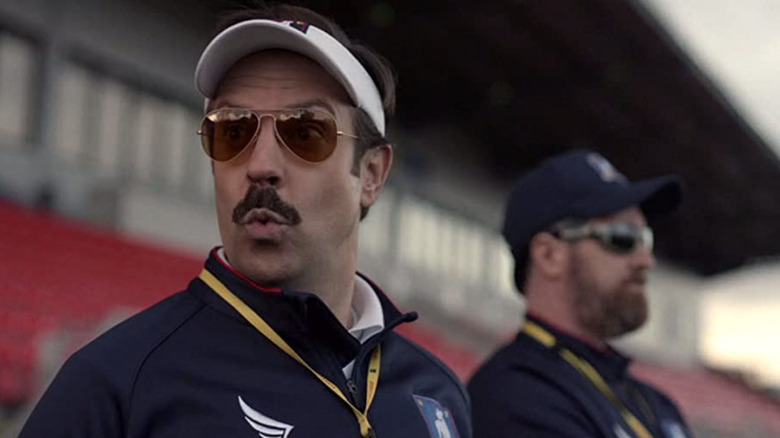 Apple TV+
"Ted Lasso" has officially cemented a place in Emmys history. With 20 nominations earned purely off the proverbial blood, sweat, and talent showcased in Season 1, "Ted Lasso" is the most nominated freshman comedy show ever. Per Deadline, "Ted Lasso" has taken this particular honor away from "Glee." The Ryan Murphy musical show has held the record since 2010, when it earned 19 Emmy nominations for its first season.  
"Ted Lasso" scoring a history-making 20 nominations at the 2021 Emmys could prove more than beneficial for both the show and Apple TV+ going forward. In the case of "Ted Lasso," this level of good will from awards season voters signals a show folks are very keen to keep in production. Yes, technically we already know "Ted Lasso" will be back for Season 2 (not to mention Season 3, per Collider), but what's to stop Apple TV+ from further renewals if the show continues to do well at the Emmys? 
And speaking of Apple TV+, the success of "Ted Lasso," its 20 Emmy nominations, and its place in television history means this relatively fresh and somewhat underpopulated streamer has gained serious legitimacy. As such, Apple TV+ could begin to churn out more Emmy-worthy television and campaign for its existing catalog of shows. Good content begets more good content — or at least it should.